Simone Biles will return to Antwerp, Belgium, to compete at the 2023 World Artistic Gymnastics Championships, which will be held from September 30 to October 8, 2023. Biles will be making her return after her last competition at the World Championships in 2013.
At the 2023 U.S. Women's World Team Selection Event, a two-day competition held between September 19 and 20, 2023, in Katy, Texas, Biles secured the highest All-Around score, securing her spot in the Team USA's squad in Antwerp. Biles scored an impressive 55.700, surpassing world silver medalist Shi Jones, who scored 55.300.
Team USA will send a six-member team, with the remaining five members to be named after the second day of competition. Biles faced a challenging start with her performance on the Uneven Bars and Balance Beam, placing her in 10th place. However, she made a comeback with an outstanding Yurchenko double spike on Vault.
Biles last competed in Antwerp at the 2013 World Artistic Gymnastics Championships when she was 16 years old. During that competition, she won two gold medals, including the All-Around with a score of 60.216 and Floor Exercise.
In 2013, at Antwerp, Biles finished first in the All-around, second in the vault, sixth in the Uneven Bars, fifth in the Balance Beam, and first in the Floor Exercise, becoming the first American to qualify for all four and the All-Around finals since Shannon Miller in 1991.
Biles' qualification marks her as the only U.S. woman in history selected to compete at six World Artistic Gymnastics Championships.
Simone Biles and Jonathan Owens' house is coming Along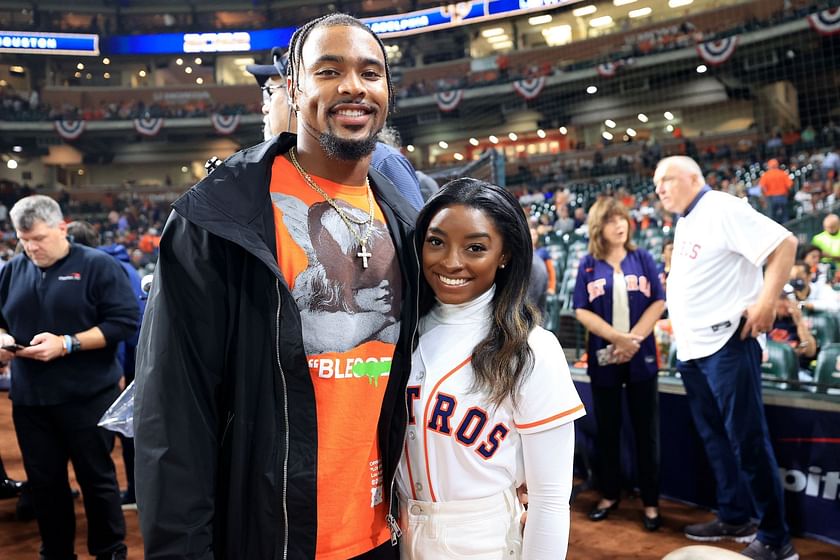 Simone Biles, who currently lives in a $2 million abode in Houston, Texas is building a new home with her husband and NFL player, Jonathan Owens. Biles frequently shares her excitement on social media, posting pictures of the progress of their new home. Biles and Owens laid the foundation of their house in March 2023, and it appears that the house is finally taking shape.
Biles and Owens recently visited the house to check on the progress. Biles shared her excitement on social media, where she was seen alongside her husband, revealing a few corners of their new home.
"Loading..." she wrote.
Simone Biles got married to Owens on April 22, 2023, after being engaged on February 15, 2022.
Edited by Darla Gopikrishnan