Jordan Chiles has earned her spot on the USA Gymnastics team to compete at the 2023 Pan American Games, which will be held in Santiago, Chile, from October 20 to November 5.
During the 2023 US Women's World Team Selection Event, held on September 19 and 20 in Katy, Texas, Chiles made her spot alongside Kayla DiCello, Kaliya Lincoln, Zoe Miller, and Tiana Sumanasekera in the team.
The 22-year-old scored a total of 53.650 points to finish in ninth place in the all-around event. She took to social media to announce her selection to her fans.
"Onto Chile...Miss Chiles goes," Chiles wrote.
Lincoln and DiCello finished in sixth and seventh places with scores of 54.350 and 54.250 respectively. Sumanasekera secured eighth place, scoring 53.800 and Miller made her place in the top 10 with a score of 53.400.
---
"I'm a little more experienced" - Jordan Chiles is all set to compete at 2024 Paris Olympics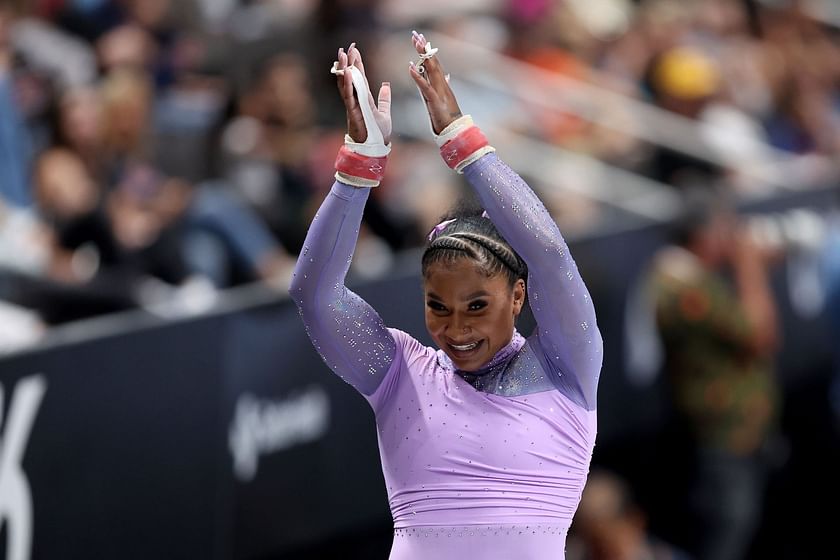 Jordan Chiles represented Team USA at the 2020 Tokyo Olympics. The 22-year-old clinched a silver medal in the women's artistic team all-around event alongside Simone Biles, Sunisa Lee, and Grace McCallum. Team USA achieved an impressive total score of 166.096 behind ROC, who scored 169.528.
Jordan Chiles is set to represent Team USA at the 2024 Paris Olympics. In an interview with Olympics.com, she shared her excitement ahead of the event. Chiles expressed that she is confident about the upcoming Olympics.
"I'm thinking of less pressure because I'm like, 'I've done it once. I can do it again,'" she said. "I'm really just going out this next cycle just for myself. I'm not going to be disappointed with what happens because I know I've done everything that I've done and I've already done it before. So, I'm just excited."
The two-time NCAA champion and the 2022 world champion expressed her gratitude towards her coaches Laurent and Cecile Landi for supporting her and for the love they have shown her. She credited them for the transformation in her performance.
"Obviously from my first elite competition, I didn't know anything," said Jordan Chiles. "But now going into my 150th competition that I've done, I'm a little more experienced, and I understand what the tactics are for everything."
"I just feel more confident for sure. I feel grateful that I have the people around me that I have, especially my coaches. They changed the light of game for me within the sport. I feel more confident. I feel loved, I feel supported," she added.