Andre Burakovsky, the star winger for the Seattle Kraken, has been out of the lineup since February 7 with a lower-body injury, when he last played against the New York Islanders.
He was injured early in the game and had only 21 seconds of ice time before exiting the contest. After undergoing medical checks, it was revealed that he would require some time to get healthy as a result of which, he was placed in IR.
However, it has not yet been confirmed when Burakovsky will return to the lineup. After being sidelined from the ice for more than three months, Burakovsky is still placed on IR. According to reports, he's expected to be healthy by April 13. Fans can likely expect to hear an update on his health from the team management by then.
How has Andre Burakovsky fared in the current season?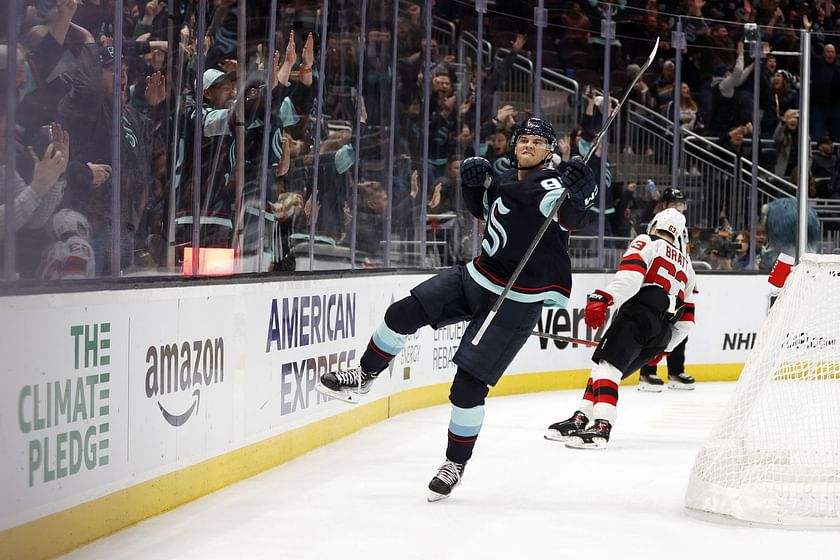 Before getting injured back in February, Burakovsky was leading the goalscoring chart for the team. He's played in 49 games for the Kraken so far this season and has managed to accumulate 39 points through 13 goals and 26 assists.
He also has a plus/minus of minus 15 with 22 Penalties In Minutes (PIM) and has contributed 4 (PPG) with three game-winning goals. Notably, the Seattle Kraken will play in the playoffs for the first time in their two years of existence and the absence of Andre Burakovsky will undoubtedly be a major setback for the team.
Seattle Kraken down Arizona Coyotes 4-3 to book playoff berth
The Seattle Kraken (44-26-8) hosted the Arizona Coyotes (27-39-13) at the Climate Pledge Arena on Thursday.
Jared McCann opened the scoring sheet for the Kraken after putting the puck into the net at 15:43 minutes of the first period. Vince Dunn gave the team a 2-0 lead at 00:28 of the second period. Jordan Eberle then extended the team's lead to 3-0 from a wrist shot at 5:52 minutes of the second period.
Coyotes' Barrett Hayton scored 12:00 minutes into the second period to trim the Kraken's lead to 3-1. Matty Beniers added a fourth goal later on, while the Coyotes managed only one goal in the third period, resulting in a 4-2 victory in the end for the Seattle team.