Pundits and fans of Bengaluru FC, Mohun Bagan and East Bengal have had nothing on their minds this weekend but the permutations and combinations regarding the final destination of the coveted I-League trophy. But on Sunday night, in what was a virtual semi-final of sorts, Bengaluru FC tore up not only some of those calculations but also the East Bengal defence.
A come-from-behind 3-1 win over their rivals from Kolkata at the Kanteerava Stadium has all but decided the title race. With two games to go for the south Indian side, their fate rests in their hands.
Westwood picks the right midfield combination
With three points an absolute necessity, Bengaluru FC coach Ashley Westwood made a change in the midfield trio that worked wonders for the side. Eugeneson Lyngdoh does not look to have lost his touch in spite of a foot injury that kept him out for two months and his creative spark was more than welcome in the last three games.
The Blues have been criticised for their use of long balls to find their attacking trio in recent games but one could not blame them for trying as there was no creative fulcrum to transition the ball from defence to attack. In most games, the midfield was either yawning chasm of space or static midfielders and they simply opted to bypass them than risk losing the ball. All that changed with Lyngdoh's return.
Michael Collins was another player who had failed to impress in his run of games since his arrival at the club. The game simply seemed to pass him by on most plays and, as he was deployed as a deep-lying midfielder, he was only doing the basic things right – trying to circulate the ball while simultaneously playing overly cautious passes as if there was a lack of trust between him and his teammates.
18-year-old Malsawmzuala (aka Zuala) was a revelation in the SAFF Cup and his energy and verve in midfield was something Bengaluru lacked. With a couple of tricks up his sleeve, he was never overcome by the fact that he was the youngest player on the pitch and let his football do the talking with a dropped shoulder here to lose his marker or a twist and turn there to initiate an attack.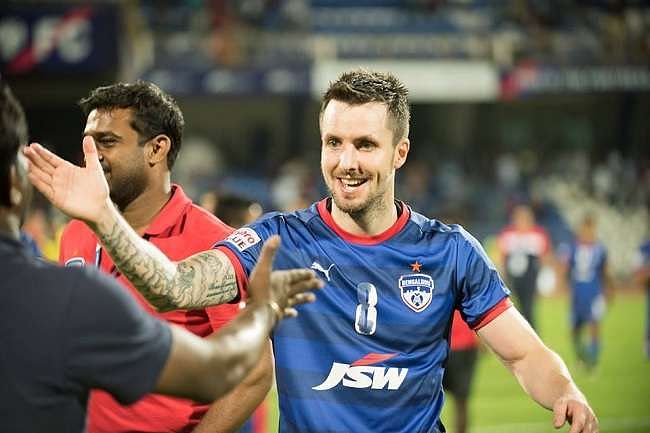 Lyngdoh, Collins and Zuala boss the midfield
When these three were put together, the midfield became a hub of activity at the Kanteerava as the ball flowed smoothly from the back to the speedy attacking trio of Sunil Chhetri, Udanta Singh and Kim Song-Yong.
Lyngdoh made the right runs from midfield that were absent in previous games to provide the extra man in attack. And that's exactly how Bengaluru FC equalised moments after going 1-0 down. A brave diving header from the Shillong-born midfielder found the back of the net to spark a comeback and lift up the spirits at the stadium.
The 2015 I-League midfielder of the year was not done yet. He created the second goal with a move that saw him dance toward the goal line and send in a cross to Kim Song-Yong which the North Korean striker duly converted after rising above Bello Razaq.
Collins was deployed further up the pitch against East Bengal and he suddenly looked like he was in his element. Relieved of the duty of stationing himself in front of the centre-backs to break up play in his own half, he was always on the move and even drifted to the wings to relieve pressure and act as a passing outlet for players in trouble. The former Republic of Ireland youth international was even in good positions to attack but the full-backs failed to spot him on more than one occasion.
Zuala was also exceptional on the night. Although he was at fault for the opening goal when he conceded possession which allowed Do Dung Hyun to counter and score a fantastic solo goal, he picked himself up soon after, with some encouragement from Collins to boot.
And then came his moment when he teed up a shot from 30 yards out to test East Bengal goalkeeper Rehenesh TP. Even though the 23-year-old goalkeeper got his hands to it, he eventually put the ball into the roof of his net to give Bengaluru a commanding 3-1 lead as his teammates simply looked deflated after the third goal.
It was a near-perfect midfield performance with East Bengal's Harmanjot Singh Khabra and Sehnaj Singh unable to make things happen in the middle of the park. Hyun and Ranti Martins were starved of service as a result, threatening the Bengaluru defence only if they created opportunities themselves on the counter.
What it means in the I-League title race
Bengaluru FC now have one hand on the title with 29 points from 14 games after leapfrogging Mohun Bagan who have 27 points from 15. East Bengal are further back with 24 from 14.
| # | Club | Games | Points |
| --- | --- | --- | --- |
| 1 | Bengaluru FC | 14 | 29 |
| 2 | Mohun Bagan | 15 | 27 |
| 3 | East Bengal | 14 | 24 |
Mathematically, the title race is still not over. There is still the small possibility of all three teams finishing on 30 points. If that is the case, then even head-to-head records will not separate the trio with Goal Difference between the teams concerned coming into the picture (as per the official I-League website).
But Bengaluru FC will look to avoid all that with a solitary win to clinch the title they lost in the dying minutes of last season to Mohun Bagan. They play Salgaocar at home next weekend after an AFC Cup tie against Myanmar's Ayeyawady United in midweek.
A win there could see them play Mohun Bagan on the final day of the season as champions. A loss would make the final game a virtual final with the scenario a case of history repeating itself.