3rd Kabaddi WC: Indian origin players in foreign teams the answer to giving kabaddi a global feel?
1.53K //
11 Dec 2012, 15:33 IST
The organizers of the 3rd World Cup Kabaddi (circle style) Championship have spared no effort in tom-toming about how they have succeeded in giving Kabaddi a global touch by attracting the maximum number of countries (16 for men and 7 for women) for this year's tournament.
In fact, the organizers have gone on record saying that 10 participating countries do not feature a single player of Indian origin. Well, no one is disputing that but one is wondering whether the fair sprinkling of Indian-origin players in various foreign teams is the answer toward putting kabaddi on a global pedestal.
Look at the Denmark men's kabaddi team for the 2012 World Cup – it comprises of seven Denmark-based players and seven Punjabi NRIs. The team features players who took up kabaddi after excelling in sporting disciplines such as kick-boxing, rugby and taekwando. Even the Kenyan men's kabaddi team is made up of local Punjabis, who have been into sport disciplines such as rugby and taekwondo.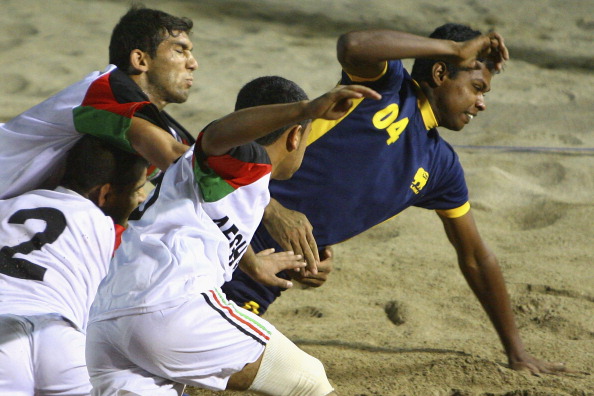 Sierra Leone men's kabaddi team consists of Punjabis settled in Leone, who were involved in sports like boxing, weightlifting, volleyball and body building. Significantly, Denmark women's kabaddi team is the only woman team at this World Cup to feature all players of Danish origin with not even a single player of Indian origin. Interestingly, the Danish women picked up the sport by watching it on YouTube, which is seen more of a recreational activity for sportspersons. Not just the players, even some of the foreign teams have Indian coaches, which doesn't surprise us at all given India's legacy in kabaddi.
Manjinder Singh Brar – a former kabaddi player originally hailing from the Moga district in Punjab – is the coach of the Kenya's men kabaddi team. In fact, the Kenyan team's participation in the 3rd World Cup was taken to its logical end after the Punjab Sport Department asked Manjinder to visit Kenya and form a team for the marquee event – something he succeeded in carrying out.
Denmark men's and women's kabaddi teams are playing in the 3rd World Cup under the tutelage of their Punjabi coach Prabhjit Singh. Even the Scotland men's kabaddi team, who hogged all the spotlight appearing in their traditional kilts at the opening ceremony, has an Indian origin coach in Prem Singh, whose team comprises players who play martial arts and rugby. Sierra Leone is another team to have an Indian origin coach in Gurmail Singh Dirbha.
Startlingly, some of the foreign teams hardly have hardly had adequate time to prepare for a tournament as big as the World Cup, which throws a caustic question: were the organizers only keen on having maximum participants as possible and whether focus on 'quality' was the last thing on their mind? We are not suggesting anything but we do get a 'reality' picture.
Hear this: the Kenyan team had absolutely no idea about the 3rd World Cup Kabaddi happening in India say about four weeks before its start.  The team was trained in circle style kabaddi for just 26 days by NRI coach Manjinder Singh Brar before they competed in the World Cup. It was also a similar tale for the Sierra Leone kabaddi team. The team was formed around six weeks before the start of the 3rd World Cup Kabaddi Championship and was trained in circle style kabaddi by Indian coach Gurmail Singh.
Such short notice intimation and short duration camps are an indication that the organizers were hell-bent on giving the event a 'competitive' feel by pulling in as many teams as possible, putting 'quality' on the back-burner. Of course, the organizers deserve a pat on the back for conducting such a mega event with a noble intention to spread the sport across the globe, but uncomfortable questions will always be asked whether the 'quality' factor was compromised. The organizers have announced an attractive 'appearance money' for all the foreign teams, which could also be a big factor in 'quality' slipping out of the window.
An appearance fee of Rs 15 lakhs was announced for teams from far away places like Argentina, Canada, USA, while an appearance fee of Rs 10 lakh was announced for the rest of the participating teams. One is not trying to find fault with the organizers for doling out an attractive appearance fee, but one wants to know if it played a part in the tournament losing out on the competitive flavor.
The slew of Indian-origin players in various foreign teams and short notice intimation for an event as big as the World Cup will be issues that will be discussed in various quarters, but the moot point is: is it going to help the sport of Kabaddi gain a global status, which can pave the way for its inclusion in the Olympics?