One of the most renowned teams of Pro Kabaddi, U Mumba is a reputed team in the Pro Kabaddi League. Owned by Ronnie Screwwala, U Mumba has the highest winning percentage of 64.63% which is the most by any team in Pro Kabaddi history!
The team has always comprised of star-studded players over the years and has established competency in Pro Kabaddi. U Mumba as a team has the 3rd highest raid points in Pro Kabaddi (1483 raid points) and the 2nd highest tackle points in Pro Kabaddi (845 tackle points) in 84 matches.
Anup Kumar, a veteran in the game has led U Mumba to its crucial wins against tough opponents. U Mumba's consecutive 3-time appearances in the finals set a benchmark for their well-known dominance.
The team's best performance came in Season 2 as they beat Bengaluru Bulls led by Shabeer Bappu's heroics (36-30). A team which trusted its core over the years, here are the five valuable players who have donned the U Mumba jersey in the past.
---
#5 Shabeer Bappu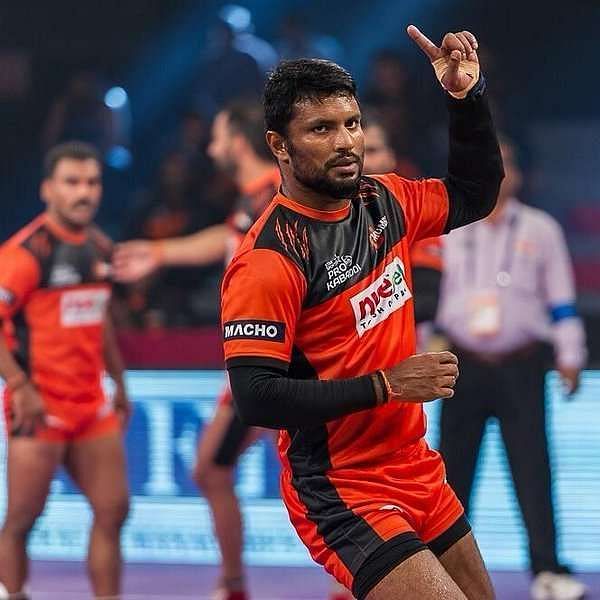 U Mumba's Season 2 title win was an epic turnaround of an event which was scripted by Shabeer Bappu's heroic 3-pointer super raid which came in around the 36th minute of the match. That super raid with him taking a stroll around the court touching all defenders assured U Mumba's first ever title in the Pro Kabaddi League.
Shabeer Bappu has always been a valuable asset to the team as a supporting raider. Bappu has 160 raid points in 42 matches played with U Mumba with an average of 3.81 raid points. Alongside with U Mumba, Shabeer Bappu has the most appearances in finals in Pro Kabaddi history.
He was with the Pink Panthers in Season 4 and came back with U Mumba in Season 5 where he couldn't play many matches due to his injury. He will be a part of Dabang Delhi K.C. in Season 6.
#4 Surender Nada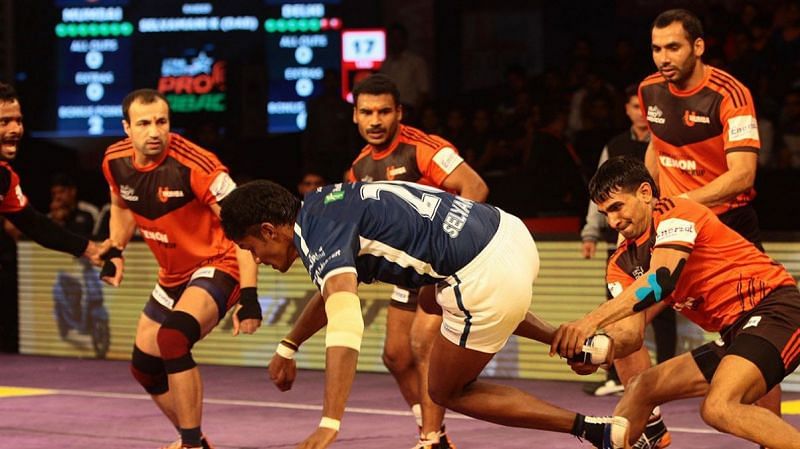 Surender Nada with his arsenal move, the ankle hold.
Surender Nada established himself as one of the best defenders of Pro Kabaddi as a part of U Mumba. Nada was brought in after the inaugural auctions and became their leading defender until Season 3. Surender Nada was U Mumba's best defender in Season 1 with 51 tackle points in 15 matches.
Overall with U Mumba, Surender Nada got 105 tackle points in 36 matches. Most of them came with his trademark move, the ankle hold with a tightened grip. Nada grew under the captaincy of Anup Kumar in the team and formed one of the best corner duos of the world; Surender Nada and Mohit Chhillar. Back then Nada scored at an average of 2.92 tackle points (20.11% of U Mumba's tackle points) till Season 3.
He became a part of Bengaluru Bulls in Season 4 and Haryana Steelers in Season 5. A mature defender now, he will captain the Haryana Steelers in Pro Kabaddi Season 6.
#3 Mohit Chhillar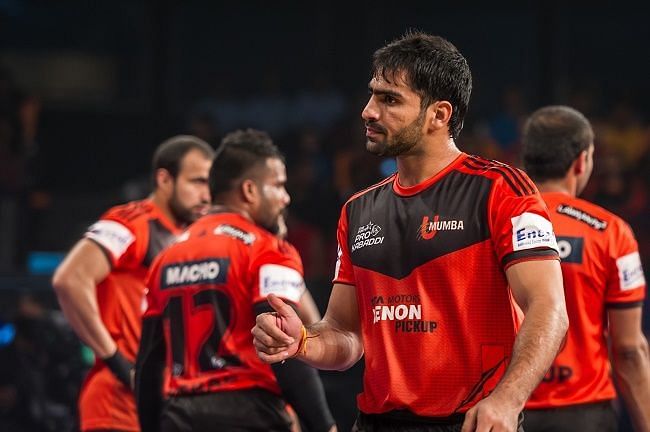 The experienced veteran, Mohit Chillar was signed in the inaugural auctions by the U Mumba team. Mohit's experience combined with Nada's youth and agility formed the best corner duo India has to offer. The master of the chain tackles and block specialist, Mohit Chhillar had the most number of High 5s in Season 3 (6).
Nizampur's pride, Mohit Chillar grabbed 126 tackle points in 43 matches with U Mumba at an average of 2.86 tackle points till Season 3. Mohit Chillar formed a partnership with Surender Nada as well as Fazel Atrachali and scored 24.14% of U Mumba's tackle points until Season 3.
Mohit alongside with Nada played for Bengaluru Bulls in Season 4 and Haryana Steelers in Season 5. However, in Season 6, the Nada-Chhillar duo will be broken as Mohit will don the pink jersey of Jaipur Pink Panthers.
#2 Rishank Devadiga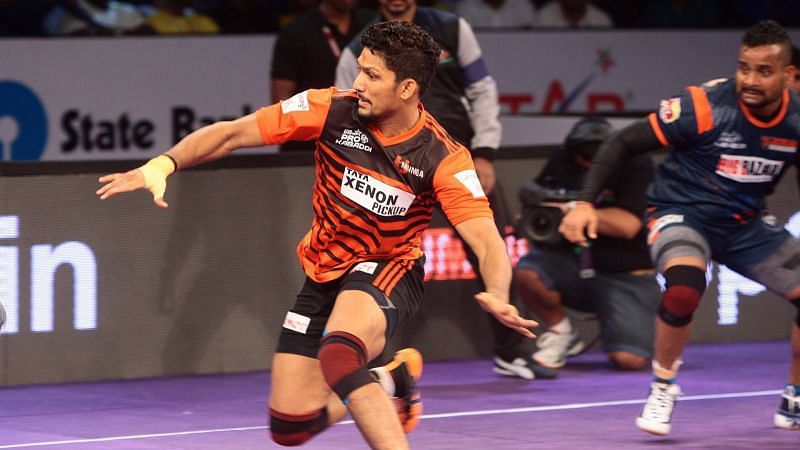 A thin sidelined raider who would one day emerge as one of the best do or die specialist and a mature quality leader on his own, Rishank Devadiga started his voyage in U Mumba. Rishank Devadiga became U Mumba's crucial go-to man during critical situations where he got them points through the running hand touches and quick bonuses.
Thanks to the leadership of Anup Kumar, Rishank Devadiga was privileged to be a devoted leader on his own, taking his team to the Nationals win in 2017-18. Rishank Devadiga scored 284 raid points in 59 matches with U Mumba.
His best performance came in Season 3 where he was the 2nd best raider of the squad. His 81 do or die raid points with U Mumba till Season 4 turned many matches in favour of U Mumba helping them in winning crucial situations.
He became a part of UP Yoddha in Season 5 and now will captain the side in Season 6.
#1 Anup Kumar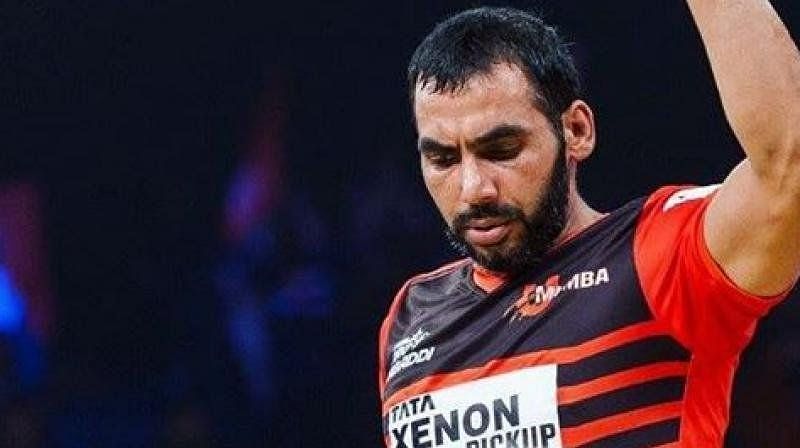 One of the best raiders and captains Kabaddi has gifted its fans, Anup Kumar is a legend on his own. He has led U Mumba with a strategical mindset over the five seasons of Pro Kabaddi perhaps in the coolest mind ever. His ability to control the excitement of young players, let the experienced ones show their skills, and slow down the pace of the game all as per situations has become an inspiration to a lot of Kabaddi players whom we cheer today.
Having played 78 matches with U Mumba, Anup Kumar has 489 raid points to his tally averaging 6.26 raid points. 13 Super 10s, 20.63% of U Mumba's total points in Pro Kabaddi (546 total points out of U Mumba's 2647 points). This 2012 Arjuna Awardee and 2-time gold medalist led U Mumba to its title victory in 2015 and also India to 2016 Kabaddi World Cup.
The master of toe touches and bonus taking efficiency is still Anup's arsenal which a lot of defenders find it difficult to read. It will be the first time when Anup wears the jersey of U Mumba's arch-rivals Jaipur Pink Panthers in Pro Kabaddi Season 6. For a lot U Mumba fans after all these years, they'll miss Anup Kumar immensely as their captain cool somewhere in their hearts.