Insurekot Sports unveil new logo of 'Puneri Paltan'
3.56K //
23 Mar 2015, 14:05 IST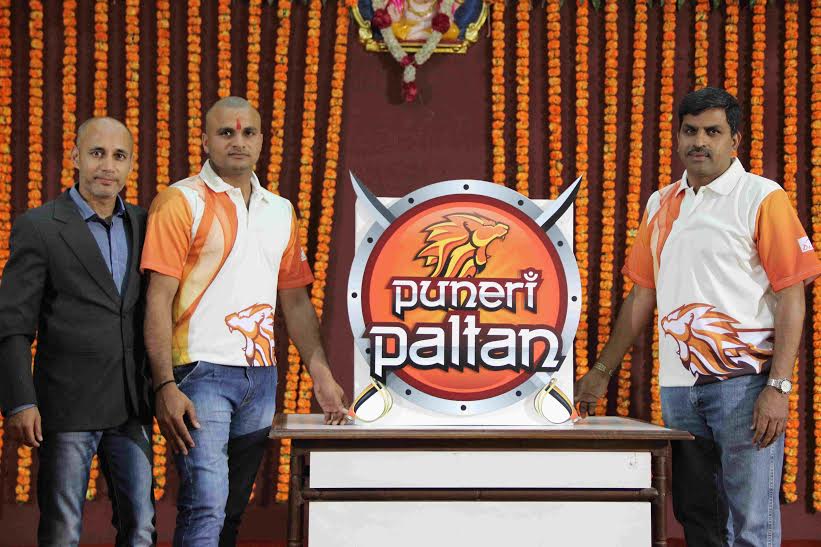 Bengaluru. March, 2015: Insurekot Sports Pvt Ltd., a Mumbai-based firm with varied interest in sports, formally unveiled the brand new logo of Puneri Paltan, the Pune franchisee of Pro Kabaddi League today at Kesari Wada, Pune. The Puneri Paltan team is set to battle it out in the latest Pro Kabaddi League Season 2 with renewed vigour and strength.
To celebrate auspicious beginnings on the eve of the Maharashtrian New Year - Gudi Padwa, Puneri Paltan's new logo was formally launched by the team's new coach and veteran Kabaddi Player and Arjuna awardee, Ashok Shinde and the energetic captain, Wazir Singh. The logo launch was preceded by hoisting the traditional Gudi by Ashok Shinde, Captain Wazir Singh, Team Manager, Kailash Kandpal along with the Captain and Coach of Pune District Kabaddi Association and the Women Shiv Chhatrapati Awardees. The Gudi was raised to welcome the Marathi New Year while embarking on a new journey with Season 2. Students danced to the tunes of Puneri Paltan's anthem - "Gheun Tak!" sung by Ajay Gogavale (of Ajay-Atul fame).
The Puneri Paltan logo has undergone significant transformation to depict ferocity and vigour through its vibrant shades of orange and vermillion - colours that represent the Maratha culture in its truest form. The new logo has introduced a lion along with the traditional shield and sword that stands for aggression and agility through strategic attack and defense. These are traits that mark a true Kabaddi player.
Speaking on the unveiling ceremony, Kailash Kandpal, Team Manager of Puneri Paltan said, "On this auspicious eve of Gudi Padwa, it is an honour to have our new coach, Ashok Shinde, along with the stalwarts of Kabaddi on this stage. It's been a wonderful experience for all us in the maiden year. There was a great deal of learning that emerged in the first year. Based on this learning, we are now excited to step into season 2."
"As always, Insurekot Sports is committed to express patronage and support to Kabaddi and we are gearing up for the forthcoming season which is likely to kick off in July 2015. On behalf of the management, I would like to wish our Puneri Paltan's Coach, Captain and the team the best and lead our team to victory", he added.
Expressing happiness on mentoring Puneri Paltan, coach Ashok Shinde said, "This is a proud moment for me to be part of the Pro Kabaddi League and mentor these young and enthusiastic players of Puneri Paltan. I would like to thank team management for this opportunity to give back to the sport that gave me so much. We will give our best to raise the performance bar in the forthcoming season."
Wazir Singh, Captain of Puneri Paltan team said, "We are excited to play in the second chapter of Pro Kabaddi League. We look forward to learning a lot from Ashok Shinde and incorporate those into our lessons from the last game. We are training hard and will fight each game with full force."
Puneri Paltan will continue to train at the Chhatrapati Shivaji Sports Complex located at Balewadi, Pune.
About Puneri Paltan
Puneri Paltan is the Pune franchise of Pro Kabaddi League, owned and managed by Insurekot Sports Pvt. Ltd. It combines the magnificence of Maharashtra's cultural capital with true flavours of this indigenous sport. Recreating the glory of the game's rich history in India, Puneri Paltan unleashes the energy and fortitude of Kabaddi in its modern day version.
About Insurekot Sports Pvt. Ltd.
Insurekot Sports Pvt. Ltd., a Mumbai-based firm, has recently ventured into the Kabaddi arena with the purchase of the Pro Kabaddi League's Pune franchise – Puneri Paltan.
Insurekot Sports Pvt. Ltd. is passionate about Kabaddi and committed to promoting the sport. The firm looks forward to creating awareness around Kabaddi's rich heritage in the country.
Kabaddi, being the national sport of India, deserves illustrious reverence and respect. Its long history in India can be traced from the times of Gautama Buddha, and is a testimony to the game's core values of strength, valour and spirit. The discipline of the game is inspirational and offers lessons not only in the field of sports but also in other walks of life.