As the Pro Kabaddi League (PKL) season 9 unfolded, the spotlight fell on Narender Kandola, the young talent who emerged as a pivotal figure for Tamil Thalaivas.
In the world of Kabaddi, the unexpected can often become the catalyst for transformation. When Pawan Kumar was sidelined due to injury in the opening match of PKL season 9, few anticipated Tamil Thalaivas' resurgence.
It was coach Ashan Kumar who stepped up to the challenge of guiding the team through a challenging period, fostering a collective spirit among the players.
Amidst this resurgence, a young and promising talent, Narender Kandola seized the opportunity and emerged as the lead raider for the Thalaivas. He amassed an impressive 250 points in his debut season. His consistent performances earned him the title of the emerging player of the tournament.
In an exclusive interview with Sportskeeda, Narender Kandola offered a glimpse into his remarkable journey and experiences in the world of kabaddi.
---
From humble beginnings to Kabaddi stardom - Narender Kandola's journey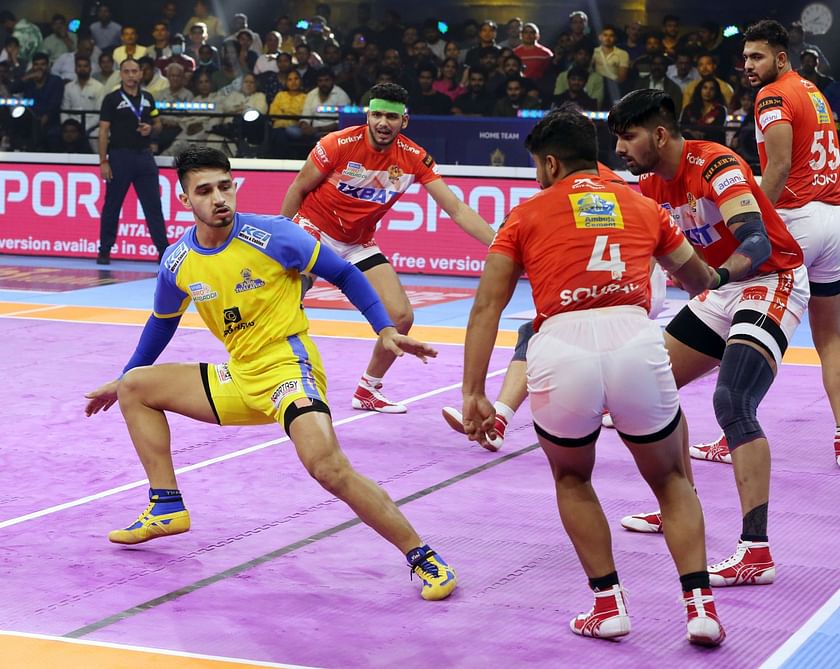 At the onset of PKL season 9, Tamil Thalaivas faced an unexpected setback when their star player, Pawan, suffered an injury in the very first match. For Narender Kandola, this moment presented a significant opportunity rather than a challenge. He remarked:
"I saw this as an opportunity because it was my first season, and I became the main raider of the team after Pawan's injury. I received unwavering support from my teammates, which allowed me to perform well."
For Kandola, the debut match in the PKL was a mix of emotions, marked by both excitement and pressure.
"As it was my debut match, there was a mix of excitement and pressure to perform. I knew that a strong performance was essential to secure my place in the team."
Kabaddi is known for its quick pace and dynamic nature, requiring athletes to be at their best, physically and mentally. Maintaining peak performance during the PKL season, which has matches packed in a tight schedule, can be challenging. Kandola explained that after a decade in the sport, he has adapted to the rigorous schedule.
Kandola shed light on his training regimen, emphasizing the focus on speed and strength.
"Training remains consistent throughout the season and the offseason. I have been training with SAI for 3-4 years, primarily focusing on enhancing our speed and strength. We have physiotherapists and masseurs with the team who play a crucial role in keeping us fit and managing the physical demands of the game."
Growing up in a village where kabaddi was a way of life, Kandola found inspiration in the village elders who played the game passionately. He also described Vikas Kandola and Pawan Sehrawat as his idols.
"In my village, elders used to play Kabaddi in the ground. I used to go and see the game, and slowly, I started playing with them. Pawan Sehrawat and Vikash Kandola are my inspirations. I used to watch a lot of their matches and they inspired me to take up this sport. "
The PKL season 9 marked a turning point in Kandola's career, catapulting him into the limelight. After his successful season, Kandola had the opportunity to celebrate his first earnings. However, he remained grounded as he wanted to support his family.
"Everything changed after the season. Before, not this many people knew me. I got the money from the games that helped me support my family. It pushed me to prepare harder for the next season to achieve many more milestones, so I am working towards that."
---
Coaching that transforms: Learning from Ashan Kumar Sangwan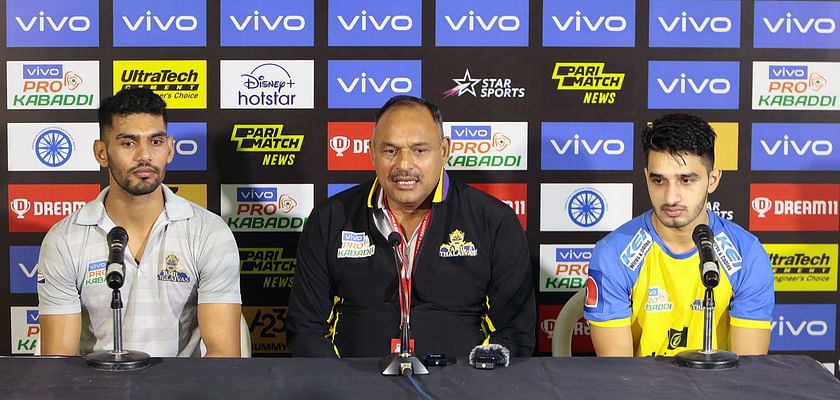 Under the guidance of coach Ashan Kumar Sangwan, Tamil Thalaivas had an impressive campaign during PKL season 9. Coach Ashan Kumar's strategic vision and emphasis on team communication played a pivotal role in elevating the team's performance, leading to a remarkable turnaround. Narender Kandola describes coach Sangwan's impact in these words:
"He is a very senior coach, and he has been the coach of the national team many times. When he came, we had lost 2-3 games back to back, and our spirits were low. He motivated the team, pointed out our mistakes, guided us well and improved us a lot. Then we were winning. I learned from him the art of keeping my head cool under pressure."
PKL season 9 began with the Tamil Thalaivas facing a series of losses. Narender Kandola reflected on this challenging phase:
"At first, the team was not very set because there were continuous changes in the team every match. That's why communication was not good among the team."
In the world of kabaddi, facing tough defenders is an integral part of the game. Narender Kandola, however, remains unfazed, stating:
"I don't have trouble playing against anybody."
When asked about the top defenders in the league, he acknowledges Sunil Malik from Jaipur Pink Panthers as one of the best. He attributes his success to adaptability, noting:
"There was no fixed strategy. We come up with it during the game with the advice of our coach sir."
Narender Kandola's journey in kabaddi embodies the essence of dedication, adaptability, and unwavering commitment. His story resonates as an inspiration for both aspiring kabaddi players and those seeking to achieve greatness through relentless pursuit.
Edited by Akshay Saraswat