Pakistan confident to win Kabaddi World Cup
1.63K //
30 Nov 2012, 17:09 IST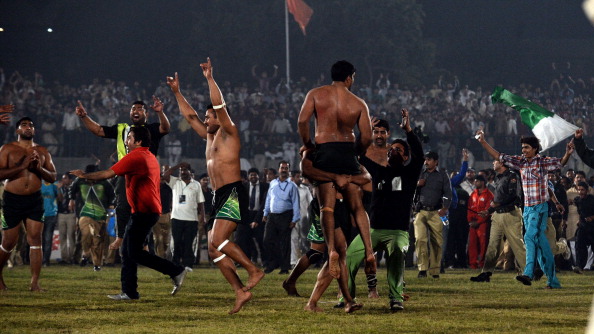 Islamabad - Considering their current form, Asian champions Pakistan showed optimism and confidence to win the upcoming 2012 Kabaddi World Cup to be held in India from Dec 1.
Pakistani team coach Tahir Wahid Jutt said on Thursday that they had worked hard to train and prepare players for the World Cup and hoped to show some extraordinary performance in the mega event, reports Xinhua.
"Our boys are fit and well-prepared for the World Cup. Especially, after winning the Asian Championship our team's morale is very high that is a positive thing for such powerful games," said Jutt.
Pakistan recently won the Asian Championship by beating arch-rival and defending champions India on Nov 6 at home in Lahore.
Pakistan team will leave for India Friday to feature in the World Cup to be held in the Indian state of Punjab.
The 16 participating teams including Pakistan, Afghanistan, Argentina, Canada, Denmark, England, Iran, Italy, Kenya, New Zealand, Norway, Scotland, Sierra Leone, Sri Lanka, the United States and India will play 46 matches in the men's event.
Indian officials Wednesday announced that all the preparations to hold the World Cup had been finalised and they were ready to welcome participating teams. The mega event will start Dec 1 and will continue to Dec 15 in different cities of Punjab.
All the team will battle for the prize money of the $365,160. The runners-up will be awarded with $182,580 and the team finishing in third position will get $93,116.
Deputy Chief Minister of Punjab Sukhbir Singh Badal on Thursday ordered that drug test would be mandatory for each player as they were committed to ensure a doping-free tournament.
At least 52 players were expelled last year during the World Cup in India after they were found guilty of prohibited drugs usage to enhance their performance.
Responding to the question about dope test, Jutt said: "Our players always remained clean about dope tests because they depend on proper diet and hard exercise. And any test will not haunt us as we are clear."
Jutt also asked the public to encourage the players during the matches, especially when the team will take on India.