The Pro Kabaddi League Season 5 is entering its final leg and in the last two months, the Puneri Paltan have been one of the best teams; they look like genuine contenders for the title. In the 12 matches they have played so far, they have won nine and lost just the three -- a strong set of results for a team gunning for their first PKL title.
One of the main players behind the side's run of success has been raider Rajesh Mondal, who is renowned for his abilities in do-or-die raids. A former league winner with the Patna Pirates, he has been in fine form this season as well, notching up 45 raid points in 12 matches.
He spoke to Sportskeeda in an exclusive chat, where he detailed how he started playing the sport, his favourite raider in the league and of course, the secret behind his success in the do-or-die raids!
Here are a few excerpts:
---
---
How would you assess your season with Puneri Paltan so far? Do you think your team can win the title?
My journey with Puneri Paltan has been incredible. The team has a perfect mix of young talent and experienced players. Our head coach BC Ramesh himself is a well-known national kabaddi player and with his expertise, the team has shaped up really well.
We have a young captain in Deepak Hooda along with key players Sandeep Narwal, Girish Ernak, Monu, Umesh Mhatre and veteran player Dharmaraj Cheralathan, who add to the strength of the team. Our team is one of the strongest teams in PKL and I believe that we definitely have the potential to win the title this year.
When and how did you start playing kabaddi?
I have been playing kabaddi since I was 10 years old. My father Ramen Mondal was a national kabaddi player and coach. He used to take me with him to watch matches, from where I developed an interest in the sport.
What do you feel was the turning point in your career?
It was my father encouraged me to take up the sport seriously. I used to train at a club near my house and then went on to play the district level games from where I was selected for the national team. The turning point in my career was when I won a gold at the 2011 National Kabaddi Championships.
Who do you think is the best raider and defender individually in the league?
Best raider, I think has to be Pardeep Narwal because he is very agile, has a unique raiding style and seems to break through any defence. As far as the best defender is concerned I think Surender Nada is the best defender as he possesses every defending move in his kitty and uses it prudently according to the situation on the mat.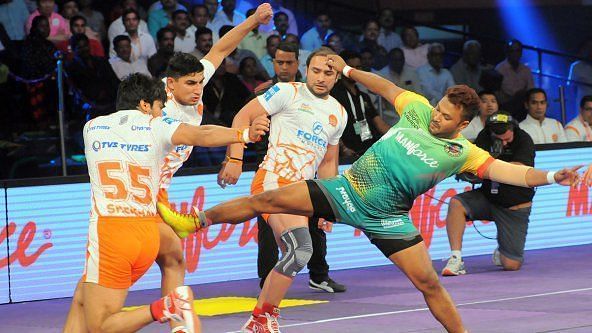 What do you think is the biggest challenge that players are facing in Season 5?
Challenges are part and parcel of every game. There are no difficulties as such. One area where all the players are focussing on is fitness. This time, the season is three months long and we get to play more matches which is really exciting. However, we have to work equally hard to maintain and build our stamina and fitness for the season.
What is the secret to your success in do-or-die raids? What do you do differently that has made you so successful in those situations?
The saying "practice makes a man perfect" has a lot of significance in my life. During my training, I do a lot of mock raids with different players to improve my game.
The secret to master the do-or-die raid lies in the ability of a player to judge the movement and strategy of opponents. The number of players in the opponent's team during do-or-die raids is crucial. One must also learn the art of tackling and escaping for completing a successful raid.
In your career, which players have you enjoyed playing with and against the most?
I have enjoyed playing with Dharmaraj Cheralathan the most since we have been playing together since Season 1 of PKL. There's no particular player against whom I like playing. Every player has their own tactics and the happiness is different when you crack their tactics and earn a point, especially during do-or-die raids.