Time for India to go Kabaddi Kabaddi!
2.26K //
14 Dec 2012, 20:27 IST
It's India vs Pakistan in the Kabaddi World Cup tomorrow. It's time for us to take stock of the game in which we rule the world. In spirit, Cricket is seen as the national sport of India, while Hockey is unofficially the official national sport of the country. Amidst the hullabaloo of these two sports contending for the honour of the national sport of India, India has quietly been winning World Cup after World Cup in Kabaddi.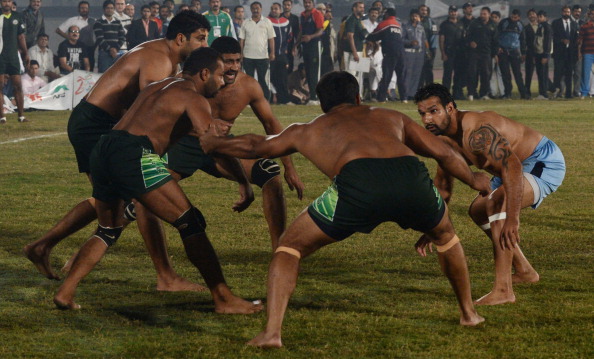 The Kabaddi World Cup is organized by the government of Punjab and India has won every single edition of it thus far, defeating countries like the USA and England. Why not make a Lagaan around Kabaddi? The sport is tailor made for Indians. We bemoan the lack of infrastructure, Kabaddi can be played anywhere. We sigh that we aren't technically as coordinated as the Asians, Kabaddi is more brute force than finesse. For a nation of people who are prone to quibbling, Kabaddi seems like a perfect game to vent against an opponent. A little bit of wrestling without the potential injuries, a little bit of 'pakda pakdi' with tag thrown in. American style football has similarities here but there is a reason people say that the NFL will be slow to catch on in India, even with the advent of the Elite Football League of India. That is a pretty complicated game to begin with and takes time to warm up to. In contrast, Kabaddi is a simple game – sneak into their zone, slap them around, and run back like the wind.
The thrill of running back after scoring a hit makes one feel decades younger. The feeling that you got away with something. Picture Jerry stealing a piece of cheese and scurrying back to his hole while Tom haplessly chases him. You know that Jerry is going to make it back to his hole, Tom knows it too. It's all Jerry can do to not skip and turn and stick his tongue out at Tom.
What wouldn't I give to watch a player in Kabaddi scurry back to his home zone, backpedalling, and sticking his tongue out at the defenders chasing him, yelling "Nyah na na na na! Can't catch me." Except for the yelling part, you can only yell Kabaddi. I'd love to see one yell 'Kabaddi Kabaddi' in that tone! Tomorrow I may get to, as India takes on Pakistan. India has had a much better track record than Pakistan.
A cynic may attribute India's success in Kabaddi to various reasons. That it's mostly propagated in the western countries by NRIs. That the elite athletes don't take it too seriously. (Imagine Bolt or LeBron leading their countries in the Kabaddi World Cup. Goodbye World Cup it would be for us). The NRI issue has so far gone that the Malaysian women's team at the championships is actually made up of mainly Indian citizens who are working or studying or just visiting Malaysia.
Read more: https://www.sportskeeda.com/2012/12/10/seeking-legitimacy-the-illegal-way/
While we are on the theme, why not just blame our success on the tongue? Ask an American to pronounce Kabaddi and he may falter a bit. Ask him to breathlessly splutter Kabaddi-Kabaddi and his blood flow may flow in the direction of the head more than his body, to support the linguistic brainwork needed to pronounce the word.
What it boils down to, is that it's at the discretion of a country if it wants to cultivate its top talent and send it to participate in the World  up or not. A similar argument was made when Indian women beat China in the 3×3 Basketball at the Asian Beach Games, that China did not send its best players for it. Well whose fault is that? Did we ask for anything less than their very best? Other countries not spending time and energy into developing talent does not absolve their track record in the sport. If someone is donning the national colours, it's their responsibility to represent their nation to the fullest.
This is a sport in which India is the very best in the whole wide world. And we ought to respect it as such. Giving impetus to sports in which our rural populace rocks the four corners of the earth will in turn give impetus to sports in India as a whole.
Sixteen countries have participated in this Kabaddi World Cup, two countries have remained. It has boiled down to a showdown between India and Pakistan. In the semifinals, India obliterated Iran 72-23. Our rivals beat Canada 53-27 to make it to the finals. Remember the song 'This is what it's like when worlds collide', by Powerman 500? That's what it's going to feel like when 'pehelwans' from both countries come face to face and make the earth rumble. Besides the usual India-Pakistan animosity, there is more bad blood here. India have their reputation to whitewash versus Pakistan. In the Asia Kabaddi Cup, India had unceremoniously refused to take to the field after a call made by an official in the favour of Pakistan. At that time the match was pretty much decided and it just remained for time to tick down before India lost. Rather than face the loss with grace and dignity, our players chose to hold their breaths until their cheeks turned purple. Here's the issue in detail:
Tomorrow will be India's chance at redemption for its reputation in Kabaddi. The finals will be held at the Guru Nanak Stadium in Ludhiana. It's time for India to go Kabaddi! Kabaddi!