Russia isn't all about Vladimir Putin or the Vodka. The largest nation of the world is known to produce some of the toughest men in the world akin their polarizing leader. You may have heard it a thousand times before; Russians are as tough as nails and it's all attributed to a rigorous training system and the ruffian culture in general.
Russian pioneers Vasili Oshchepkov and Viktor Spiridonov developed Sambo – a Russian martial arts form – in the 1920s with an aim to integrate elements of Judo, Catch-wrestling, Jujutsu and other notable martial arts from around the globe. And how can we forget the country's rich boxing heritage and its consistency in creating prolific pugilists?
The country's opulent combat lineage has enabled many Russians to successfully ply their trade in the USA, and while the Russian boxers have been quite popular since the Rocky days, Russian MMA fighters have also dominated the world of MMA since the inception of the sport. However, isn't it strange that UFC got their first Russian Champion in 2018 in Khabib Nurmagomedov? If only Fedor Emelianenko had jumped over to the UFC in his heyday, the story may have been completely different.
Nonetheless, UFC has had some notable talents from Russia over the years and even in the current setup, have exciting prospects from the Motherland who could be a part of the Russian wave that's expected to take over the biggest MMA promotion in the near future. Let's have a look at those talents in this slider:
Honorable Mentions:
Andrei Semenov (34-9-2, 1-1 in the UFC, currently semi-retired)
Ali Bagautinov (18-6, 7-3 UFC, Former UFC Flyweight title Contender, currently fights in the regional scene in Russia)
Zabit Magomedsharipov (17-1, 13-fight win streak, a bright prospect currently ranked #6 in the UFC Featherweight Rankings)
---
#5 Mairbek Taisumov (28-5)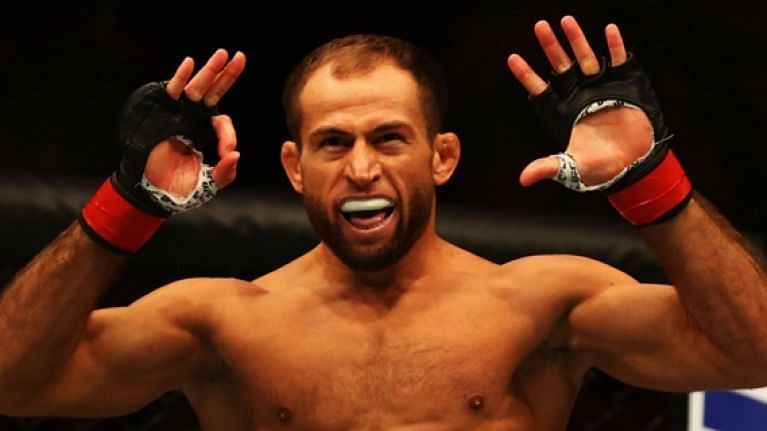 Mairbek 'Beckan' Taisumov's would be one frustrated individual. Known as 'The Newcomer Killer', Taisumov's UFC career has been marred by injuries and tiresome visa issues. He has been removed from as many as three fights due to alleged visa issues and has had a mere 8 fights since he joined the UFC's Lightweight division in 2014.
Even though Taisumov is on a 6-fight win streak, he missed weight by almost 6 pounds in his recent unanimous decision win against Desmond Green at UFC Fight Night: Hunt vs. Oleinik in September 2018. Ignore the setbacks as the former M1-Global talent has the legitimate capability. The Russian-Austrian fighter of Chechen ethnicity has been in the top-15 Lightweight UFC rankings just once in his UFC career with 3 Performance of Night bonuses and 5 finishes in his last six fights.
In order to live up to his explosive potential, Taisumov should first consider moving up to Welterweight and by all means, get his visa difficulties sorted out.
#4 Rustam Khabilov (22-3)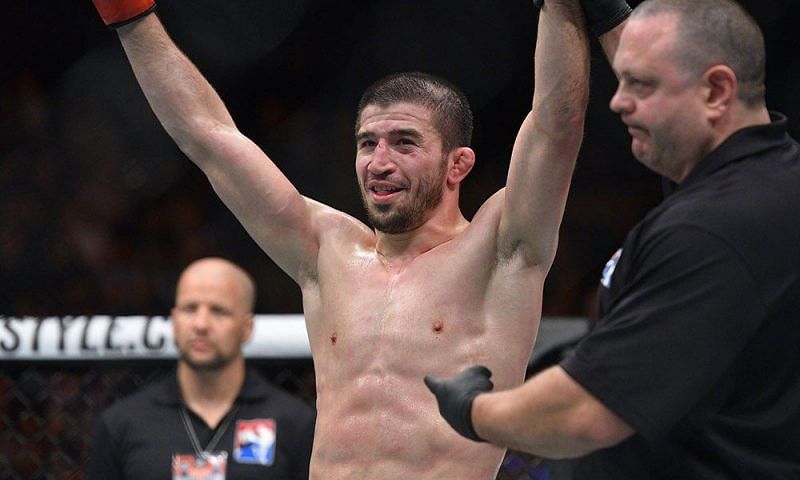 While Khabib Nurmagomedov is the prime focus of the Lightweight division, his fellow countryman have been away from the limelight for various reasons. Rustam Khabilov is one of them. 'The Tiger' has been with the UFC since 2012 and yet, is outside the top 15 in the official UFC Lightweight Rankings. He is 11-2 in the UFC and was always primed to be a top contender in the stacked 155lb division.
However, Khabilov's story is more or less similar to Taisumov. Recurring visa issues, consecutive losses to Benson Henderson and Adriano Martins and a botched weight cut at UFC 206 have hindered Khabilov's UFC career from truly taking off. The diminutive Russian is currently on a six-fight win streak in the UFC with his most recent victory coming against Kajan Johnson in September 2018 at UFC Fight Night: Hunt vs. Ollynyk in Moscow, Russia.
Post the Johnson fight, Khabilov expressed his frustrations regarding his inability to get a visa to fight in America which has inadvertently increased the time between his fights. He has been called out by #4 ranked Lightweight Kevin Lee on various occasions in the past and the Dagestani Combat Sambo specialist is aching to get his visa in place not only to shut Lee up but to also feature regularly on UFC cards in the future.
All the setbacks aside, Khabilov is similar to Nurmagomedov as both men are accomplished Sambo practitioners with a relentless grappling style. The only thing that is dissimilar are their visas and we hope that changes soon.
#3 Alexey Oleinik (57-11-1)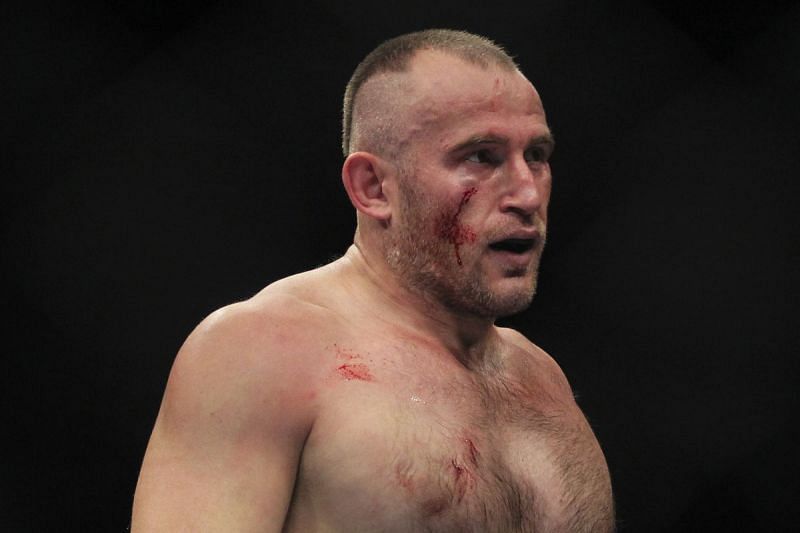 69 professional career fights, 45 career submissions victories, UFC Heavyweight title contender, 41 years old -- the stats and facts perfectly summarize Ukrainian-born Russian Alexey Oleinik. 'The Boa Constrictor' turned professional in 1996 and has fought for a number of promotions over the course of his incredible 22-year career. M1-Global, IAFC, KSW, Bellator, and now UFC are some of the most noteworthy ones.
Oleinik also holds a few unique records in the UFC. The Russian is the only fighter to have finished a fight with the Ezekiel choke (twice in the UFC), and the most in MMA at 12.
He is a 4th Degree Jiu-jitsu Black Belt and International Master of Sports in Combat Sambo holder and has lost only two of his last seventeen fights dating back to 2012. He is currently 8-2 in the UFC (4 Performance of the Night Bonuses) with eminent victories over Jared Rosholt, Travis Browne and most recently against Mark Hunt in September 2018. Currently on a two-fight win streak and ranked 8th in the official UFC heavyweight rankings, Oleinik could be in line for an unlikely UFC Heavyweight title shot if he strings together a few more wins against top 10 contenders.
#2 Oleg Taktarov (17-5-2)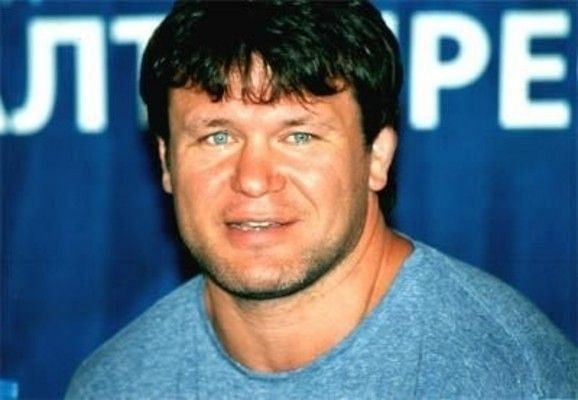 The first recognized Russian MMA Star in UFC history, Oleg Taktarov is as seasoned as they come. He has a Master of Sport in both Judo and Sambo and has Black belts in Judo and Brazilian Jiu-jitsu.
The Russian Bear had his first professional MMA fight in 1993 and took part in the UFC 5 tournament in April 1995. Taktarov lost to UFC Hall of Famer Dan Severn in the Semi-Finals but returned to be a part of UFC 6 in July 1995.
Taktarov went on to win the sixth edition of the tournament after notching up wins against the likes of Anthony Macias, Dave Beneteau, and Tank Abbott. He went head to head with Ken Shamrock at the subsequent UFC 7 event in UFC Superfight Title match. Even though the 33-minute encounter ended in a draw, it solidified Taktarov as being the real deal. He went from strength to strength and defeated Brazilian Marco Ruas in his penultimate UFC appearance. His final fight for the UFC was in a losing effort against Dan Severn at UFC's Ultimate Ultimate in December in 1995.
The Russian Bear owned 1995! He fought 9 times that year (6 wins, 2 losses, and 1 draw), that included two 30-minute fights and his UFC 6 Tournament victory.
He continued to fight sporadically until 2008 before turning towards making it big in show business. Tarktarov has appeared in more than 40 movies and has small roles in hits such as Bad Boys II, Air Force One and National Treasure. The retired legend has not lost in his last five fights, the last of which happened in 2008.
#1 Khabib Nurmagomedov (27-0)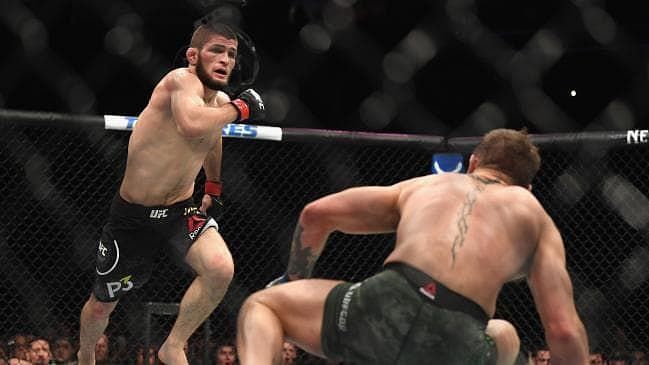 Of course, it's Khabib who takes the top spot. The Eagle is flying high ever since the resounding victory against Conor McGregor at UFC 229. Before the most lucrative fight in UFC history went down, Nurmagomedov's flawless record was undermined by pundits who claimed he beat tin cans en route to becoming the first Russian UFC Champion.
The Notorious One's elite striking seemed like the perfect weapon to exploit Khabib's apparent stand-up weakness. However, the often personal and intense rivalry between the two ended with Khabib handing McGregor a forgettable loss on his return to the Octagon after two years. The iconic win was marred by the post-fight chaos that led to both being handed indefinite bans.
The controversy that ensued at UFC 229 shouldn't take away from the fact that Khabib Nurmagomedov is a world class athlete at his intimidating peak. The UFC Lightweight Champion dominated the Irish poster boy of MMA, shut his naysayers up for the time being and multiplied his star power to a great extent in a matter of months.
The Combat Sambo virtuoso is the best Russian fighter to have stepped foot in the UFC and that's partly because The Last Emperor decided to give UFC a skip. Nonetheless, despite an envious record, Khabib's legacy is still in its infancy as the next few years would determine whether he takes over the great Fedor Emelianenko in terms of accomplishments and accolades.