According to reliable reports, former UFC bantamweight champion Petr Yan is all set to attempt to regain his title when he rematches Aljamain Sterling at UFC 267 in late October. But judging on history, there's every chance he fails to do so.
The UFC regularly books rematches for its titles, particularly when a formerly dominant champion loses their crown, but it's rare for a former champion to regain gold.
Instead, we've seen on numerous occasions that the new champions simply have too much confidence in themselves and are able to fend off the challenge of the once-dominant former titleholder.
So can Petr Yan buck that trend? Or will he join this list of five former UFC champions who failed to regain their titles in a rematch?
---
#5. Joanna Jedrzejczyk vs. Rose Namajunas – UFC 223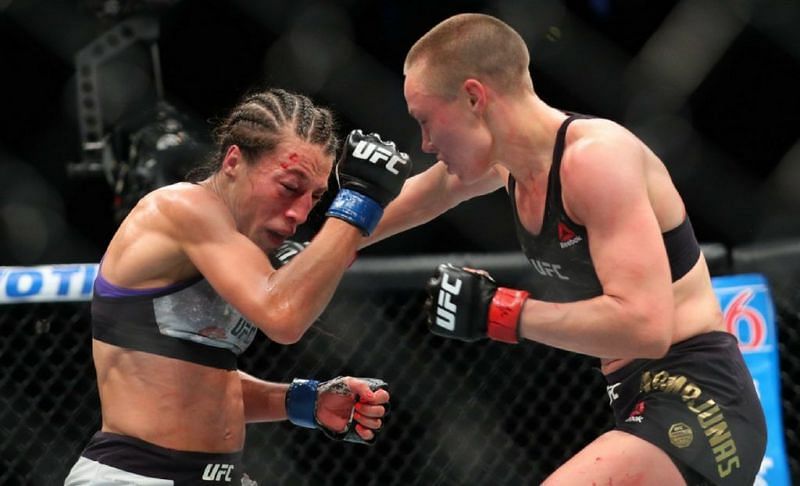 When Joanna Jedrzejczyk won the UFC strawweight title by stopping Carla Esparza at UFC 185, she looked capable of going onto a truly dominant title reign.
And the striker from Poland did just that, ripping through five straight opponents over the next two years, largely outclassing everyone who set foot inside the octagon with her.
So when she faced Rose Namajunas at UFC 217, few fans were really giving 'Thug Rose' a chance. Those fans were left gobsmacked when Namajunas dropped Jedrzejczyk with a left hook in the first round, ending her dominant title reign in the blink of an eye.
In the aftermath of the fight, Jedrzejczyk was happy to blame a horrible weight cut for her loss, essentially suggesting that she was too drained to be able to absorb any hard strikes.
The UFC evidently agreed, and granted her an immediate rematch just five months later at UFC 223. However, if Jedrzejczyk expected to simply blow Namajunas away, she was sorely mistaken.
Instead, 'Thug Rose' fully proved her worth by outstriking Jedrzejczyk over five rounds, largely using a stiff jab to outbox her despite the Polish fighter's best efforts.
It was a remarkable performance considering Jedrzejczyk's former dominance, and effectively ssignaledan end to the Polish fighter's reign of terror over the division for good.
#4. BJ Penn vs. Frankie Edgar – UFC 118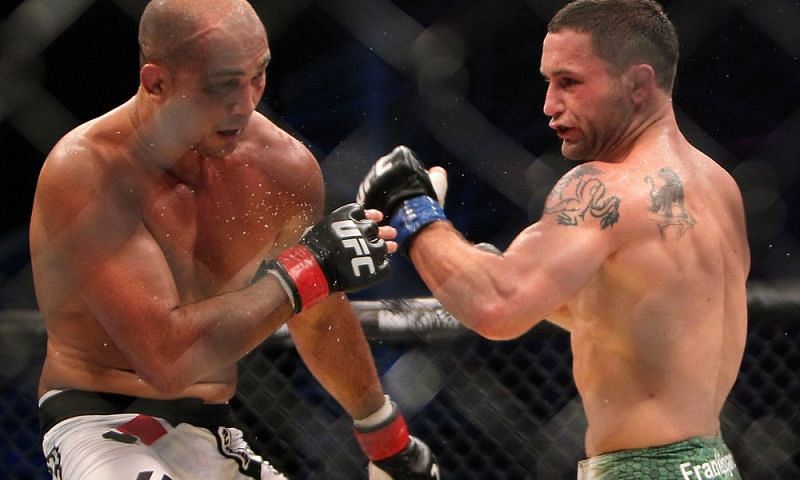 UFC 112 was subtitled 'Invincible' in reference to two of the UFC's most dominant champions Anderson Silva and BJ Penn, who were booked to co-main event the show.
But while Silva duly defended his UFC middleweight title against Demian Maia, Penn failed to live up to his end of the bargain.
'The Prodigy' was expected to simply run over challenger Frankie Edgar, who was undersized at 155 pounds and had never shown anything that suggested he could handle a fighter as dangerous as Penn. But Penn fought a strangely flat fight, and despite many fans believing he deserved the nod from the judges, he ended up on the wrong end of the decision and lost his title.
It was a no-brainer that the UFC would book an immediate rematch, not only because of Penn's prior dominance but also because of the semi-controversial decision in the first bout. And it was fully expected that 'The Prodigy' would regain his title.
Instead, though, at UFC 118, Edgar proved his worth by completely outclassing the Hawaiian in all areas across five rounds, winning a decision that didn't have a shred of controversy around it. When all was said and done, there was no doubt who the rightful champion was.
Incredibly, the fight basically signaled the end of Penn's career as a top-level fighter, too, as he would go onto win just one of his next nine visits to the octagon.
---
#3 Randy Couture vs. Chuck Liddell – UFC 57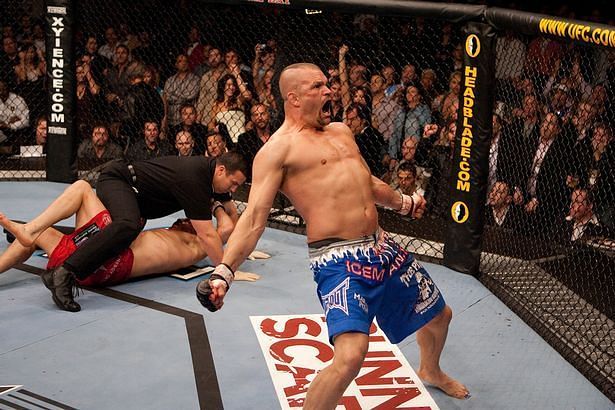 When Randy Couture lost his UFC light heavyweight title to Vitor Belfort in 2004, he was able to instantly regain it by battering the Brazilian in a rematch. However, when he then lost the title to Chuck Liddell a year later, he was unable to repeat the feat.
Couture's fight with 'The Iceman' at UFC 52 broke the UFC's pay-per-view buyrate record, and so it made sense for the promotion to book a rematch between the two, despite the fact that Liddell had knocked out 'The Natural' inside a round.
But surprisingly, the UFC decided not to book it immediately, instead allowing the two rivals to fight separate opponents at UFC 54. And when they both won – Liddell beating Jeremy Horn, Couture beating Mike Van Arsdale – the long-awaited rematch was quickly set up at UFC 57.
Once again the fight piqued the interest of UFC fans across the world, drawing another huge pay-per-view buyrate. Unfortunately for Couture, the result remained the same.
'The Natural' fought a better fight this time around, taking Liddell down in the first round, but 'The Iceman' simply had too much punching power, and eventually turned Couture's lights out in the second.
Couture would hang his gloves up, albeit temporarily, after the bout, while the rivalry as a whole propelled Liddell into becoming the UFC's biggest star for some time afterwards.
#2 Rich Franklin vs. Anderson Silva – UFC 77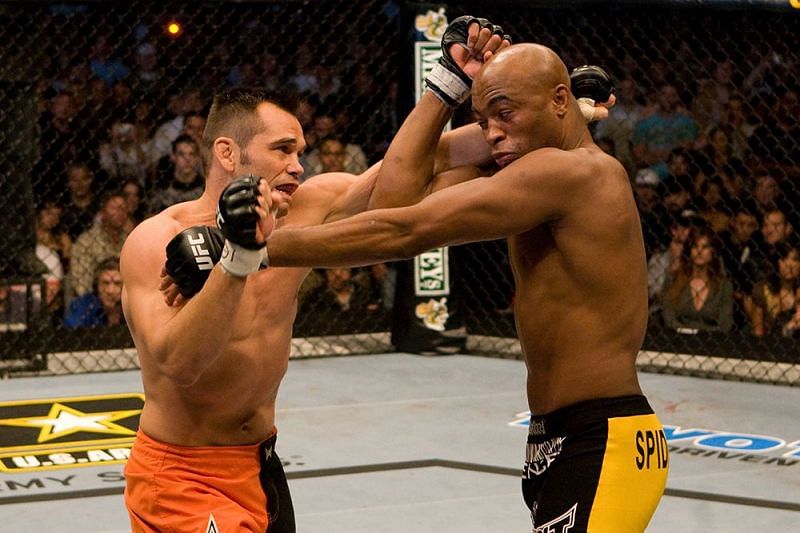 Rich Franklin won the UFC middleweight title in 2005, defeating Evan Tanner, and it immediately became clear that the promotion saw 'Ace' as one of their new poster boys.
Franklin was given a huge push by the promotion, including a coaching stint on the second season of The Ultimate Fighter, and defended his title in devastating fashion against Nate Quarry and David Loiseau.
And so when he was booked to defend it against Anderson Silva at UFC 64, a show subtitled 'Unstoppable' in reference to Franklin, few UFC fans imagined that he'd lose.
But unfortunately, 'Ace' was thoroughly outclassed by Silva, who abused him with knees from the clinch en route to a first round TKO win. It was one of the most one-sided title fights in UFC history, but at the time, nobody really knew how dominant Silva would go onto become.
And so despite beating Travis Lutter and Nate Marquardt in the meantime, when Silva was booked in for a rematch against Franklin with the title on the line in Franklin's hometown, many fans figured 'Ace' would find redemption by reclaiming his title.
It simply wasn't to be. Once again, Franklin was thoroughly outclassed by Silva, who finished him off in the second round with an absolutely vicious combination. Franklin was a great champion, but essentially Silva was far better, and this rematch only proved it for good.
---
#1 Anderson Silva vs. Chris Weidman – UFC 168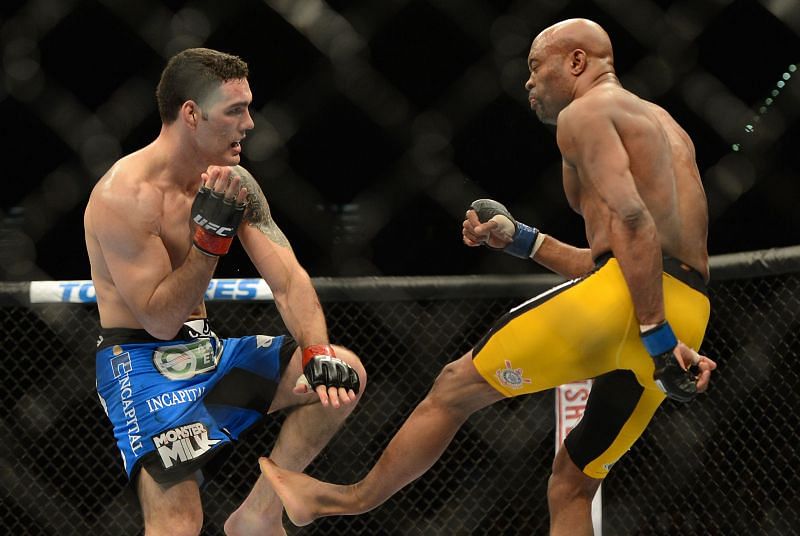 While many fans favored Rich Franklin to regain his title from Anderson Silva at UFC 77, hardly anyone was picking Chris Weidman to dethrone 'The Spider' at UFC 162 some six years later.
That's because Silva had gone onto become arguably the most dominant champion in UFC history, defending his title on 10 straight occasions.
He'd even taken a number of non-title fights during that time, and coming into UFC 162, he'd won a ridiculous 16 UFC bouts in a row. For anyone to defeat him would be a monumental task.
But Weidman refused to be sucked into the hype, and when Silva attempted to play mind games with him, 'The All-American' refused, and shocked the world by knocking the Brazilian out in the second round.
UFC fans were stunned and nobody was surprised when the promotion booked an immediate rematch, feeling Silva had basically thrown the title away with his risky behavior in the octagon.
But at UFC 168, Weidman proved once and for all that his win was no fluke. He battered the Brazilian and almost knocked him out again in the first round, and in the second, ended the fight by checking a leg kick and causing Silva's leg to snap like a twig.
The end of the fight was a shocker, but the truth was that 'The Spider' had been well beaten by Weidman. The defeat marked the end of the Silva era in the UFC, as he would win just one of his next seven fights before retiring in 2020.