Exclusive interview with UFC's "The Immortal" Matt Brown
1.91K //
12 Mar 2015, 18:04 IST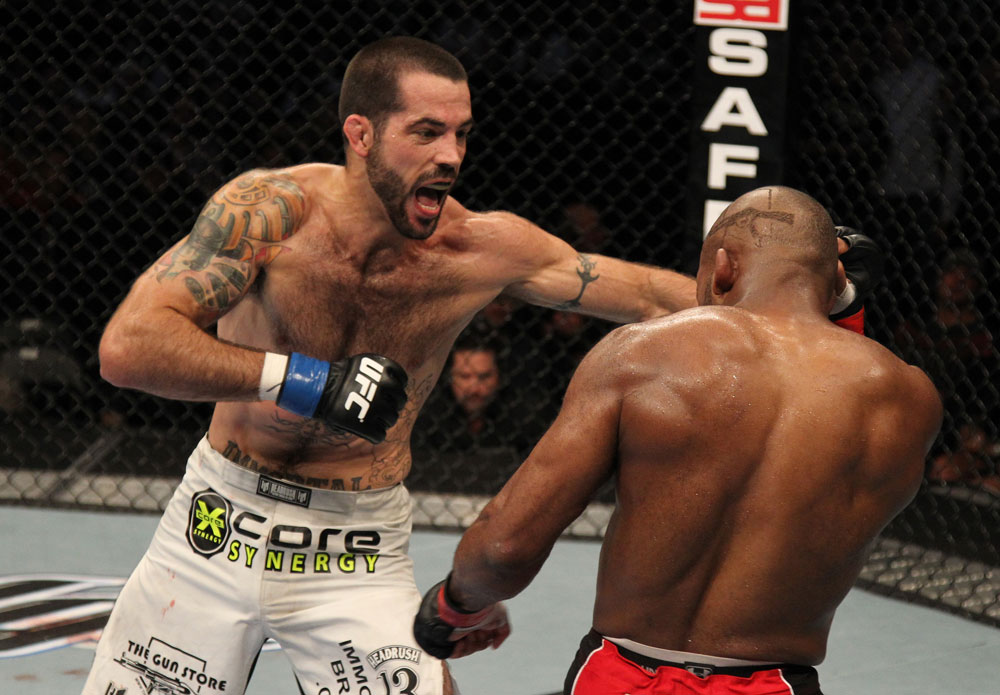 With UFC 185 right around the corner, the fans are excited about the stacked card UFC has put out. Two titles will be defended, as Anthony "Showtime" Pettis puts his UFC Lightweight title on the line against Rafael Dos Anjos, and Carla Esparza defends her UFC women's Strawweight title for the first time against the undefeated Joanna Jedrzejczyk.
One of the fights that gotten people talking is the bout between the former UFC Welterweight champion, Johny "Big Rigg" Hendricks and Matt "The Immortal" Brown on the same card. But before the PPV, my colleague Ratish and I managed to catch up with Matt Brown (You can also read about our interview with Carla Esparza), and below is the complete transcript of our interview.
Your full-steam ahead charge style has worked well for you in recent years and more importantly has won you many fans. Is it something you plan on or just a case of instincts taking over when the referee starts the fight?
MB: It's a case of the instincts taking over. I've never really thought about it before. It's just simply in my nature, as the way I approach life. That's the way; I think the way you approach life carries over into the Octagon. You can see a person's personality, so that's why I think it happens for me like that.
One of the things that really separate you from a lot of the fighters is the frenetic pace you are able to put on your opponents throughout the fight. What do you attribute your level of cardiovascular conditioning to?
MB: Hard work. That one I don't need to elaborate on. Because hard work is the key. That's all there is to it.
Your opponent is not someone known for his conditioning, but is probably the best wrestler in the weight class. Where do you think you have an edge over him when it comes to a 3 round fight?
MB: Well, hopefully everywhere. That's what we get in there to find out – who has the edge and wherever they have it. I think I have the edge in cardio even in a 3 round fight. I think it could come into factor. I think I could; well hopefully I could wrestle with him. I've been working on wrestling for a long time too, and I'm going up against the best wrestler. So that's what we get in there to do – to find out.
While the wrestling edge may go to Hendricks, you have a very good offensive guard. How confident are you about nullifying his attack if the fight does hit the ground?
MB: (Laughs) Well, again that's what we get in there to find out. Whether I'm confident or not doesn't really make a difference because I will get in there and we're going to find out. If I get punched in the face, then I was wrong.
Three of your last four fights were given the Fight of The Night honors. Going into your upcoming fight against Johny, how do you see your fight play out?
MB: I never give predictions in fights, and I never see a specific way in the fight playing out. I see a million different ways in my head when I visualize it. But I can see me stopping Johny Hendricks at some point in the fight.
With Johny and yourself coming off losses in your last fights, do you think a win over the former champion would put you in contention for a shot at the title after the Robbie – Rory showdown?
MB: Absolutely.
You are fighting on a stacked card and there are fights happening in all weight classes on the card. Which other fight are you really looking forward to on Saturday night?
MB: The two titles fights are definitely the two other fights I'm looking most forward to. I think Pettis is one of the, if not the best kickboxer in the UFC, and I'm a huge fan of his. I love watching him fight; and Joanna Jedrzejczyk is also easily the best kickboxer in the women's division, I think, and she's always exciting to watch. So I look forward to both those fights.
Your story has been inspirational for the MMA fans all over the world, given how you managed to put your past behind you and create a legacy for yourself. Do you have any word of advice for the young fighters trying to break into the business?
MB: Yeah, probably go to college. Don't try to be an MMA fighter. It's not really the easiest business to get into, and it's not really conducive towards long term health.
But if you've really decided that's what you want to do, then I recommend… you know what I always tell everybody, the amateurs who come into the gym and tell me they want to be fighters is, if I have an actual talk with them, I'll say, "First thing you should do is you should get to know yourself very well. You should know exactly who you are, and then to decide if you want to let everybody else know who you are. Because at some point in your life as an MMA fighter, everybody else is going to find out exactly who you are.
Like I said before, it carries over – who you are carries over into the cage, and that could be an issue with a lot of people. A lot of insecurities come up and a lot of weaknesses come out in the cage. And that's going to be something you have to accept from the beginning, that it may get exposed.
Finally, do you have any message for your fans in India? What are your thoughts about coming down to India to give a seminar?
MB: Hook me up! I want to come to India. I always wanted to go to India. I'm not sure anybody really knows this, but I love curry (laughs). So I really want to go to India. That'd be awesome!
Be sure to tune into UFC 185, which will take place on the 15th of this month at 8:30 AM (IST), as it is going to be an exciting night of great fights inside the Octagon.