The UFC President Dana White asked Brian Ortega to stand by, just in case Max Holloway did not consent to be Tony Ferguson's replacement in the fight against Khabib Nurmagomedov in the UFC 223 main event.
But the Featherweight Champion Holloway was determined to step in and close the deal to fight the Lightweight Champion.
Holloway against Khabib will be a very exciting fight, and Holloway will be a perfect replacement for Ferguson. But stylistically, Ortega vs Khabib can be a magic bullet which can solve an age-old conundrum in the grappling world, i.e 'Is Sambo more effective than BJJ?'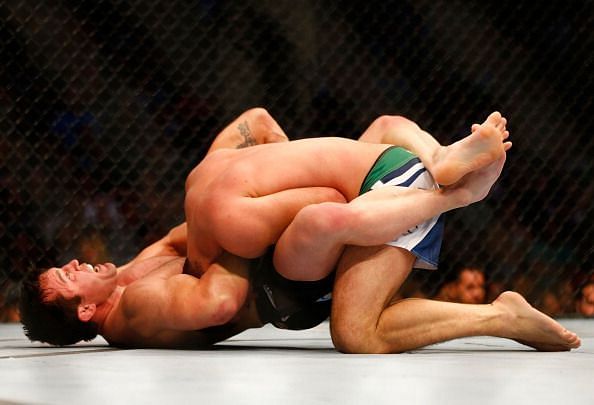 Is Sambo better than BJJ, or is it just the 'Khabib effect'?
This question came into the limelight after Khabib Nurmagomedov took a jibe at jiu-jitsu practitioners during the UFC on FX 7 official weigh-ins, wearing a shirt that read, "If Sambo was easy, it would be called jiu-jitsu."
He later rubbed salt into the wounds by knocking out his opponent Thiago Tavares, a 3rd-degree black belt in BJJ.
It happened again when Khabib defeated Rafael dos Anjos, who is also a 3rd-degree black belt in BJJ. Khabib, a two-time world Combat Sambo gold medalist, is the poster-child of sambo in the MMA world, albeit his predecessors like Fedor Emelianenko and Oleg Taktarov have already established its effectiveness in MMA.
Training Sambo is a lot more brutal than training BJJ. It is a lot harder on the body because it involves a variety of strikes and suplexes. But this is no ground to consider BJJ as inferior to Sambo.
Without any doubt, we can say that BJJ is the most evolved grappling sport. Chael Sonnen, former UFC fighter and NCAA Division 1 wrestler, recently criticized Sambo as a fighting art. He refused to associate Khabib Nurmagomedov with the sport, saying that Khabib got all his techniques from wrestling and not Sambo.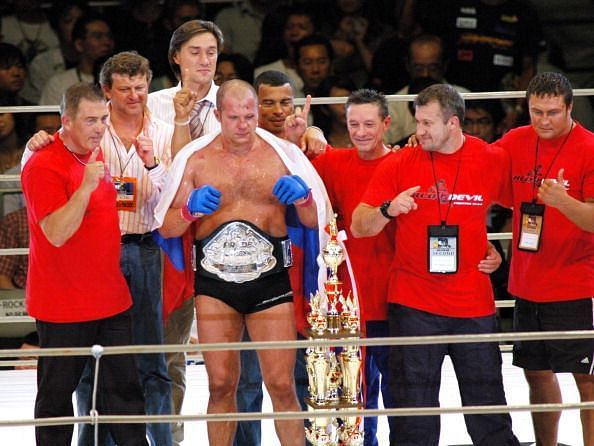 Early 'Sambo- BJJ' matchups in MMA
One of the earliest BJJ- Sambo matchups under MMA rules took place in Birmingham, Alabama in the year 1996. Renzo Gracie, a 6th-degree black belt in BJJ, knocked out Oleg Taktarov with a well-placed up-kick off his back. Oleg was one of the pioneers of Sambo in MMA.
Another Sambo maestro, Fedor Emelianenko a.k.a 'The Last Emperor', is one of the most stoic personalities in combat sports history. He is a 4-time world combat sambo gold medalist. Fedor is considered by many as the GOAT of MMA.
One of the most anticipated fights during Fedor's prime was the one that was scheduled against Rickson Gracie, a 9th-degree red belt in BJJ. He was the strongest in the Gracie family and had an undefeated fight record. It was the ultimate BJJ against Sambo matchup. Unfortunately, that fight never happened.
Fabrício Werdum, a 2nd-degree black belt in BJJ, was the next major BJJ opponent for Fedor. In this fight, Werdum shook the world by submitting Fedor with a triangle-armbar inside the 1st round.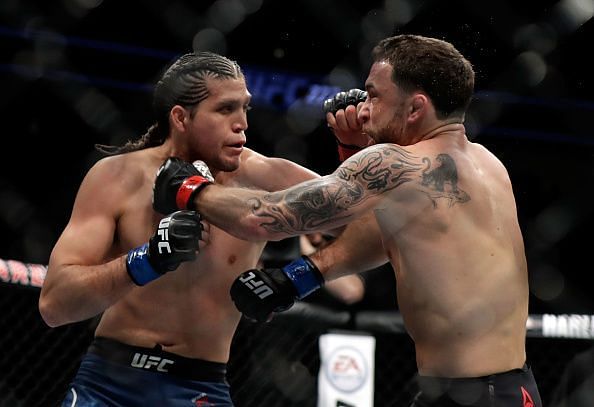 'Khabib vsOrtega'
Khabib against Ortega can be the ultimate Sambo-BJJ fight. Ortega has the most refined BJJ in the UFC roster. He is the protégé of Ryron & Rener Gracie, and has been grappling with the Gracies from a very young age.
He is a featherweight with the frame of a lightweight. With solid boxing to back up his grappling, Ortega is capable of finishing fights on his foot as well.
He is accustomed to grappling with middleweights like Ryron and Rener. And his BJJ is fine-tuned to perfection.
When the fight goes to the ground and Khabib starts mauling from the top, it takes some serious heart to not quit. But Ortega has the indomitable spirit required to keep getting hit and move forward. This mindset combined with his BJJ prowess can make him really dangerous off his back.
Thus, stylistically, this fight could be a myth-buster and would be an absolute treat for the fans. Let's hope Dana White makes this happen.