Fans have reacted to a jump scare prank on Alex Pereira that nearly went bad.
In a video shared on social media recently, Pereira was pranked by who seem to be his two sons in his own house. As the former UFC middleweight champion proceeded to enter the house, one of his sons stood behind a wall to try and jump-scare him while the other stood on the staircase to record the prank.
However, the prank could've ended very badly as Alex Pereira nearly threw a punch at his son, who was dressed in disguise. Take a look at the video below:
Reacting to it, fans have flooded the comment section of the post with their hilarious reactions. Take a look at some of them below:
"Bro almost got the Adesanya special"
"Almost 8 billion people in the world, and this man picked Alex Pereira to jump scare"
"Now I'm worried about the future thief who try to rob him. Need to standby ambulance if they want to plan rob his house."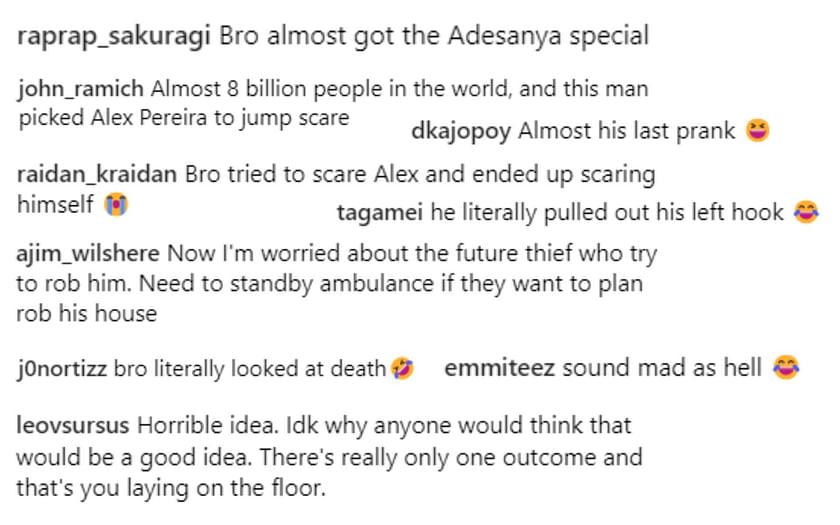 ---
Alex Pereira shuts down claims of Israel Adesanya not being at his best against Sean Strickland
The UFC crowned a new middleweight champion recently after Sean Strickland's upset victory over Israel Adesanya at UFC 293. Strickland somehow managed to throw Adesanya's game plan out of the window and was clearly the better fighter on the night.
Since then, many have claimed that Israel Adesanya did not look like the best version of himself. However, Alex Pereira, who has fought and beaten both Strickland and Adesanya, does not think so. Speaking about the fight on his YouTube channel, Pereira credited 'Tarzan' for putting on a great performance.
While further shutting down the claims of Israel Adesanya not being at his best, Pereira had this to say:
"A lot of people are [saying] that Adesanya wasn't his best. Adesanya didn't fight like he usually does. Clearly, Sean came in and shut his game down. He was really smart. He was moving forward all the time with an amazing defense. Let's not forget the precise strikes, he walked less, circled more, and landed the best attacks. And well, you all saw the result."
Catch his comments in the video below (2:33):