Canelo Alvarez recently opened up about some of the barriers that are preventing a rematch against Dmitry Bivol from taking place.
Last year, the middleweight boxing champion moved up and challenged Bivol for his WBA super light heavyweight championship. It was a valiant effort, but he came up short as Bivol earned a unanimous decision win to retain his title.
Despite the loss, the Mexican boxing star noted that there have been attempts made on his end with regards to getting a rematch booked. Canelo Alvarez mentioned that the light heavyweight champion is the reason for the rematch not materializing.
Alvarez said:
"I tried. I tried but he [Bivol] started asking for things and it made everything hard."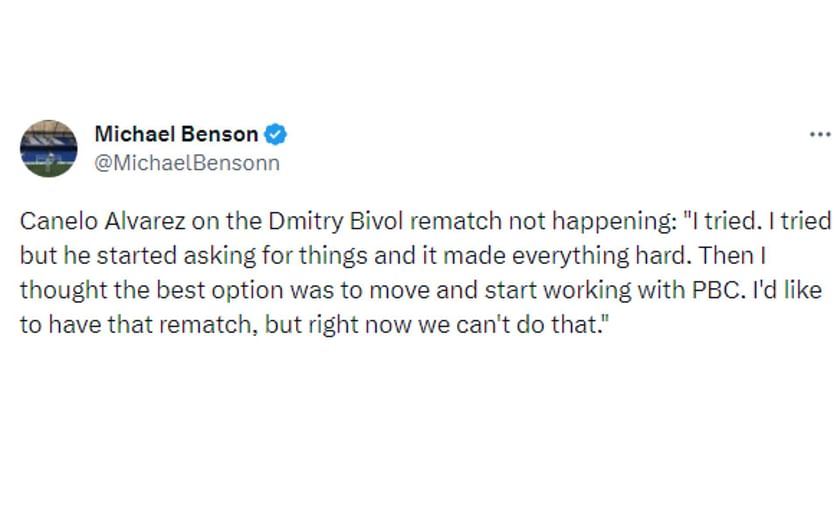 It's unclear as to the specific requests made by the Russian that were deemed too difficult to agree on. The 33-year-old mentioned that the failed negotiations resulted in him moving on but still expressed interest in a rematch, saying:
"I thought the best option was to move and start working with PBC. I'd like to have that rematch, but right now we can't do that."
It will be interesting to see whether talks of a rematch between Canelo Alvarez and Dmitry Bivol will ramp up again, especially if they continue to defend their respective titles.
---
Canelo Alvarez declines catchweight fight with Terence Crawford
It appears as though Canelo Alvarez isn't in favor of Terence Crawford's proposed 158lb catchweight bout.
The middleweight boxing champion addressed the proposal made by Crawford and noted that the weight would be an issue at this stage of his career. He mentioned that he doesn't believe he would receive the same credit should he defeat 'Bud' due to their weight discrepancy, saying:
"I can't go down anymore. Like he says when they ask him about Gervonta Davis, it's the same for me. Everybody's gonna say, 'He's too small.' Nobody's gonna give me credit for that."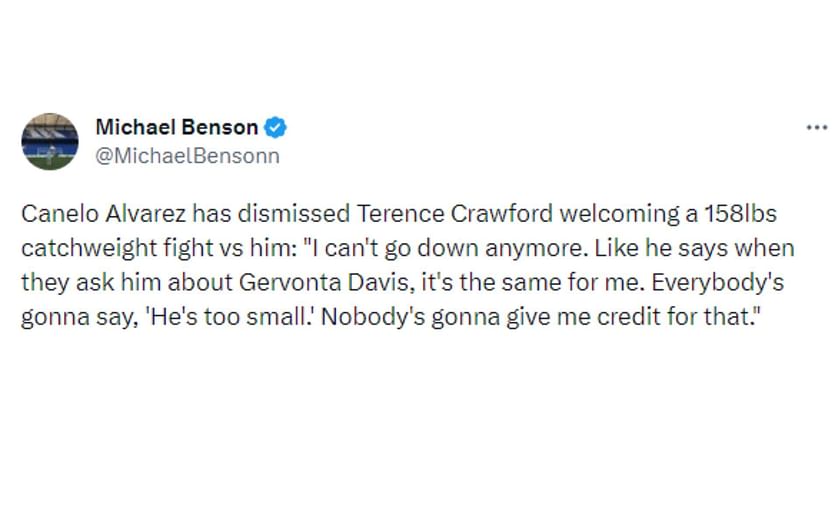 Based on the response about a catchweight bout, it appears as though the only way for the bout to become a reality is if Crawford moves up to middleweight.