Conor McGregor continues to provide fodder for fans with his mere presence. 'The Notorious' is currently filming for The Ultimate Fighter (TUF) season 31, which will feature him opposite Michael Chandler as a rival coach.
A video of McGregor discussing the UFC 285 main event from the TUF set has led to the latest controversial rumor about the Irishman. Several fans seemingly failed to recognize the former UFC double champ and noticed significant facial changes.
Some claimed that the person in the video is a clone or an Artificial Intelligence (AI) generated version of the Dubliner. Fans wrote:
"Don't know if that's a real or AI generated McGregor"
"Mythical fighter unlocked "Connor mcgregor clone"
"Is this a deepfake"
Meanwhile, others conjectured that McGregor may have undergone plastic surgery.
"conor look like he got plastic surgery or sum"
"Looks like conor got botox done 😂🤦"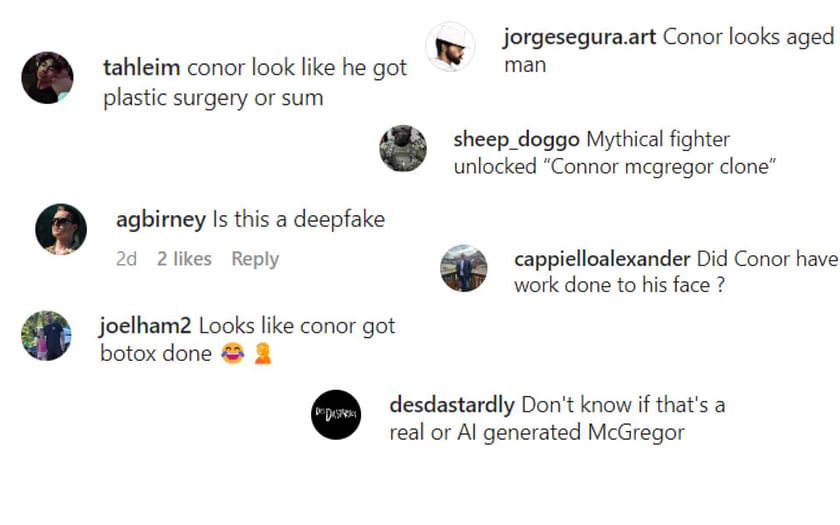 While not everyone is hinting at plastic surgery, fans have definitely noticed changes in Conor McGregor's features, be it due to his age, his recent bulk, or simply due to the fact that he's just clean-shaven now. Additionally, the plastic surgery theory put forth by fans holds no water, as research showed no such evidence.
However, McGregor's sister Erin has admitted to getting botox and silicon implants back in 2018.
---
Conor McGregor has high praise for Jon Jones
Conor McGregor was in attendance for UFC 285 along with Road House co-star Jake Gyllenhaal, who also entered the octagon to shoot a scene prior to the commencement of the event.
McGregor watched from cage side as Jon Jones made his heavyweight debut, returning to the octagon after a three-year hiatus. 'Bones' went on to win the UFC heavyweight title by submitting Gane in dominant fashion within just two minutes of the very first round.
McGregor appears to have been highly impressed with Jones' UFC 285 title victory. Showering praise, 'The Notorious' claimed that Jones' victory over Gane was worthy of two titles. The Dubliner wrote on Twitter:
"That was incredible by Jon last night! Even better to see it live! The man should've had two belts presented to him. And both sparkling. He did it. Fucking brilliant, @JonnyBones ! Congrats!"
Conor McGregor is scheduled to take on Michael Chandler after the completion of TUF 31 at a yet-to-be-determined weight class and date. The Irishman has even expressed interest in a middleweight clash, and 'Iron' has obliged.