ONE bantamweight Muay Thai buzzsaw Liam Harrison is one of the most ferocious and intense fighters in the sport today. You don't even have to see him fight to see how intense he can get. Just watch him hit pads.
In a recent video released by ONE Championship, we see 'The Hitman' throwing some serious heat while hitting the pads in his home gym in Leeds, England. A glance at Liam Harrison hitting the pads while releasing a war-cry-like scream, you'd instantly want to avoid any sort of conflict with him. You don't want to be on the business end of those strikes.
Here's the video:
"Name a more intense pad session... we'll wait 😅 @liambadco"
Fans have been reacting to the video in various ways. Most of them are in awe of the fighting Brit's intensity. Here are some of the fan comments: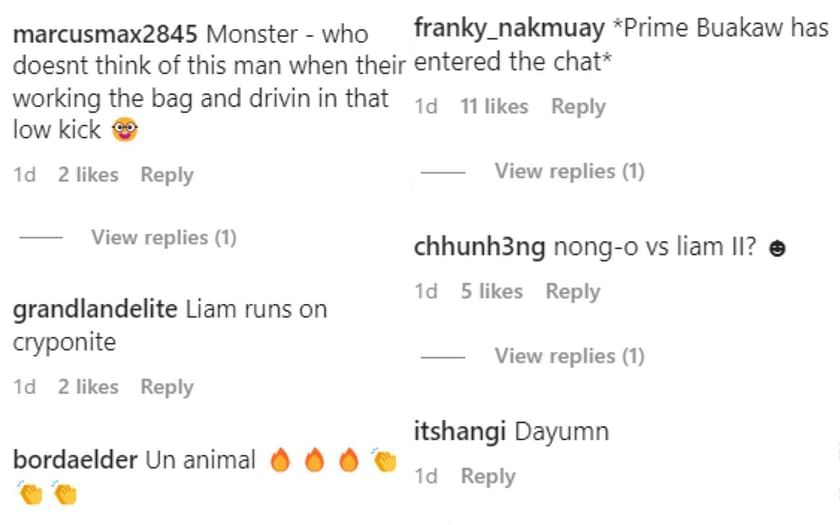 Instagram user @marcusmax2845 said what was on everybody's mind:
"Monster - who doesnt think of this man when their working the bag and drivin in that low kick 🤓"
Another Instagrammer, who goes by the username @franky_nakmuay, cited another legendary fighter who can match the level of intensity:
"*Prime Buakaw has entered the chat*"
A bout between Harrison and the legendary Buakaw Banchamek will be fireworks from start to finish. It might end up as one of the greatest Muay Thai bouts of all time.
Another fan, @grandlandelite, was creative in describing ONE Championship's resident Muay Thai brawler:
"Liam runs on cryptonite"
---
Liam Harrison takes time away to get knee surgery, shuts down rumors of Floyd Mayweather Jr. exhibition bout
Liam Harrison recently made some headlines across the combat sports world as his name was mentioned alongside retired boxing legend Floyd Mayweather Jr. As it happened, Mayweather's team announced that an exhibition bout between 'Money' and 'The Hitman' was scheduled to take place in the UK on February 25.
As much as the entire combat sports world got excited, it wasn't meant to be as Harrison took to social media to shut down the rumors:
"Many of you will have seen the announcement this morning about my fight against Floyd Mayweather... Devastatingly, my knee just won't allow it. Discussions about the fight started a few days ago with the Mayweather team and I honestly thought I would be ok in a boxing fight, even with needing surgery on my knee."
He added:
"I upped my training as soon as discussions started and had some hard sparring and pads but almost immediately my knee had ballooned up and I can't walk. Hitting pads is fine but the movement and agility needed to spar and especially fight just isn't possible."
The post went on for longer but ultimately, Harrison opted to focus on the repair and rehabilitation of his knee. He is, however, hopeful that the fight can still materialize in the future once he recovers completely.
Here's the full post: