Soon after the announcement of Dana White's Power Slap League, it gained traction for all the wrong reasons.
Eric Spicely, a former UFC middleweight, recently shared details about the fighter salaries offered by the Power Slap League (PSL). 'Zebrinha' revealed that he was offered $2000 to show and an additional $2000 win bonus for his first fight in the league. The PSL is a slap-fighting league founded by UFC President Dana White.
Check out the fighter's tweet below:
Extremely low athlete payouts have gained a lot of attention from combat sports fans, with many claiming that boss Dana White's new venture is "gross" and needs to stop as soon as possible. Reacting to the situation, one of the fans wrote:
"Dana must be stopped"
Another fan wrote:
"I said it before, the Slap League was just Dana's way to watch knockouts for much less pau. So sad."
Check out the various reactions from fans below: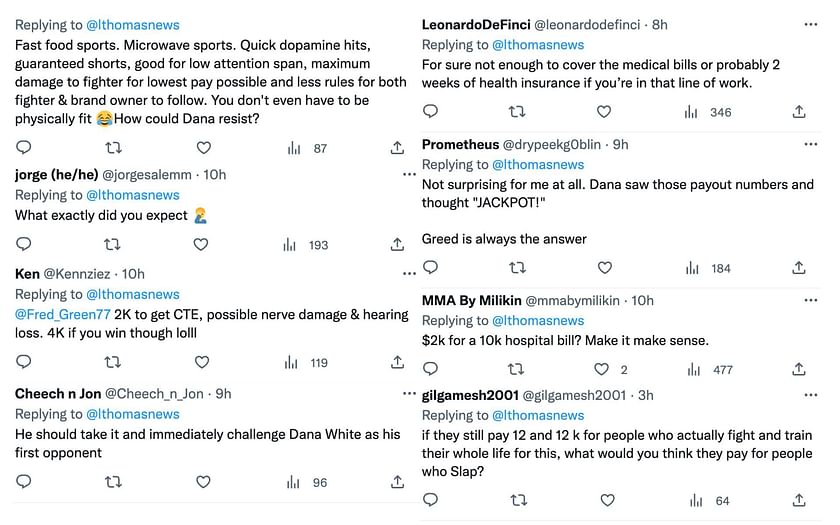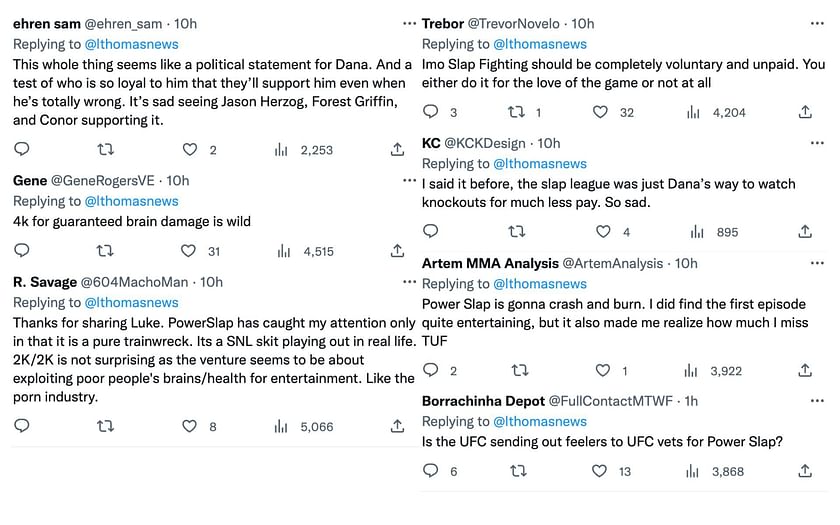 Dana White has been criticized for the launch of the Power Slap League following a video showing him slapping his wife multiple times. The league's airing on TBS on January 18 has further fueled the controversy, as many are criticizing the lack of safety measures for participants and the potential for head trauma. In addition to the ongoing dispute over the fighter's pay, White's latest venture has put him in hot water yet again.
---
MMA surgeon claims Dana White's Slap fighting can cause CTE brain condition
Popular MMA surgeon Dr. David Abbasi recently reacted to a slap competition from a Romanian slap-fight contest showing abnormal swelling on an athlete's face following a contest. This occurred primarily due to the fact that athletes have no scope to defend themselves against direct strikes to the head.
Reacting to the video, the surgeon said:
"I'm all for competition. I really am. I just find it hard to believe, especially with places like Nevada, that they are regulating sanctioned brain trauma. That's what it is. There's no defense of any type... How do you talk about this?... There really is no rules to it. What are these guys getting paid? They ain't getting paid sh*t."
Check out the surgeon's reaction to the video below:
.