Gordon Ryan, the Brazilian jiu-jitsu prodigy known for his exceptional skills, recently found himself in a rather unusual NSFW conversation. During a chat with Nina-Marie Daniele, the topic took an unexpected turn as she boldly asked if the color of his hair matched his hair elsewhere
Ryan couldn't help but chuckle at the candid question and responded by saying:
"No It does not... And I feel like that would be dangerous because everytime I do my beard to my hair, I always have like chemical burns on my mustache... So I don't want any chemical burns down there."
Gordon Ryan has been making headlines for his recent physical transformation. After his hospitalization for what was initially reported as strep throat following a trip to Abu Dhabi, his condition didn't improve despite rounds of antibiotics. Ultimately, he underwent tonsillectomy surgery, resulting in a significant reduction in his body weight, reaching 201 lbs, a weight he hadn't seen since he was 21 years old.
This transformation resulted in visible changes in his physique, including muscle loss in his arms and chest, as well as changes in his abdominal muscles. Despite these physical setbacks, Ryan made a triumphant return to the WNO stage, using an armbar to defeat Patrick Gaudio at Tezos WNO 20: Night of Champions, retaining his WNO Heavyweight title.
---
Gordon Ryan applauds Conor McGregor's black belt achievement in BJJ
Conor McGregor recently captured headlines when he was bestowed with the coveted black belt in Brazilian jiu-jitsu by John Kavanagh.
McGregor expressed his gratitude on Instagram, recognizing the 20 years of dedication and hard work that led to this significant milestone. He thanked John Kavanagh and his teammates who had accompanied him on this remarkable Brazilian jiu-jitsu journey.
"Received my black belt tonight from my coach, friend, and mentor, @coach_kavanagh of @sbgireland! 20 years of hard work! Thank you John for everything over the years, and to all of my team mates throughout this incredible jiu jitsu journey! Thank you all so much from the bottom of my heart! A Brazilian jiu jitsu black belt, wow..."
In response to McGregor's post, Gordon Ryan lauded the Irish MMA superstar, stating:
"Well deserved. Despite what people say, you're pretty exceptional on the ground, especially with mma being your main focus."
Check out the comment below: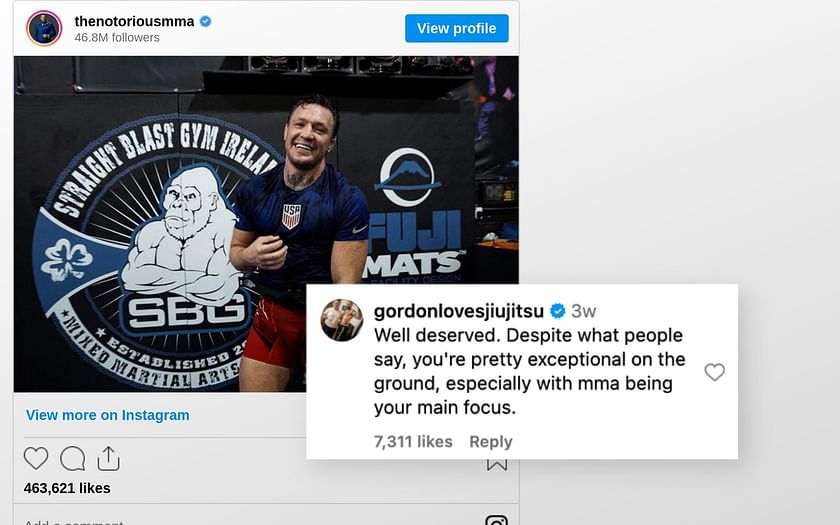 Edited by Jigyanshushri Mahanta