Every MMA fan is aware that Israel Adesanya's predecessor Robert Whittaker is one of the nicest guys in the world of MMA. Most people can't escape the feeling of hurt to see Whittaker on the losing side. But 'Reaper' deals with losses like a true sportsman. It is one of the reasons why he has continued to evolve and fans witnessed his sporting spirit once again during the UFC 293 open workout.
Reigning UFC middleweight champion Israel Adesanya captured the UFC middleweight title with a second-round knockout win over Robert Whittaker at UFC 243 in October 2019. During the UFC 293 open workouts, Adesanya asked the fans to raise their hands if they witnessed the live action on that evening.
Robert Whittaker, who was in the crowd, replied in the affirmative by raising his hands, sportingly trolling himself in the process. You can watch the video below, courtesy of OOC MMA's Twitter handle:
While it is great to see someone laughing at themselves, it takes great courage to playfully accept a failure. Fans' respect for Robert Whittaker only increased after watching him raise his hand as they sounded off their thoughts in the comments section of the video. Here are some that caught our attention:
"Rob is such a good sport," @vicdamonsports commented.
"Proper legend Bobby Knuckles," @theconsigliere4 wrote.
"Protect this man at all costs, man is a treasure," @pavandevvv commented.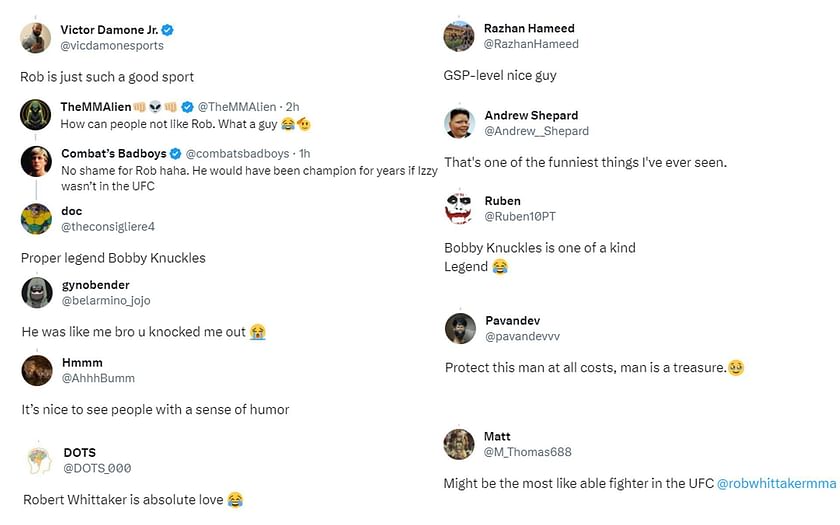 ---
Israel Adesanya returns to compete in Australia after four long years
UFC middleweight champion Israel Adesanya created history by defeating Robert Whittaker at UFC 243 in Melbourne, Australia. However, the champion has not competed in a familiar territory of Australia-New Zealand since the groundbreaking performance.
Adesanya is one of UFC's biggest draws and the organization has claimed several times before that the PPV numbers definitely take a hit when the events take place outside the United States. As a result, he has not performed in Australia in spite of a massive fan following there.
'The Last Stylebender' has competed in the USA and Abu Dhabi for all of his title fights after UFC 243. However, he has the opportunity to perform in front of his home crowd this weekend. The 34-year-old will defend the middleweight strap against Sean Strickland at UFC 293 event in Sydney, Australia.
The event will take place on September 10, 2023. When Adesanya steps inside the Octagon this weekend, he will fight in Australia after exactly 1,435 days!