One month after the Misfits boxing card featuring KSI vs. Tommy Fury, the Professional Boxing Association has announced that KSI's appeal of the decision will be decided within the next 14 days.
KSI was upset and disappointed by the result of the fight, which awarded Fury with the victory. All three judges scored the bout 57-56, giving Fury a unanimous decision. KSI announced shortly after that he would be appealing the decision, facing criticism from fans around the world.
Soon after the PBA announced that the KSI vs. Tommy Fury appeal hearing would be taking place, the news broke that the decision would be announced within two weeks.
Just as the reaction was to the announcement of KSI's decision to appeal, fans mocked the British celebrity and claimed he was a 'sore loser.' Fans also claimed that the KSI vs. Tommy Fury decision would not be overturned, as is typically the case in combat sports.
Some KSI fans did state, however, that they believed the lengthy decision period was due to the decision being changed. One fan commented:
"Yeah it's taking so long cos they are working on changing the result. Confirmed"
Other fans were not as sure, with many tired of the long process and believing nothing would be altered. Fan comments read:
"They're waiting for the bank wire from KSI to come through"
"Maybe [KSI] should have actually boxed and worked more"
"It doesn't take much time to decide a clown fight between 2 low level bums"
"KSI should just admit defeat"
The decision from the PBA will likely determine the future of both men, as a rematch could potentially be on the table, though it does not seem likely as of now. A change in the fight outcome, however, could change that. Both men also have huge potential fights with Jake Paul on the table, though 'The Problem Child' has stated that he only wants to fight 'real' boxers moving forward.
View more fan reactions to the KSI vs. Tommy Fury appeal decision below: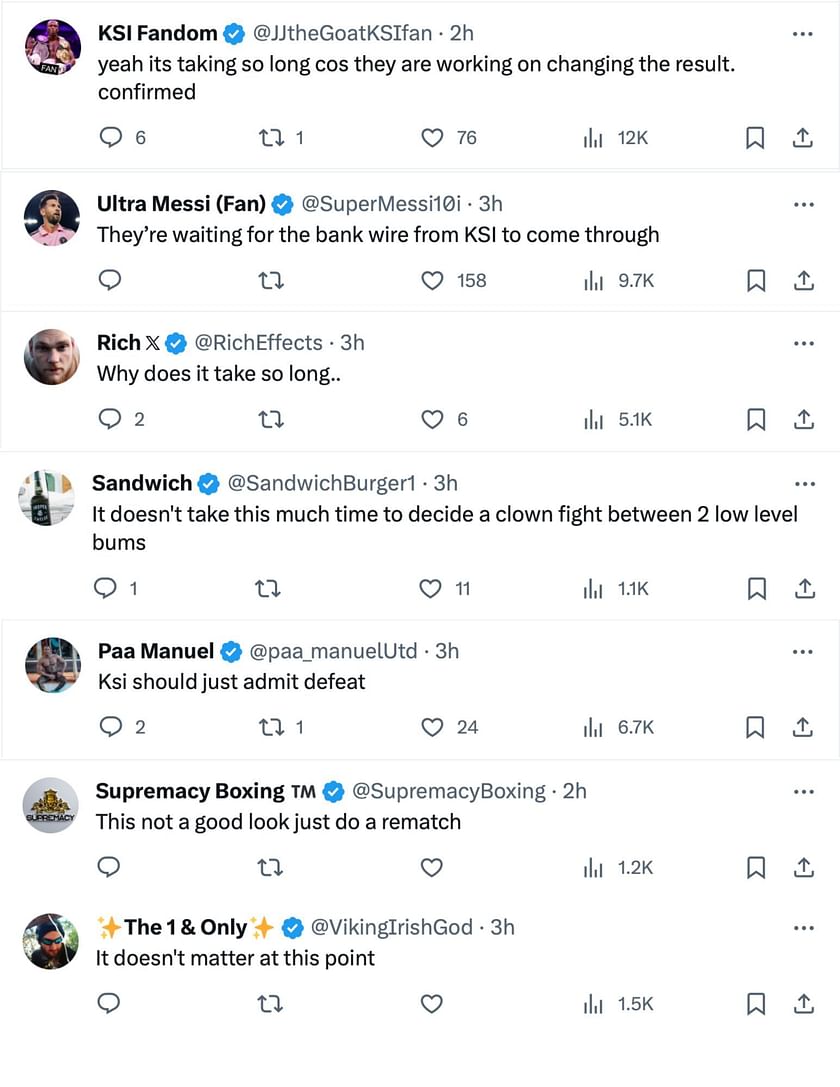 Edited by Jigyanshushri Mahanta