PFL founder Donn Davis recently revealed more details regarding the future of Bellator after they announced that they acquired the promotion earlier this morning.
Since the deal was announced, there has been uncertainty and speculation with regard to the future of the champions and fighters under contract. During his appearance on today's episode of The MMA Hour, the PFL founder revealed that they absorbed Bellator's contracts, so every fighter will be coming over in the deal instead of a limited number.
He said:
"All of them are coming over. Part of what we did and obviously it would have been better for PFL to only take certain fighters. We thought it was better for the sport and better for those fighters to take them all."
Donn Davis also brought up that the fighters will have the option to compete in the PFL season format or the one-off events format. He used Anthony Pettis as an example of a fighter who could perhaps benefit from competing in the one-off format at this stage of his career because of the demand and toll that the regular season format takes, saying:
"Whether you're a Bellator fighter or PFL fighter, you're all now PFL fighters. You're all in the pool...We'll talk to managers and fighters and say, 'What's the best product for you? And what's the best product for fans?' They'll either fight twice a year...Or you'll fight in the PFL league season, your choice."
It will be interesting to see what route the fighters will decide to go in, but PFL fighters now having the option to compete in one-off events or regular season could make the promotion more of an enticing destination.
Check out the full video:
---
Bellator will have a new media rights distribution deal under PFL
PFL founder Donn Davis revealed that even though Bellator will operate under the PFL banner, a separate media rights deal could be a possibility.
During the aforementioned appearance, the PFL founder mentioned that the promotion had moved to a number of different networks under Paramount and wants to ensure that there is a consistent outlet for their events in 2024, saying:
"They moved around so much last three years in terms of media distribution under Paramount, there wasn't a consistent home for fans. We'll get them a consistent U.S. home and consistent international homes."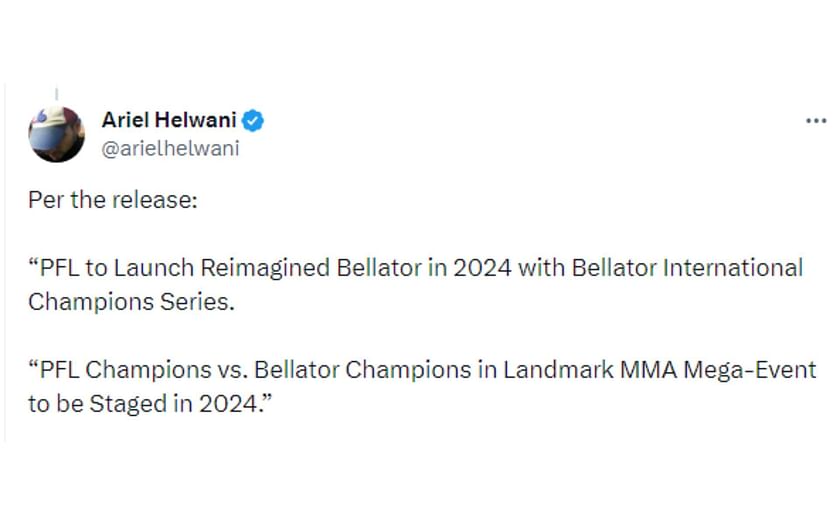 Edited by Jigyanshushri Mahanta