After a weekend without a UFC show, the world's biggest MMA promotion is back for its first show of February this weekend. UFC Fight Night: Derrick Lewis vs. Sergei Spivac features a somewhat odd card, with a surprising number of fighters from the Far East competing.
Overall it's not the most exciting event the promotion has put together recently, but hopefully, it'll deliver some action inside the octagon. Here are the predicted outcomes for UFC Fight Night: Derrick Lewis vs. Sergei Spivac.
---
#1. UFC heavyweight division: Derrick Lewis vs. Sergei Spivac
This heavyweight bout was initially pegged to headline a UFC Fight Night show back in November, but on the night of the event, things fell apart.
Reportedly, Derrick Lewis came down with a stomach virus, forcing him out of the fight. Rather than match Sergei Spivac with a different opponent, the promotion decided to keep the pairing.
Hence, nothing has changed since the first time they were matched together. The first time around, most observers favored Lewis. So is that still the case? Broadly, the answer would appear to be yes. The book is written on 'The Black Beast' at this stage.
He's arguably one of the heavyweight division's top three hardest hitters. He's a passable wrestler, and while his takedown defense isn't impregnable, he does have the ability to escape some bad spots on the ground.
The issue that Lewis has had recently is the fact that at 37 years old (he'll turn 38 three days after this event), his durability appears to be waning. That led directly to his recent losses to Tai Tuivasa and Sergei Pavlovich. So is it a worry here?
Perhaps. Spivac is somewhat underrated, holding an octagon record of 6-3, and he did defeat Tuivasa as well as Greg Hardy and Augusto Sakai.
However, on paper, he still has some issues in this match with Lewis. Firstly, he tends to win if he can get his opponents down quickly and easily, which may not be the case here.
Secondly, he's far smaller than 'The Black Beast' at 240 lbs but doesn't appear to be the quickest heavyweight, meaning he won't likely have any kind of speed advantage.
The most worrying issue is that his chin doesn't appear to be strong enough, having been knocked out by Walt Harris and Tom Aspinall, two fighters who don't have the power that Lewis packs.
Overall, then, this looks like a good match for 'The Black Beast,' so expect him to give himself an early birthday present in the form of another knockout win.
The Pick: Lewis via first-round KO
---
#2. UFC light-heavyweight division: Da Un Jung vs. Devin Clark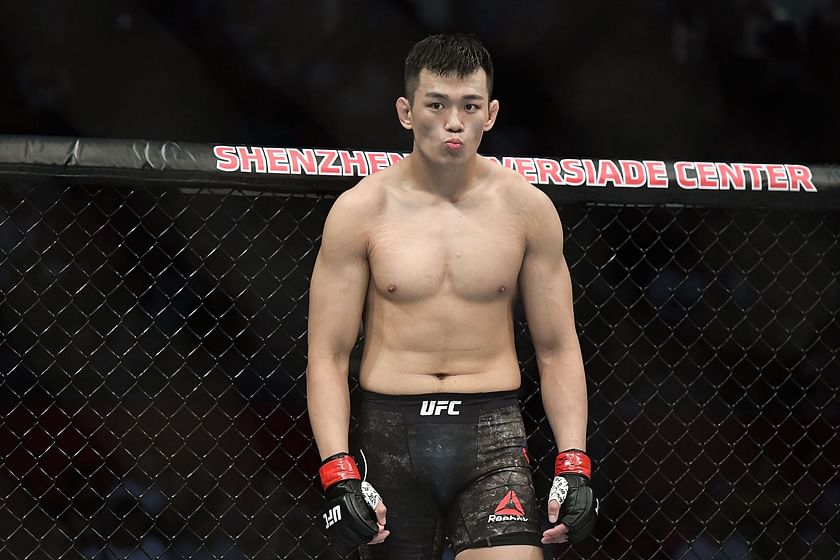 With both Devin Clark and Da Un Jung coming off knockout losses, this is a curious choice for a co-main event. Will either man move into contention for the UFC light heavyweight title with a win? It's highly doubtful.
Of the two, it's fair to say that Clark has more octagon experience. 'The Brown Bear' has been with the promotion since 2016, and he's had plenty of ups and downs, putting together a record of 7-7.
As far as strengths and weaknesses go, he's solid in all areas but doesn't have the best finishing skills, with six of his seven wins coming via decision. More to the point, he does have a tendency to leave himself open, causing three of his losses to come via TKO and three via tap out.
Jung, on the other hand, was edging towards contention before losing badly to Dustin Jacoby last July. He has put together an unbeaten run of four wins and a draw since his 2019 octagon debut and impressed in his win over Kennedy Nzechukwu last year.
However, 'Sseda' was badly exposed by Jacoby, who caught him with a clean counter combination that knocked him out senseless. He also failed to impress against the limited Sam Alvey, only securing a draw with a late rally after struggling with calf kicks and counterpunches of the veteran.
How does he match up with Clark? Well, it's fair to say that 'The Brown Bear' doesn't pack the same punching power as Jacoby, nor is he capable of timing his punches as well as the former highly-rated kickboxer.
Jung, on the other hand, is more than capable of capitalizing on the kind of holes that Clark tends to leave for his opponents, and given Clark's durability issues in the past, it's easy to imagine him finding a fight-ending sequence.
This one isn't likely to be pretty, but the pick is Jung via TKO.
The Pick: Jung via second-round TKO
---
#3. UFC Fight Night: The Main Card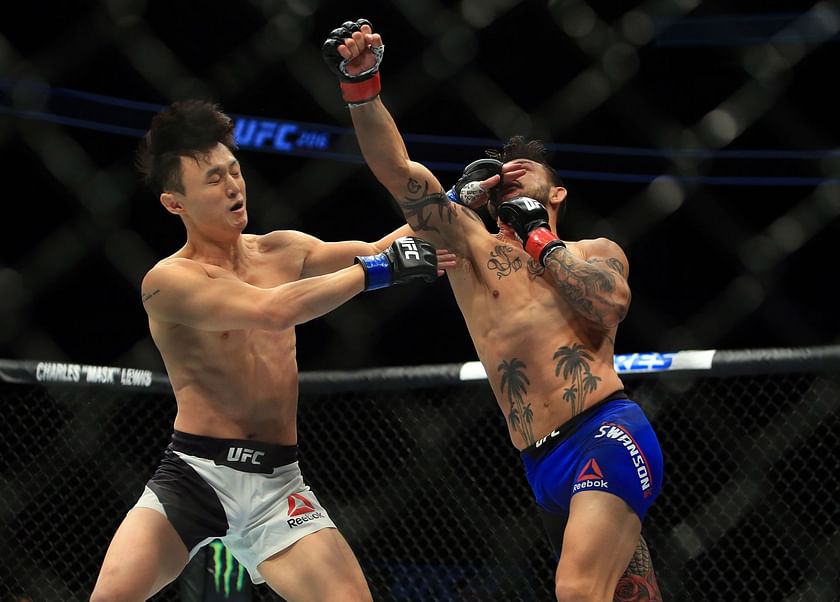 In a heavyweight bout, Marcin Tybura takes on Blagoy Ivanov. These two fighters are similar in many ways, being strong inside the clinch and on the ground and having decent striking. However, they're both plodding, largely slow, and can struggle with more explosive foes.
Overall, this is a difficult one to pick. It could honestly go either way, but based purely on the fact that he seems slightly more durable these days, the pick is Ivanov via decision.
In a featherweight clash, Doo Ho Choi returns to take on Kyle Nelson. This will be the first appearance of 'The Korean Superboy' since 2019, and while he was once a hugely hyped fighter, it's safe to say that he's been exposed a little now.
He's still a wildly explosive striker who can turn the lights out on his foes, but he also tires somewhat quickly and isn't that durable. Nelson, though, looks like a good match for him. He's lost four of his five UFC appearances (three by finish) and doesn't appear to be that offensively dangerous. Therefore, assuming he's got anything left in the tank, the pick is Choi via KO.
Finally, in a welterweight tilt, Adam Fugitt faces Yusaku Kinoshita. This is difficult to pick, purely because neither man is all that proven at this level. Fugitt lost his octagon debut in an entertaining bout, while Kinoshita is making his debut after a good win on Dana White's Contender Series.
Essentially, this one is a bit of a coin flip. However, Kinoshita does look like an intriguing prospect, with all of his wins coming via finish and his lone loss being a DQ. With that in mind, the pick is Kinoshita via KO.
#4. UFC Fight Night: The Prelims
Picks in bold
UFC lightweight bout: Jeka Saragih vs. Anshul Jubli
UFC featherweight bout: Lee Jeong-Yeong vs. Yi Zha
UFC bantamweight bout: Toshiomi Kazama vs. Rinya Nakamura
UFC flyweight bout: Choi Seung Guk vs. Park Hyun Sung
UFC middleweight bout: Park Jun Yong vs. Denis Tiuliulin
UFC flyweight bout: Kim Ji Yeon vs. Mandy Bohm
UFC flyweight bout: Tatsuro Taira vs. Jesus Santos Aguilar