After last week's big show in Abu Dhabi, UFC was in Vancouver this weekend for a card that featured fan-favourite and veteran Donald Cerrone and the highly-exciting Justin Gaethje in the Lightweight main event.
Former Light Heavyweight title contender Glover Teixeira took on Nikita Krylov in the co-main event of the evening. An intriguing heavyweight showdown between the returning Todd Duffee and Jeff Hughes was also a fight worth keeping tabs on.
The undefeated Jim Crute put his spotless record on the line against Misha Cirkunov in a Light Heavyweight contest. The card was stacked with proven finishers and it certainly didn't disappoint when all was said and done.
Here are the results and highlights from UFC Fight Night 158 from Rogers Arena in Vancouver, British Columbia, Canada.
---
UFC Fight Night 158/ UFC Vancouver Results: Prelims
Augusto Sakai def. Marcin Tybura via KO (punches) (0:59, Round 1)
Miles Johns def. Cole Smith via split decision (29-28, 28-29, 29-28)
Hunter Azure def. Brad Katona via unanimous decision (29-28, 30-27, 29-28)
Chas Skelly def. Jordan Griffin via unanimous decision (29-28, 29-28, 29-28)
Louis Smolka def. Ryan MacDonald via TKO (punches) (4:43, Round 1)
Austin Hubbard def. Kyle Prepolec via unanimous decision (29-28 x3)
---
UFC Fight Night 158/ UFC Vancouver Results: Main Card
---
#1 Jim Crute vs. Misha Cirkunov (Light Heavyweight)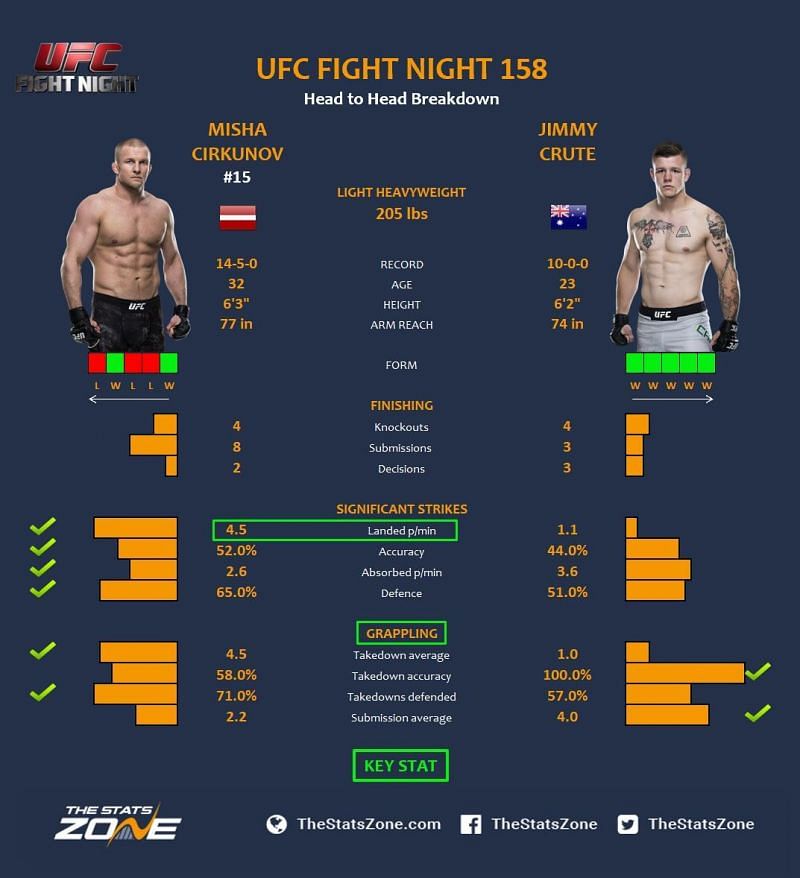 23-year-old Jim Crute has finished all of his 10 fights inside the first round, with seven knockouts and 3 submissions to his name. His opponent, the #15 ranked Misha Cirkunov was coming off a loss against Johnny Walker and looked to get back to winning ways in the opener of the main card.
Round 1: Cirkunov fired off a stiff high kick right off the gate. The Canadian scored a beautiful takedown within 20 seconds. He began working on Crute in side control. Punches from side control from Cirkunov, who used his large frame to impose himself on Crute. He tried to get into a Crucifix position but Crute managed to power his hand out.
Cirkunov got into the Crucifix position on his second attempt and got in a few shots in. Crute powered his way out and Cirkunov settled into full guard. A few shots from the guard and Crute reversed the position to send Cirkunov on his back. Crute landed a few good shots before the fight went back to the ground.
A scramble ensued and it was Crute on top of Cirkunov this time. Crute landed big hammer fists to the side of Cirkunov's head. Cirkunov smartly swept Crute's feet from his back and effortlessly changed positions. That was a slick deep half guard sweep that saw Cirkunov on top of Crute. He landed a few big shots and then locked in the Peruvian Necktie to get the tap from Crute. That was absolutely incredible. The Canadian fans popped for their guy as he celebrated his win,
Result: Misha Cirkunov def. Jim Crute via submission (Peruvian Necktie) (Round 3, 3:38)
And just like that, Jim Crute's undefeated record is a thing of the past. It was a wild first round in which Cirkunov's brilliance on the mat prevailed. Crute rightfully raised Cirkunov's hand after the fight as the fans in Vancouver cheered on.
In the post-fight interview, Cirkunov mentioned that he would like to face Corey Anderson next.
#2 Antonio Carlos Junior vs. Uriah Hall (Middleweight)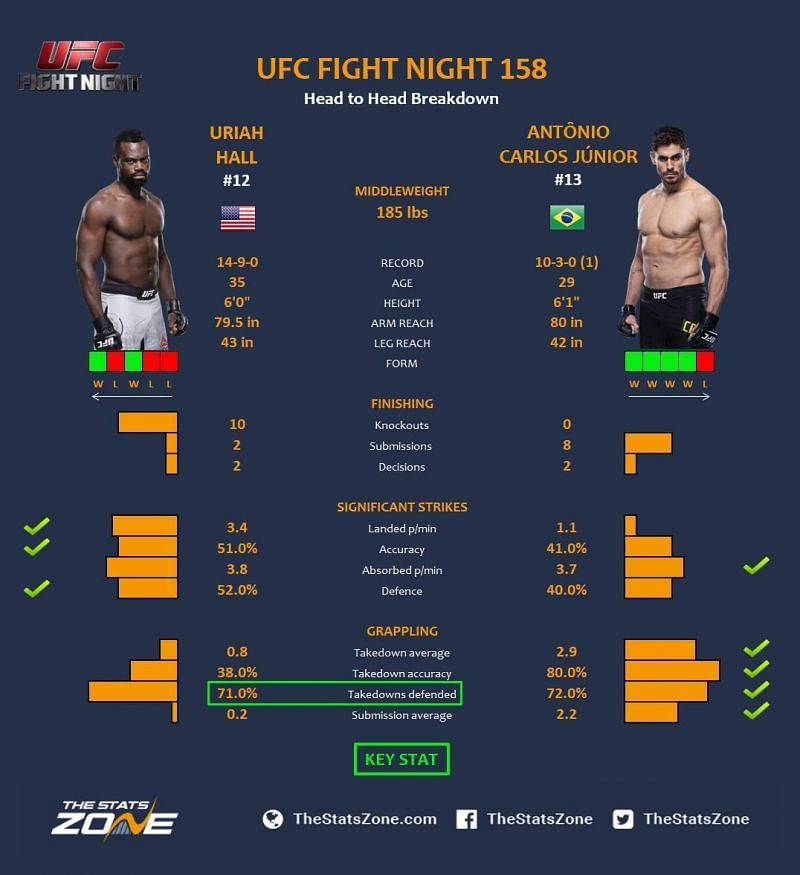 FUT Season 3 Heavyweight winner Antonio Carlos Junior was fighting for the second time this year, with his first fight ending in a loss to Ian Heinisch in May.
Uriah Hall last fought in December 2018 at UFC 232 where he knocked out Bevon Lewis in the third round. Hall was the -150 underdog in this fight.
Round 1: Hall came in hot with a few jabs. Carlos Junior followed Hall and shot for the single-leg takedown. He ate a shot, that busted up his nose, but it was worth it as he got Hall up against the cage.
He got hold of Hall's back but found it difficult to get in the under hooks as Hall patiently had him on his back while holding onto his right arm.
Carlos Junior's nose looked busted as he bled all over Hall's body. Hall flipped Carlos Junior's right arm over, leaving Junior no option but to detach from his back.
The fight resumed in the centre and the fans loved it. Hall got back to the jabs. The left-hand jabs kept coming in. And these weren't feelers. Hall's jabs were hard and stiff.
Carlos Junior, though, managed to get into the pocket and took Hall down. Carlos Junior landed a few good shots and elbows from the top. Carlos Junior worked in top position as the first round came to a close. Both men had their moments but Carlos Junior may have edged it on the scorecards. 10-9 Carlos Junior
Round 2: The stiff jab from Hall landed again. Hall faked with his right shoulder and kept landing the left jab. Carlos Junior attempted a takedown. Stuffed from Hall.
Carlos Junior jabbed with his left and changed levels by going for Hall's hips. They clinched against the cage as Carlos Junior connected with knees to Hall's thighs.
They broke up and Hall rocked Carlos Junior with a big right hook. The Brazilian was on his back and Hall unloaded a flurry of strikes. Carlos Junior covered up and even got Hall's arm briefly during the onslaught. Carlos Junior survived as Hall retreated and called for Junior to get back up on his feet. The fans popped for that.
Carlos Junior got back to his game plan by shooting for the takedown. Hall stuffed it and we were back to the same old clinch against the cage. Hall broke free and attempted a few shots as the round came to an end. 10-9 Hall
Round 3: Hall's corner urged him to continue with the jabs, and he obliged. He attempted a spinning head kick. Shades of classic Primetime on display.
Carlos Junior, however, countered Hall's threat on the feet by scoring his fourth takedown of the fight. Carlos Junior got Hall's back and worked towards setting up a rear-naked choke.
The fans grew restless as Carlos Junior patiently got to work. He had Hall in the body triangle and tried to soften him up so that he could get in his arms under Hall's chin.
Carlos Junior had no problems seeing out the round but the referee called for more action on the ground. 'Stand them up' chants echoed around the arena. However, Carlos Junior was in a dominant position and enjoyed almost four minutes of back control.
Carlos Junior solidified his position on the ground despite Hall's efforts to turn over into Junior's guard. It stayed the same until the final hooter.
Result: Uriah Hall def. Antonio Carlos Junior via Split Decision (29-28, 28-29, 29-28)
Hall seemed surprised by the outcome and that's a logical reaction. Carlos Junior had 4 takedowns and 10 minutes of control time, however, Hall had a big second round in which he dropped the Brazilian while also landing more significant strikes across the fight. That may have done it in the eyes of the two judges that scored the fight in Hall's favour.
Hall shared an emotional moment with his good friend Carlos Junior in the post-fight interview, before warning Israel Adesanya that he's coming for whoever's at the top.
Primetime looks focussed and we're loving it.
#3 Tristan Connelly vs. Michel Pereira (Welterweight)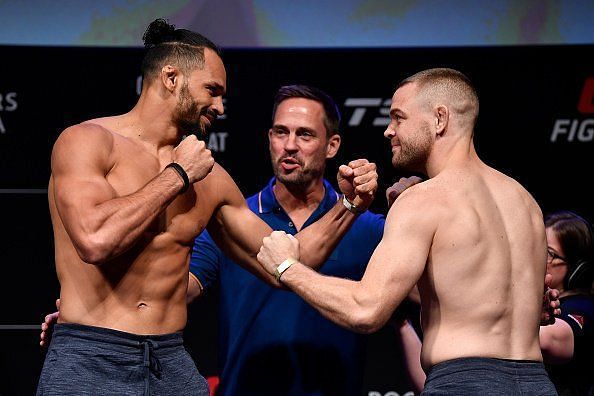 Canadian prospect Tristan Connelly was making his UFC debut in front of his fellow countrymen and women. His opponent, Michel Pereira was a showman of the highest order, considered to be one of the hottest prospects to come out of Brazil off late. Periera missed weight but was still in high spirits during his walkout.
Round 1: Pereira looked loose as he changed stances and went for the superman punch from the get-go. He then somersaulted and backflipped into a kick, ricocheted off the cage and went for multiple flying knees. Talk about theatrics!
Anyway, Connelly got hold of the Brazilian and clinched with him against the cage, The broke up and Pereira continued with his flashy offence. The man did a rolling thunder for god's sake. A few kicks to the body and another flying knee attempt from Pereira.
Pereria got Connelly down for a few seconds. Periera got up and executed another backflip. This dude needs to chill out! He almost caught Connelly in a Guillotine, but Connelly got his head out. Connelly was now in full guard position and he landed some solid shots from the top. The Canadian was no slouch either.
He attempted to assert himself on the ground but they both stood up with 30 seconds left to go. Connelly and Pereira traded shots in the centre as the round ended with both men scrambling on the mat. It was electric in the arena. What a round! 10-9 Connelly
Round 2: Connelly landed a few kicks to the body and head of Pereira. The Brazilian went for punches to the body. Connelly level-changed but Pereira stuffed the takedown.
Connelly pushed forward but Pereira connected with a one-two. Periera kept retreating before taking Connelly's head and landing a solid knee. Connelly continued to press forward and he landed a flurry of strikes that hurt Pereira. The Canadian gave Pereira no room to breathe. Connelly landed a good right hook and went for another takedown. The exchanges were scrappy and dirty.
Pereira gassed out. He took Connelly down and looked to recuperate in full guard. Punches from the top from Pereria. Connelly tried for the Kimura or the sweep. Pereira stayed heavy and pressed himself to keep Connelly down. He gradually pushed Connelly against the fence. Pereira enjoyed two minutes of ground control to end the round. 10-9 Pereira
Round 3: They hugged before the final round. Connelly went for the single leg but Periera defended it well. They clinched against the fence. Connelly locked in the Guilitone but Pereira moved and twisted frantically to slip out.
Connelly kept up the pace and landed with combinations. Back to the mat, Connelly targeted Pereria's back. Connelly moved to side control, then back to half guard.
The fans were firmly behind Connelly, who tried to rally and get a submission going. Pereira did a good job to avoid getting caught but he still absorbed big shots while being on the back.
Connelly had laned a majority of the significant strikes and continued to put in the work on the ground. Relentless pace from the UFC debutant as he landed his shots to the body and head of Pereira while in side control. He postured up and connected with massive combinations, Rights and lefts and the Vancouver fans were on their feet. What.An.Atmosphere. We certainly just witnessed the fight of the night. 10-8 Connelly
Result: Tristan Connelly def. Michel Pereira via unanimous decision (29-28, 29-27, 29-27)
That was satisfying to watch. A little-known 155er without a proper camp comes in for his first fight under the big bright lights of the UFC on one' week's notice in front of his own people and shuts down a dog-tired gimmick fighter. Canada has a new star and his name is Tristan 'Boondock' Connelly. Phenomenal.
#4 Todd Duffee vs. Jeff Hughes (Heavyweight)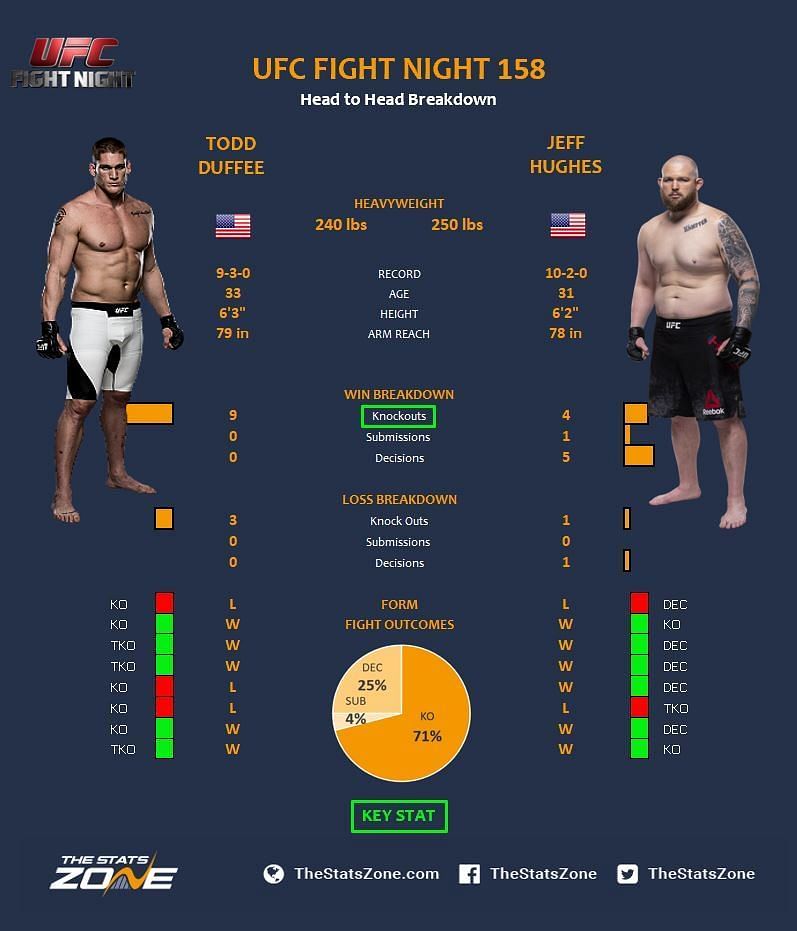 This was ATT prospect Todd Duffee's first fight in over four years as his last fight ended in a loss against Frank Mir in July 2015. Jeff Hughes last fought in March this year and lost to Maurice Greene.
Round 1: Duffee read Hughes in the opening few seconds before pressing forwards with a combination. Duffee changed levels and got Hughes down. However, they got back up and clinched near the fence.
Duffee connected with right and left hook combinations and kept Hughes pinned up against the fence. Hughes reversed positions before the began circling around. Hughes caught Duffee with a left hand, but Duffee answered with a big shot that rocked Hughes.
Duffee changed levels again but Hughes stuffed it. Back in the centre, Duffee kept up the pace and connected with big strikes in the pocket. An uppercut followed by a right hook stunned Hughes, who wobbled around near the fence. Hughes dropped down to both his knees as Duffee looked for the kill shot but Hughes hung in there. Hughes got back up and blindly swung his hands. They clinched and in an unfortunate incident, Duffee got poked in his left eye. The fight was stopped after Duffee complained of having troubles with his vision.
The doctor stepped in and called for the fight to end. What a bummer!
Todd Duffee vs. Jeff Hughes ends in a no-contest due to an unintentional foul (Round 1, 4:03)
Now, that was anti-climatic. However, nothing could have been done as Duffee suffered a nasty eye poke and there was no point in taking the risk. However, we're sure these two men will get an opportunity to go at it again in the future.
#5 Glover Teixeira vs. Nikita Krylov (Light Heavyweight)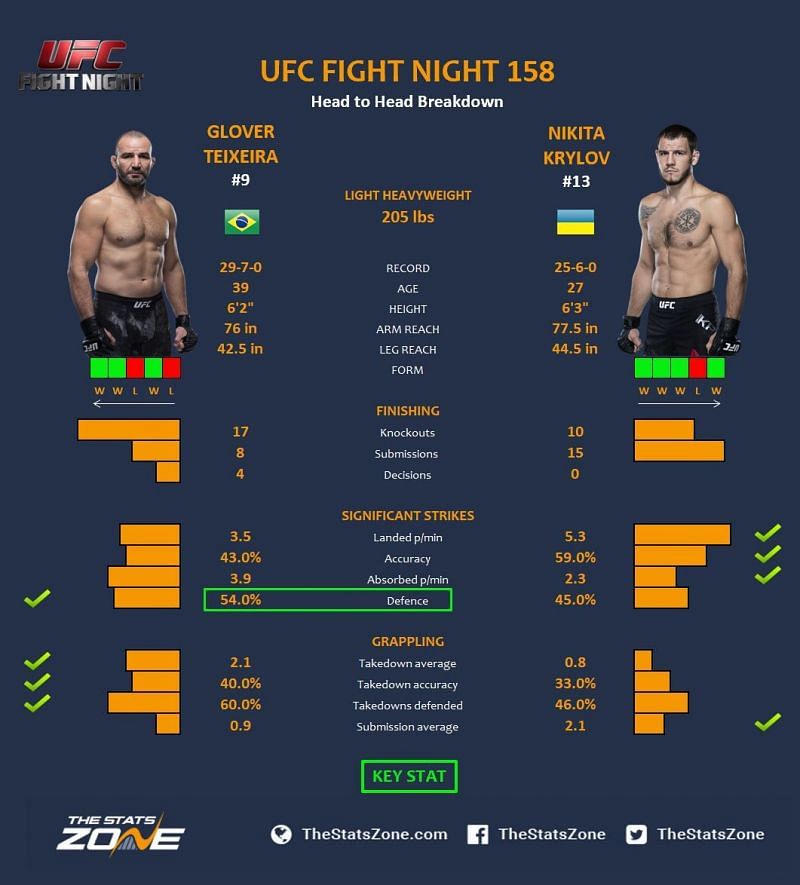 This was an interesting match-up. On one side, you had a former Light Heavyweight title contender in Glover Teixeira who was on a resurgent run back to the top. On the other side, there was Nikita Krylov, who had never gone the distance in his career.
Round 1: Krylov attacked Teixeira's body with oblique kicks to begin the round.
Teixeira got hold of Krylov's leg and took him down after some resistance. Teixeira landed shots with his left hand in side control. Krylov flipped over and gave up his back to Teixeira.
Teixeira kept his weight up forward to avoid Krylov from getting back up. Teixeira softened him up from the back with rights and lefts. Krylov got up and Teixeira fell over from the top. Krylov was now in full mount.
Teixeira reversed positions and pushed Krylov against the cage. Krylov took him down and trapped Glover in a rear-naked choke. Teixeira somehow slithered out of a precarious position. Both men traded shots on the feet to end the round. That was a close round to score but Krylov looked more threatening on the feet as well as the ground.10-9 to Krylov
Round 2: Outside leg kick from Krylov. Straight right from Glover. Left jabs from Krylov as he moved around. Body kick from Krylov. Glover missed with the overhand.
Krylov attempted with a big uppercut. Glover landed with a huge left hook that forced Krylov to pull out from the pocket.
Glover changed levels but Krylov defended. Krylov landed with a big head kick. Glover had 20 head strikes to Krylov's 11 at this point in the fight. Glover kept moving forward and connected with a body shot. He landed with a good right-hand shot over the top. Krylov's straight right went through the guard. A cut opened up over Glover's left eye. Glover connected with a stiff kick to Krylov's body. That must have hurt.
Krylov with a good 3-piece combo. Clinch against the cage. Both men reversed positions until Krylov lifted Glover and dumped him down to the mat. Krylov in top position as we entered the final seconds of the round. Krylov ended the round with a few big shots from the top. 10-9 Krylov
Round 3: Glover continued with the forward pressure. Krylov changed levels but found himself in a guillotine moments later. Glover had his arms wrapped under Krylov's chin. Krylov pushed himself forward and transferred the weight to get his head out.
Glover still found himself in full guard after a brief scramble of positions. Glover landed shots to the body and face in full guard. Glover lost the position and both men were back on their feet. Krylov didn't let go of Glover's left leg as they moved to the opposing fence. Krylov tried to get the under hooks in for a takedown. He locked his hands and pulled him from the fence to score another takedown. Glover locked in another guillotine. Krylov got out and landed a few elbows from half guard.
He tried to pass to full guard but Glover kept his posture and used his hands to reverse positions to get on top of Krylov as the fight came to an end.
Result: Glover Teixeira def. Nikita Krylov via split decision (29-28, 28-29, 29-28)
Nikita Krylov's first decision doesn't go in his favour as Glover Teixeira notched up his third consecutive win this year.
#6 Donald Cerrone vs. Justin Gaethje (Lightweight)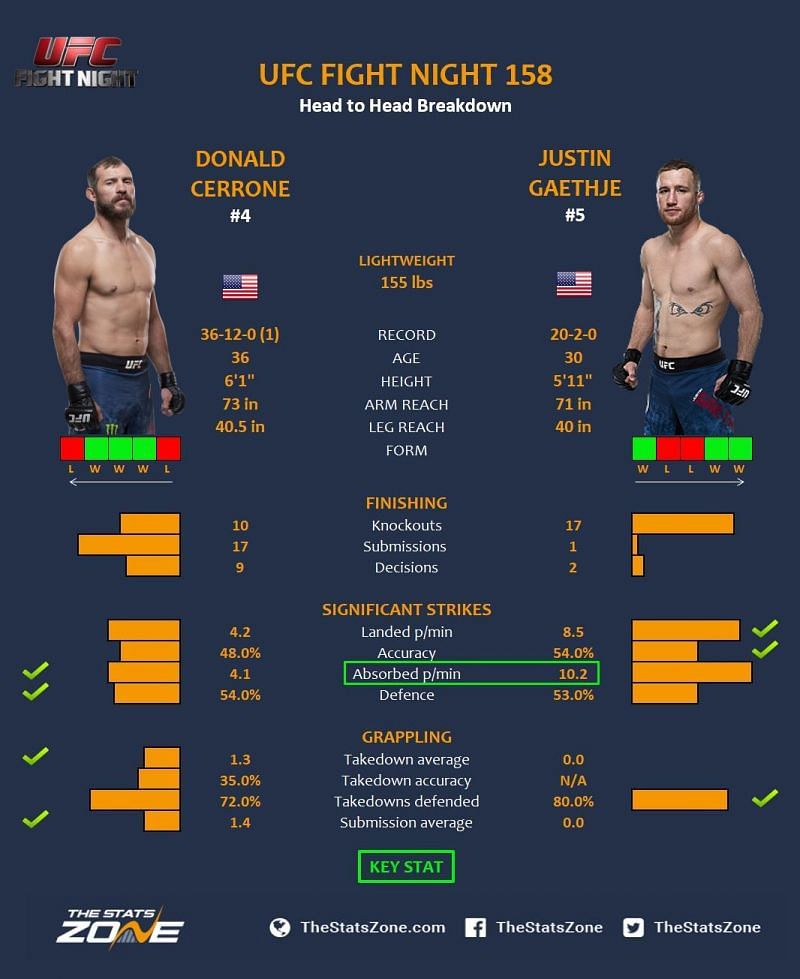 As Daniel Cormier aptly put it, Justin Gaethje is a knockout artist with a capital k! As for Donald Cerrone, the future UFC Hall of Famer is an all-action fighter who never ceases to amaze us with his offensive manoeuvres. If you're a fan of a good old-fashioned throwdown, then this main event promised to be just that!
Round 1: Gaethje went for a few big hard shots but Cerrone tried to keep him at bay with the straight kicks. Cerrone pushed forward after a minute with a few combinations.
Cowboy assessed Gaethje's range and got into the groove. Gaethje landed three overhand counter rights while Cerrone tried to keep the jabs coming.
Cerrone with a three-piece combo. Gaethje replied with a one-two. Cerrone wished to fight the fight at his pace but Gaethje wanted to make it a dirty brawl in the pocket. Gaethje was the one winning the stand-up battle thus far as he beat Cerrone to the punches.
Gaethje was landing the counter right all round. He got out of the way and avoided a Cerrone lead right and rocked Cowboy with a picture-perfect counter right. Cerrone wobbled, and Gaethje followed it up with two uppercuts. Cerrone's knees gave up and Gaethje applied the finishing touches until the referee stepped in to stop the fight. Cowboy didn't look too thrilled with the stoppage but Gaethje landed flush and knocked the legend out clean.
Result: Justin Gaethje def. Donald Cerrone via TKO (punches) (Round 1, 4:18)
Just another day in the office for the 'The Highlight'. He showed up and did what he does best: knock people out. This time though, it was his close friend Donald Cerrone who was on the receiving end and he didn't like that one bit, as revealed in the post-fight interview.
Gaethje shot down the possibility to fight Conor McGregor and called out the winner of Tony Ferguson and Khabib Nurmagomedov. We wouldn't mind seeing McGregor vs. Gaethje while El Cucuy and the Dagestani mauler finish their business.
Edited by Kingshuk Kusari