Ghosh, Gill complete hat-trick of wins
996 //
21 Jul 2013, 19:13 IST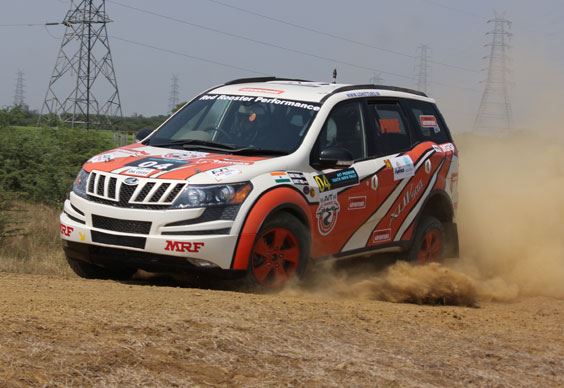 Coimbatore -  National champion Amittrajit Ghosh (co-driver Ashwin Naik) and Gaurav Gill (Musa Sherif) recorded their third consecutive wins of the season by topping the INRC Overall and SUV categories, respectively, in the Rally of Coimbatore that concluded here Sunday.
Kolkata-based Ghosh, in a Group N (stock) Mitsubishi Cedia drove well within himself to annex the title in the third round of the Indian National Rally Championship following his success in Chennai and Nashik earlier this year.
"I did not really push as I wanted to preserve the car. It was difficult to drive slow because it can affect your concentration. But as I had a big lead, I took it easy," said Ghosh.
Finishing second behind Ghosh was Bangalore's Vikram Devadasen (Srikanth Gowda) while Mysore-based Phalguna Urs (Anoop Kumar) came in third, also in a Cedia.
Asad Khan (Zayne Asrar) from Bangalore recorded his second consecutive win of the season in the Junior INRC class to consolidate his position in the championship standings, by finishing ahead of Suhem MK (J Jeevarathinam) while Rohan Pawar (Arjun Mehta) in a VW Polo was third.
For Gill, driving a factory-supported XUV 500 for Mahindra Adventure team, comfortably won in the SUV championship class with a risk-free run on Sunday to chalk up his third podium on the heels of his wins in the previous two rounds.
In the top-end IRC, former World Rally champion (production class) Karamjit Singh (Jagdev Singh) from Malaysia, driving a VW Polo for Slideways Industries, emerged on top after overnight leader Samir Thapar (Vivek Ponnusamy) retired in their Mitsubishi Evo X.
Meanwhile, in the INRC 1600cc class, overnight leader Arjun Rao (Satish Rajagopal) in a VW Polo eased off a tad too much enabling Byram Godrej (Prajwal Pai) to make up a deficit of over a minute and take the honours.
While Godrej (Slidways Industries), also driving VW Polo, pushed hard, Rao backed off in the day's first stage that cost him nearly a minute. In the next stage, Rao slowed down after shown a yellow flag when Dr Bikku Babu rolled his Cedia, about three kms from the finish.
However, those following Rao went through the section at pace as the caution flag was withdrawn and Godrej eventually pipped Rao by 12.7 seconds.
Provisional classification (Leg 1):
INRC Overall/2000cc (Group N): Amittrajit Ghosh / Ashwin Naik (Mitsubishi Cedia) 1 (1hr, 42mins, 42.9secs); Vikram Devadasen / Srikanth Gowda (Cedia) 2 (01:44:48.6); Phalguna Urs / Anoop Kumar DS (Cedia) 3 (01:45:54.2).
INRC 1600cc: Byram Godrej / Prajwal Pai (Slideways Industries, VW Polo) 1 (01:47:44.9); Arjun Rao / Satish Rajagopal (VW Polo) 2 (01:47:57.6); Md Kasim AA / Sanath G (Maruti Esteem) 3 (02:14:06.2).
Junior INRC: Asad Khan / Zayne Asrar (Maruti Esteem) 1 (01:51:06.2); Suhem MK / J Jeevarathinam (Maruti Baleno) 2 (01:53:00.0); Rohan Pawar / Arjun Mehta (VW Polo) 3 (01:56:29.2).
SUV NRC: Gaurav Gill / Musa Sherif (Mahindra Adventure, XUV 500) 1 (01:40:00.3); Lohitt Urs / Bonnie Thomas (Mahindra Adventure, XUV 500) 2 (01:46:29.1); Sunny Sidhu / PV Srinivasa Murthy (Mahindra Adventure, XUV 500) 3 (01:52:43.1).
IRC: Karamjit Singh / Jagdev Singh (Slideways Industries, VW Polo) 1 (01:42:12.1); Sumit Punjabi / Chetan Shivram (Mitsubishi Cedia) 2 (02:00:35.6); Samir Thapar / Vivek Ponnusamy (JCT Rallying, Mitsubishi EvoX) 3 (01:34:32.0 – retd).