Months after Balenciaga launched a controversial campaign, British luxury fashion brand Burberry has come under fire for their new advertisement.
On Monday, January 23, the fashion company introduced its new Valentine's Day campaign, B:Mine, by sharing a video on its social media handles. The footage shows several LGBTQ couples embracing and k*ssing their on-screen partners.
One person also seemingly shows their scars from a double mastectomy, a surgical procedure where both breasts are removed partially or completely.
However, the new Valentine's Day ad campaign did not sit right with several users as they bashed Burberry.
---
Twitter reactions to Burberry's new ad campaign
After Burberry's latest Valentine's Day campaign went viral, Twitterati was furious. Several users slammed the luxe brand for promoting "activist" marketing even though the small demographic that they targeted does not buy from their stores.
Some also dragged Balenciaga into the conversation, stating these brands only target woke people with money.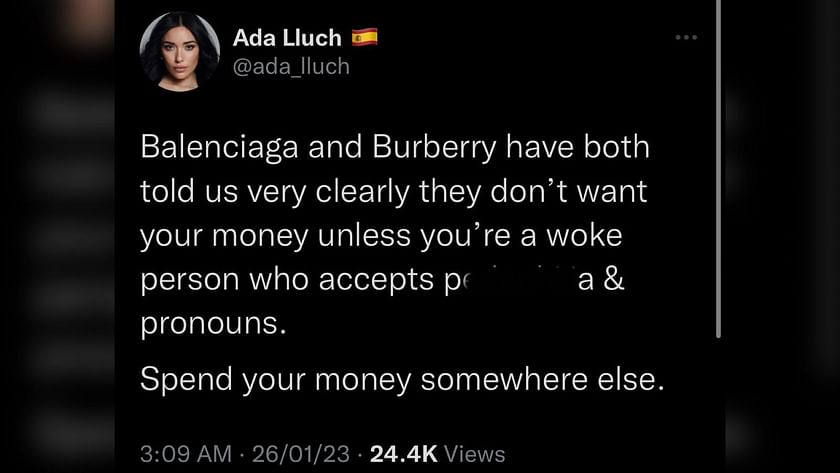 ---
Burberry is not the first brand to face criticism for its ad campaign. Back in November 2022, Spanish fashion brand Balenciaga faced immense criticism for launching its Spring/Summer 2023 collection that showed kids playing with plush toys dressed in BDSM-style b*ndage.
Several pictures from the campaign also showed young kids standing on beds, with one photo reportedly featuring documents from a child s*xual abuse case.
Even though Balenciaga issued a formal apology for their controversial campaign, the brand was canceled online, with even its ad photographer claiming he had no control over its direction and shooting.
In a statement given to CNN on November 23, 2022, photographer Gabriele Galimberti stated:
"I am not in a position to comment (on) Balenciaga's choices, but I must stress that I was not entitled in whatsoever manner to neither chose (sic) the products, nor the models, nor the combination of the same."
The ad controversy dragged several celebrities like Kim Kardashian, Salma Hayek, etc., into the backlash for not commenting or staying silent on the matter.
Kanye West also jumped in on the opportunity and said that all celebrities were "controlled" by these big brands.
Burberry is not the first luxe brand to feature transgender models in its ad campaigns. In 2019, Victoria's Secret announced that it signed a transgender model for walking the runways. The model was Valentina Sampaio from Brazil.
Chanel also hired Teddy Quinlivan and made them the company's new ambassador, the same year.
In 2022, New York Fashion Week showed a 10-year-old trans model who ran the runway for the label Renacio.