Since January 9, 2023, Twice has been dropping hints and concept photos of their upcoming pre-release English single, MOONLIGHT SUNRISE, making fans go crazy with anticipation.
The concept pictures featured photocard-worthy selections of all the group members' beauty. Twice's official Twitter account posted photos of three members each day, according to their schedule.
As their first English release was a huge success, the Twice fandom, known as ONCE, can't wait to see what the K-pop group has created for this new comeback.
---
Twice's concept teasers have fans swooning on Twitter
What can be seen in the teasers?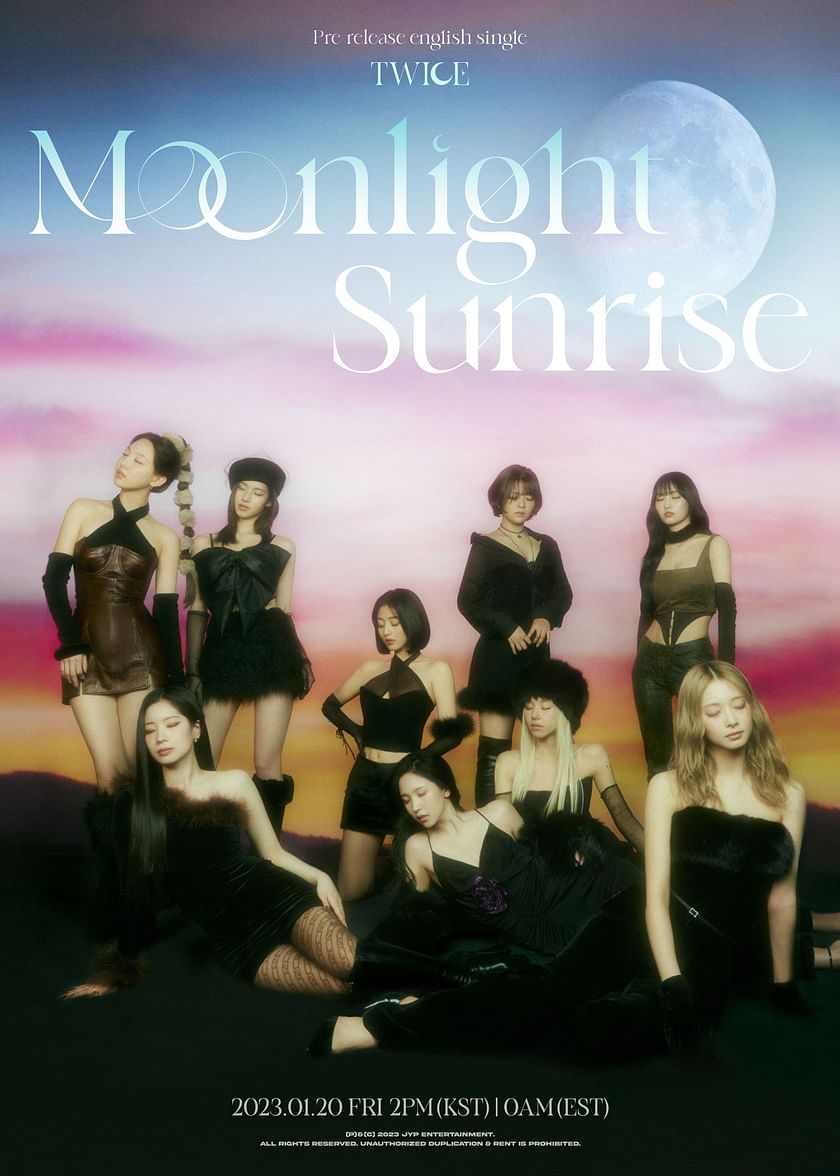 In the group picture, which was released on January 12, all nine members of the group can be seen in elegant black attire, bringing out their bold looks and graceful beauty. The girls are seen with their eyes closed in front of different tones of sky imagery representing the sunrise.
As for the individual shots of the members, fans have theories of their own regarding what the concept can be. Some netizens are even questioning why Chaeyong is the only one with a camera.
In a short teaser posted on Twice's TikTok, the girls' sweet voice can be heard against what sounds like a peppy RnB beat.
---
"My legs just shattered": How the group's fandom is reacting to the concept pictures
The concept teasers attracted a lot of attention on social media, with netizens gushing over the beauty of the group members featured in the posts.
Several fans even posted pictures of themselves pre-saving the song.
---
This is the second English single digitally released music video by the girl band, which will be uploaded on January 20, 2023, as a pre-release single, and the full comeback as a group with the 12th mini album will be on March 2023.
Their first English-only release was an eccentric disco rhythm-styled song called The Feels, which was bright and fun, with iconic clothing that went viral. The song's dubstep became famous on TikTok and reels.
The girl band had a really busy year in 2022, having released a new album, Between 1&2, as well as going on their fourth world tour. At the beginning of the year, they also received a gold certification from the Recording Industry Association of America for their song, The Feels, .