The Seoul Yeongdung-po police station found KBS guilty of chart manipulation in favor of LE SSERAFIM's Music Bank win against Lim Young-woong, a highly popular trot and ballad singer, on August 24. The police investigated KBS' evidence of the scoring criteria of the Music Bank broadcast on May 13 and found inconsistencies.
The discrepancy was first noticed when HYBE's rookie group LE SSERAFIM's FEARLESS won against South Korea's most popular trot and ballad singer, Lim Young-woong's, If We Ever Meet Again on May 13.
Viewers noticed a huge gap in broadcast points. While FEARLESS received 5348 points, If We Ever Meet Again had zero points.
Music Bank winners are determined by calculating various data points. These include digital music charts, album sales, the number of KBS channel broadcasts, audience score, and social media.
Viewers pointed out the gap, mentioning that it was close to impossible for Lim Young-woong to receive zero points in the broadcast category. They demanded that KBS release their method of calculating broadcast points.
---
Netizens criticize HYBE after police find KBS guilty of rigging scores of Lim Young-woong vs LE SSERAFIM
The Music Bank broadcast on May 13 became a hot topic on multiple online forums, particularly in South Korea. Contending for the No. 1 position and the music show win were LE SSERAFIM with their debut single FEARLESS and Lim Young-woong's with his newest release, If We Ever Meet Again.
The K-pop community was in disbelief when FEARLESS took home the win. The months-long speculation of KBS abusing its power to favor HYBE's girl group turned out to be true on August 24.
Many netizens criticized the network company and also accused HYBE of bribing the KBS producers and buying the win. However, a few netizens commented that the network channel has had similar controversies before.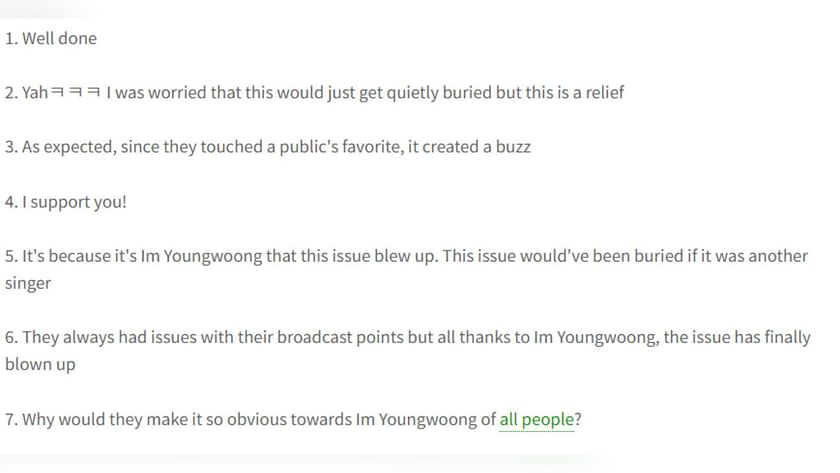 ---
How did the KBS LE SSERAFIM and Lim Young-woong controversy start?
After the May 13 win at Music Bank, while LE SSERAFIM's fandom celebrated the news, a major chunk of the internet speculated about a discrepancy in the broadcast points. Overall, the girl group recorded 7881 points, and the ballad singer was a close second with 7035 points.
Viewers rallied, demanding KBS become transparent with their broadcast point calculations. Lim Young-woong is an incredibly famous singer (who placed seventh in Forbes Korea's 2022 Power Celebrity) and it was unlikely for him to earn zero points.
As the controversy worsened, KBS shared a statement saying that If We Ever Meet Again was not broadcast on any radio, KBS TV, or digital content. However, fans dug up past website data to unearth that it was untrue.
Moreover, Lim Young-woong's fandom has long been acknowledged as the one fandom that no K-pop group's fans could ever beat.
In a past fan voting award, the trot singer went against two of the biggest boy groups, BTS and EXO's fandoms. The two fandoms combined could not beat the trot singer, which is a memory still fresh in the K-pop community's minds.