Donald Trump Jr. recently launched a line of t-shirts in an attempt to mock the fatal shooting incident that killed cinematographer Halyna Hutchins. The former immediately came under fire as people largely criticized his inappropriate actions in relation to the tragic incident.
The controversial t-shirts were released on Trump Jr.'s own website and came with a graphic that read "Guns don't kill people, Alec Baldwin kills people". The tees were made available for $27.99 in colors of black, blue and military green.
Following the launch of the product, the American activist faced severe backlash on social media. One user called the move "utterly deplorable" and even asked Halyna Hutchins' family to sue the 43-year-old for profiting off the tragedy.
Donald Trump Jr. also took to Instagram to refute the mass criticism of his product and called out the "sanctimony" of the critics. However, the online outrage reportedly prompted Donald Trump Jr. to ban the sale of the t-shirts, and the product is no longer available on the website.
---
The internet slams Donald Trump Jr. for launching Alec Baldwin t-shirts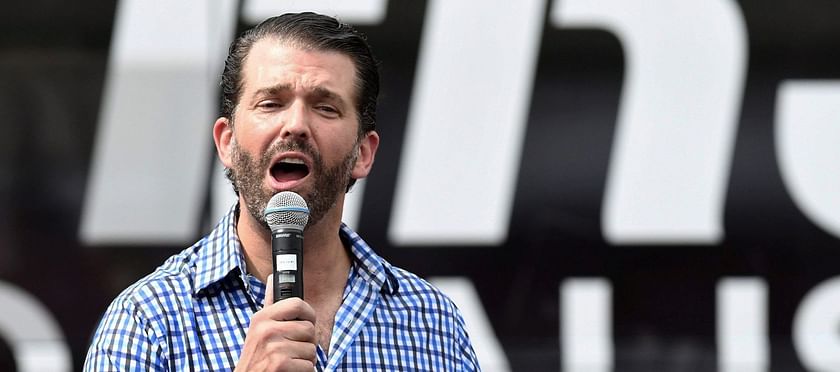 It's been five days since Alec Baldwin accidentally shot cinematographer Halyna Hutchins with a prop gun on the set of Rust on October 21. The misfire left the latter dead and also injured director Joel Souza.
It was later revealed that the prop gun was loaded with a live round. The actor reportedly pulled the trigger while filming the scene, unaware of the fatal contents inside the weapon. The incident has left the entertainment industry in shock, and the public continues to mourn the tragic loss of the cinematographer.
The situation also left Alec Baldwin distraught and "inconsolable". PEOPLE mentioned that he had not returned to work following Halyna's death. However, Donald Trump Jr. has repeatedly called out Baldwin in the wake of the incident.
The eldest child of the former US President consistently shared a barrage of memes on social media to mock the actor and the ongoing situation. Several people opined that the former was firing back at Alec Baldwin for mocking and criticizing Donald Trump in the past.
However, Trump Jr. left the online community enraged after he started selling Alec Baldwin t-shirts to ridicule the Halyna Hutchins incident. Netizens took to Twitter to slam the former for his improper behavior:
The questionable t-shirts were reportedly pulled off sale after a huge outcry on social media. However, it remains to be seen if Alec Baldwin will respond to the situation in the days to come.
The actor recently issued an official statement regarding Halyna Hutchins' death. He mentioned that he did not have the words to convey his "shock" over the incident and shared that he is in contact with Halyna's husband and family.
Edited by Siddharth Satish