Dr. Rollan Roberts II became the subject of criticism on social media after his wife Rebecca Roberts fainted at the White House on January 21.
The incident took place when Rollan announced that he would contest for President during the 2024 election. According to videos that have surfaced online, an individual standing beside Rebecca attempted to help her but Rollan was seen standing in his place.
He waited for a few moments before running towards her to help. Rebecca is reportedly doing well now and the pair thanked the first responders for their help. They were also grateful for the care and concern people showed them on social media.
---
Rollan Roberts II wife fainted at the White House while five months pregnant
Rebecca Roberts fainted when she and her husband Dr. Rollan Roberts II were at the White House and the incident left the public worried. According to the Independent, Rebecca is five months pregnant with her first child.
It was recently confirmed that Rebecca is now doing well. She also responded to the "unjust criticism" of her husband as she told Newsweek:
"The unjust criticism and outrage at my husband's response time is infuriating. I was standing behind him, and given the movement all around us throughout the announcement, there was no way for him to see what was happening."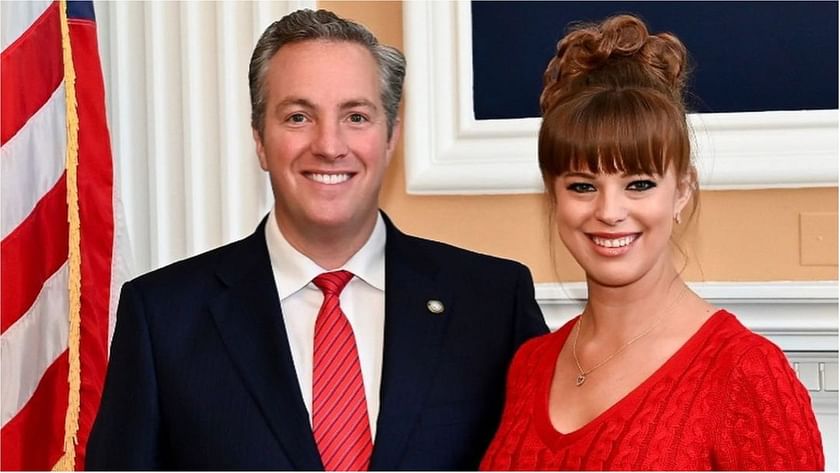 ---
She further explained that according to the video, Rollan rushed towards her a few seconds after he saw her faint. She stated that Rollan helped her by pausing the press conference and consulting health experts on whether they can continue further.
She added:
"One of the things I love about my husband is how well he takes care of me and puts me first. He is a steady and stable leader that responds, not reacts. He does not panic under pressure, and the whole world now gets to see what kind of man and husband I'm blessed to have."
Rollan Roberts II and Rebecca Roberts tied the knot in 2021. Rebecca is a model and has been a spiritual advisor and choreographer for the Miss United States Pageant. She was also the executive producer and choreographer for Miss New Jersey International and choreographer for Miss Florida Cosmos United States and The USA Ambassador Pageant.
---
Dr. Rollan Roberts II is the founder of Transform Africa
Dr. Rollan Roberts II, who recently announced his run for U.S. President, is the founder of Transform Africa. The organization works to solve the issues of accessing clean water, business education, food security, and national security in Africa. It aims to bring economic, technological, and educational changes to the continent.
Dr. Rollan Roberts II addressed the Chinese government on the trade war between the U.S. and China and the world leaders at Harvard University. He was the CEO of the Hoverboard Company and the International College of Peace Studies gave him the African diplomatic designation of His Excellency as Peace Ambassador to Nations.
Rollan Roberts II was also a nominee for the U.S. Department of Defense in the Civilian Central Command Task Force and a member of the U.S. Delegation to South Sudan. He has been an advisor to national governments on issues related to diplomacy, security, entrepreneurship, education, and water.
Edited by Adelle Fernandes