18-year-old Aaliyah Gonzalez and 20-year-old Kylis Fagbemi were identified as victims who were killed in a mass shooting at a Baltimore Block party early Sunday morning. In a press conference, acting Baltimore Police Commissioner Rich Worley said that on Sunday, July 2, officers responded to reports of a shooting in the 800 block of Gretna Court, where a block party was underway.
The shooting reports came in just after 12:30 am when people gathered in the neighborhood for the Fourth of July weekend and heard sounds resembling fireworks, which they later learned were gunshots.
Upon arrival, officers reportedly found an 18-year-old woman, identified as Aaliyah Gonzalez, dead at the scene. Nine others who were injured were taken to hospitals. Police said that at least 20 wounded people - ranging in age from 13 to 32 - arrived at hospitals on their own.
Worley revealed that a 20-year-old man, identified as Kylis Fagbemi, died in the hospital, and three others were in critical condition.
Police have yet to apprehend the suspect responsible for the mass shooting. Meanwhile, Worley revealed that the Block Party was not sanctioned by the city, noting that the officers learned of the illegal gathering sometime on Saturday.
"My job is to investigate and see what our officers did once we figured out that there was a large party."
---
Aaliyah Gonzalez recently celebrated her 18th birthday
While police continue to investigate the case, Aaliyah Gonzalez's mother, Krystal, took to social media to mourn the loss of her 18-year-old daughter, who had recently graduated from high school. In a heart-wrenching Facebook post, a devastated Krystal Gonzalez grieved the death of her daughter, who celebrated her 18th birthday in April 2023. She wrote:
"MY BABY!!! Worst day of my life! I cannot do life without her. I NEED HER!! Why would they do this to a perfect angel. I love you so much, baby. I didn't get there fast enough. God this is a mistake!!! Please!!."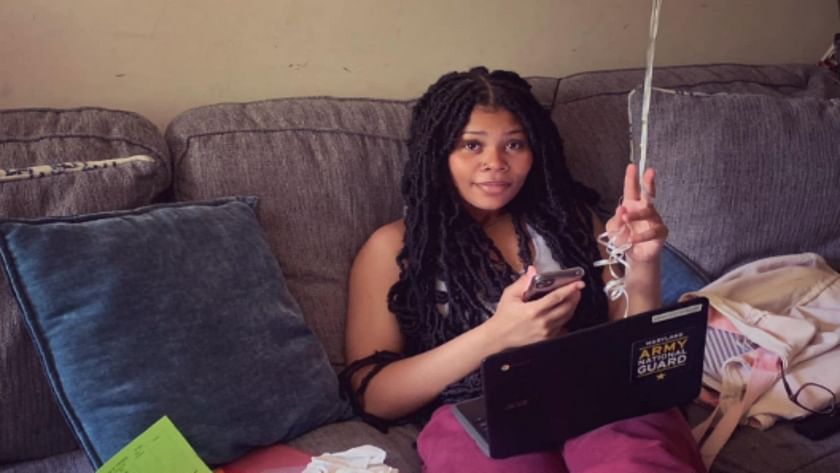 Per the Facebook account, Aaliyah Gonzalez, a fiercely bright student, was recently accepted at South Carolina State University. Shortly after, in a touching birthday post, the teenager's proud mother wrote:
"18!! Many of you have watched my baby grow up here. I am so excited for her future. Keep shining baby girl.Happy birthday Aaliyah."
Meanwhile, Worley said police were reviewing video and talking to witnesses to identify at least two suspects who opened fire at the block party. WMAR-2 News reported a reward of up to $8,000 was being offered for information that leads to an arrest in the shooting deaths of Aaliyah Gonzalez and Kylis Fagbemi.
Baltimore Mayor Brandon Scott, while condoling the tragic deaths, implored the public to provide information about the incident. In a statement posted via Twitter, he said:
"This is an absolute tragedy that did not have to happen. Anyone that knows anything about what happened here, anything about this mass shooting, come forward with any piece of information. Treat this as if it was your family and how you would want people to treat it as if you were mourning as if this were an event happening in your community."
The Baltimore police said that the special agents, K-9, and task force officers of the Bureau of Alcohol, Tobacco, Firearms and Explosives are assisting in the investigation.
Edited by Anushree Madappa