Frank Hibbard, the mayor of Clearwater, a city in Florida, suddenly resigned from his position during a special city council meeting on Monday, March 20. He announced his resignation less than an hour into the meeting. Hibbard was in the last year of his tenure after being elected mayor in 2020.
Hibbard's unexpected announcement came as his fellow City Council members were discussing their plans for a new municipal complex and a City Hall worth $90 million.
As per USA Today, he said:
"I'm concerned where the city is going. Because this is simple math, and we are not doing very well on the test. But I can tell that I am not the right person, and I am a busy guy. I have always believed in making sacrifices for public services."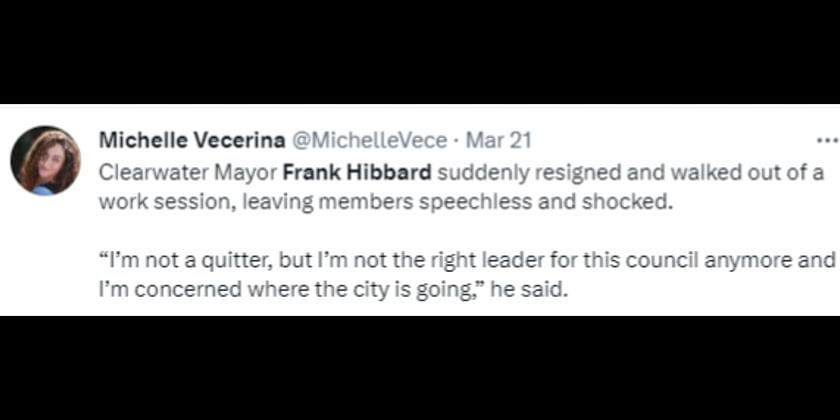 Hibbard added that he loves Clearwater and he loves some of the things they have gotten done around the city. He also said that project Imagine Clearwater was going to be phenomenal. He praised Jennifer Poirrier as the city manager and said that she was going to do a great job.
Frank Hibbard continued:
"But, in good conscience, for my family, for my own health and other things, I can't remain the mayor."
---
Frank Hibbard served three terms as a member of the Clearwater City Council
Hibbard moved to Clearwater from Chicago in 1979. The now-former mayor has lived in a 1925 vintage home in Harbor Oaks with his wife, Teresa Hibbard, for 23 years. Both Hibbard and Teresa are long-time members of Clearwater's Calvary Church.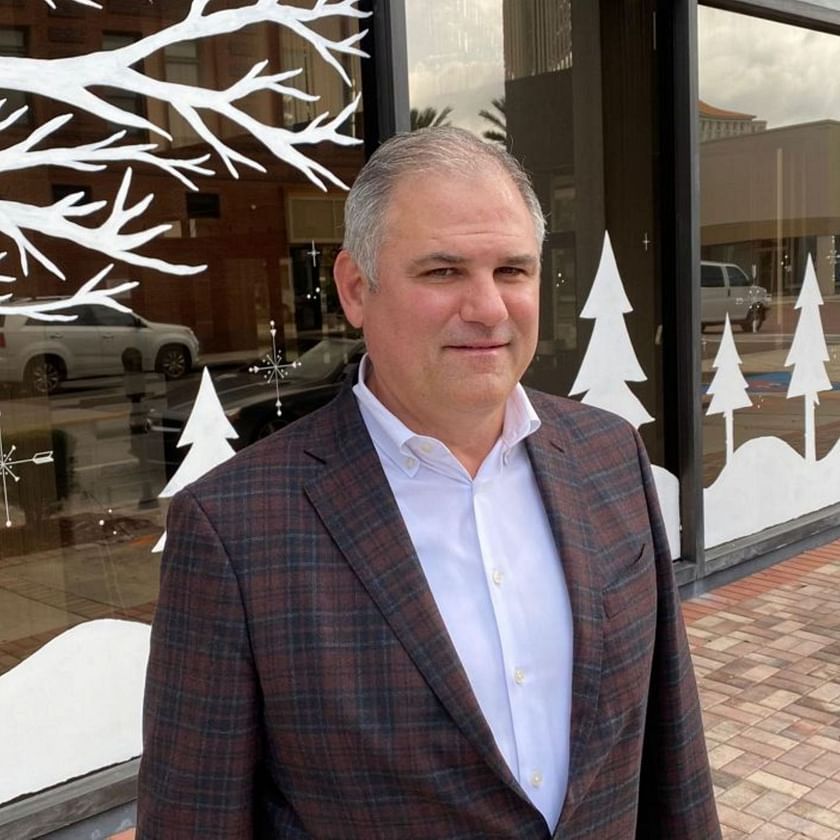 Franks has two Bachelor's degrees in Economics and Finance and a Master's degree in Business Administration. He has a knack for tennis and golf and has also played college football.
Frank Hibbard served as a member of the Clearwater City Council for a total of three terms between 2002 and 2012. He served as the Mayor for two of those terms.
He was honored twice with the Tampa Bay Partnerships Award for Regionalism and also received the Suncoast League of Cities' Insco award for Leadership. Hibbard is a graduate of Leadership Florida 2007 and Leadership Pinellas 1999.
From 2012 to 2020, when he was out of office, Hibbard served as the Board of Ruth Eckerd Hall's Chairman, Board member of the Homeless Empowerment Program, Clearwater Marine Aquarium's Vice Chairman, and one of Calvary Christian High School's school board members.
---
Frank Hibbard provided no specific reason for his sudden resignation as mayor
Frank Hibbard said at the special City Council meeting on Monday that he was not the "right guy" to be the mayor of Clearwater at present. Hibbard spoke about calling his wife to inform her of his resignation and said that she was shocked.
He added:
"And I don't ever quit anything. But it's been more and more obvious to me that as much as I love the city and as much as I wanna stick around for some of the things that are gonna occur over the next couple of months, I simply am not the right person to be here."
He wished everyone present at the City Council the best. Hibbard specifically praised and thanked the staff, and called them phenomenal.
He added:
"I think you are first-class people who are incredibly dedicated to the city and what we do. And you all deliver services on a daily basis in a way that is unlike anybody else. I've never lost faith in our staff."
Several individuals took to social media to applaud Hibbard's decision as they praised him for his move.
Frank Hibbard previously stated that he would not run for mayor again once his term ends in March 2024. His sudden decision to resign a year ahead of the end of his term took another Council member, Kathleen Beckman, off-guard.
Beckman said that it was an absolute surprise for her and that she had no idea. She added:
"It's still a shock. Still don't know what to make of it."
Beckman is Clearwater's honorary vice mayor, who often disagreed with Hibbard on certain issues. However, she is not next in line to be the mayor.
Hibbard did not mention any particular reason for his decision to resign. However, the $90 million project for Imagine Clearwater did not sit well with him because of the deficit of $60 million and the old City Hall being demolished soon.
Frank Hibbard ended his speech and abruptly got up from his seat to exit the meeting room. Council members wanted to let the public know that the city will continue to run. An official letter of resignation from Hibbard is awaited by the city attorney.
After his announcement, Hibbard spoke to FOX 13 24 and shared the differences he had with the majority of the council members, who wanted to spend the money from the taxpayer.
Frank Hibbard opined that the council was making decisions that were going to have negative consequences. He added that Clearwater has always been a city that has been financially responsible.
Hibbard served eight years as Clearwater's mayor between 2004 and 2012. He was re-elected in 2020 until his resignation in the third year of his current tenure.
Edited by Adelle Fernandes