The new color-coded loofah system being utilized by senior swingers in a village in Florida is creating a buzz on social media. The city has been in the spotlight after multiple TikTok videos featuring different colored loofahs tied to their cars indicated their s*xual preferences.
The location of most of the TikTok videos surfacing on social media is The Villages, which has been in the news previously as a getaway for wild retirees. A user named Tora Himan uploaded the most popular video, which has received over 3 million views.
Featuring multiple people buying loofahs in the supermarket, and cars having loofahs tied to their roofs, the creator captioned the video:
"They are everywhere!"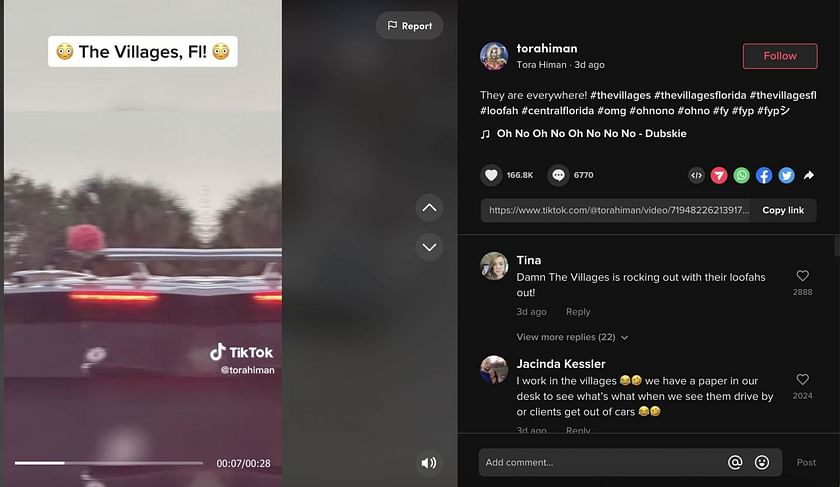 From pink to blue to red, social media users now wish to know the real meaning behind the different colored loofahs.
---
What do the colors of the loofahs represent? Details explored as the trend makes the internet go gaga
As per the color chart shared by multiple users on social media, the "loofa code" goes by different colors for different s*xual preferences. As per the chart shared by users on TikTok, here is what the colors mean:
White color represents novices and beginners.
Purple is for people who like to watch
Other colors like pink stand for people who like to be with others in the room
Blue is for those who can play well with others.
Yellow is for people who want to have fun but are still nervous.
Black is used for full swap and is for people who say, "let it all go down."
The last one is teal, which is for people who are bis*xual, and these are the people who wish to increase their dating chances.
At the same time, social media users have been sharing their reactions to the wild trend. While some people think it's cool, others are commenting on how bizarre it is.
Furthermore, people have also shared about how you can identify a "swinger" in Florida. Many have shared how some people leave pineapples on a doorstep to symbolize that the person in the house is interested in a "swinger party."
Additionally, as others have noted, lawn ornaments can also be used to express someone's interest in swapping partners. Adirondack chairs have also been mentioned as being used to display signs for swingers.
The Villages, known as "Florida's friendliest hometown," has also gained attention for its strange trends. However, many Reddit users are also calling this trend a myth and talking about how retirees are all driving similar cars, and the reason why they use loofas is to spot the vehicle from a distance.
Furthermore, it is impossible to say whether the trend is real or a myth.