After previously announcing her split from partner Larry, popular R&B singer Summer Walker just announced that she has finally given birth to twins.
While she had announced through a few social media posts about her pregnancy, the news about having not just one but two kids wasn't broken up until the delivery. Walker took to her Instagram Stories to announce the special news about giving a natural home birth.
She wrote:
"I'm so proud of myself. Just sharing to inspire other women cause I know once you carry twins to almost 42 weeks with (one breech) people will try and steer you towards induction or c-section (which there's nothing wrong with these...)"
Talking about how it was her second home birth, Summer Walker gave brief insights about her home birthing journey. Furthermore, she also thanked many people, including the father of her twin children, for being there throughout her journey:
"All natural. 7hrs, no tearing and I couldn't have done it without my spirit guides, Godparents, birth team, my elders, and the best Dad doula ever Larry lol. He was so hands-on the whole time. I was really impressed."
The former couple broke up in November 2022. As per reports, the duo started dating in 2021, but made their relationship official in June 2022, during an Instagram live.
---
Did Summer Walker get her face tattoo removed after breaking up with baby daddy Larry?
Back in early November 2022, the No Love singer surprised her fans by revealing that she had broken up with her partner, Larry. Stating the same, she posted about it on social media, where she clarified the couple's position together.
All of this came after the couple announced in June 2022 that Walker was expecting her second child (her first one with Larry). However, after their breakup, the Ex For A Reason singer clarified that Larry is an "amazing father," writing:
"People been trying to be in my business bad lately, idky why y'all need updates on my life lol like go touch grass but I've decided to be single, it's no hard feelings, Larry is an amazing father there's just certain things I won't tolerate, but we're super duper happy to have all our children & we just living life. he be at every swim class every photoshoot every dr appointment and every baby event."
In the same post, Summer Walker clarified that she wouldn't be removing the face tattoo, stating:
"No I ain't removing y face Tatt I still have hella love for him."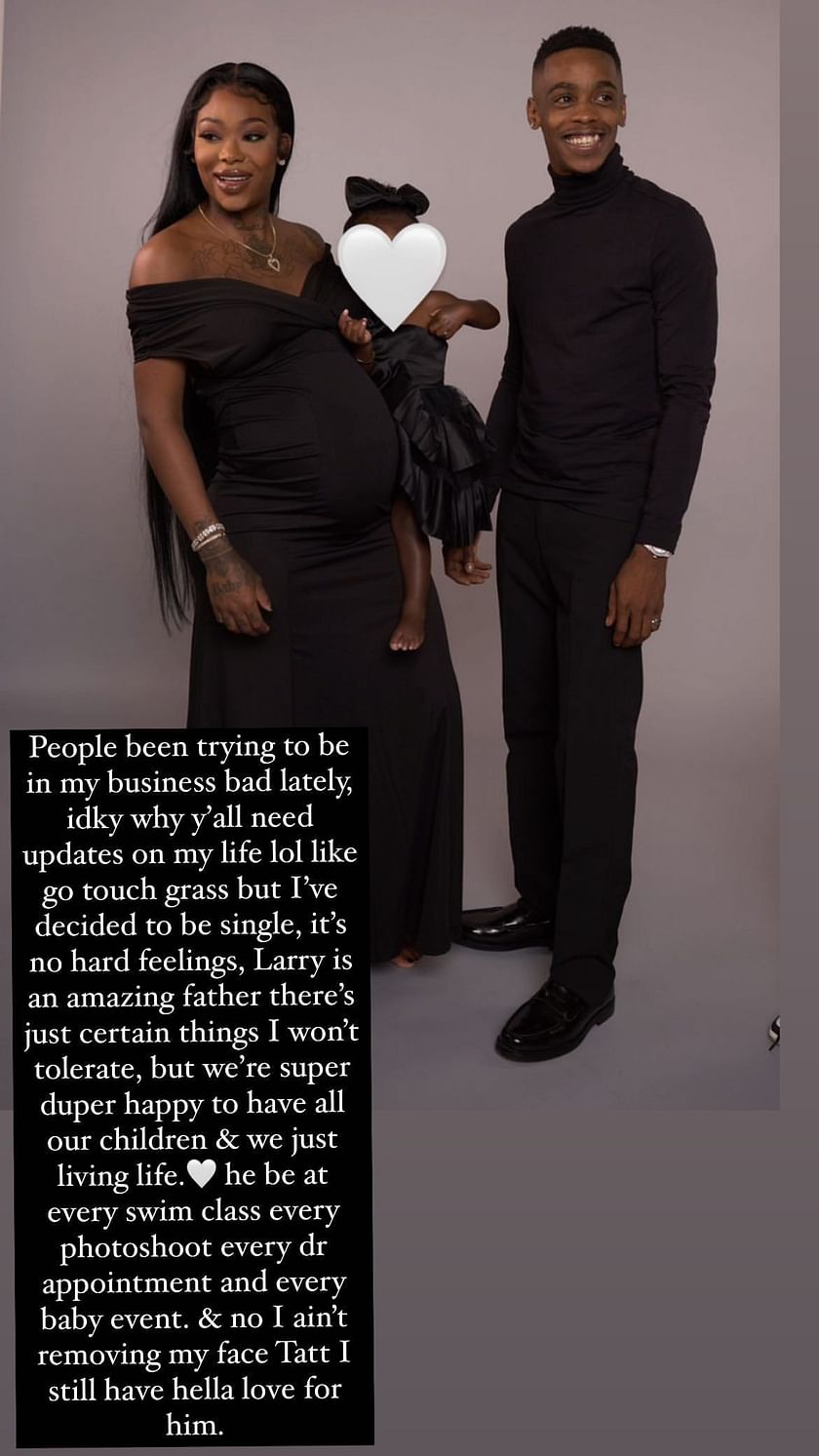 ---
Before being in a relationship with Larry, Summer Walker was in a relationship with London on da Track. The duo even share a child together, who was born in March 2021.
At the moment, the Over It singer has not shared any details or pictures of the newly born. However, she disclosed that Larry was there for her throughout the birthing process.
Edited by Abhipsa Choudhury