Brooklyn-based art collective MSCHF has teamed up with popular talk show host Jimmy Fallon for an exciting collaboration. As per reports, the duo is set to release the Gobstomper sneaker design, which is being referred to as the "Jimmy Fallon Edition." Inspired by the Gobstopper candy, these shoes have managed to catch the attention of sneakerheads everywhere.
The limited-edition Gobstomper "Jimmy Fallon Edition" will drop on July 28, 2022, at 1 PM EST. Interested buyers will have to participate in a draw system to grab their pair of Jimmy Fallon shoes. This process has to carried out on MSCHF Sneakers App, which is easily available on both Android and IOS platforms. Each pair will cost $195.
---
Jimmy Fallon x MSCHF Gobstomper shoes are built with multiple layers
MSCHF is one of the most social media-famous brands out there. The company previously debuted its Wavy Baby and Super Normal shoes, which resembled the recognizable silhouettes of Nike and Vans, respectively. They even received a legal notice from Vans for Wavy Baby.
The label has now come together with the 47-year-old reality show host and actor Jimmy Fallon. He is best known for hosting The Tonight Show and Saturday Night Live (SNL) talk shows. The brand shared the release date for the "Jimmy Fallon Edition" on their Instagram page. The caption read:
"The Gobstomper is a sneaker, not candy, so don't eat it."
The design of the Gobstomper shoes is heavily influenced by the Gobstopper candy. The multi-layered appearance of the candy is captured on the skate shoes. They are fashioned with neutral-toned suede uppers, which unfurl brilliant colors when beaten or worn.
Firstly, the toe caps exhibit thick perforations on top. The toe boxes are also outlined with textured brown leather mudguards. The tongue flaps, on the other hand, are made with similar suede. Towards the collar, the tongues are embellished with sunny yellow branding tags of the label. The flat white lace fasteners, that are held together by asymmetrically placed eyestays, perfectly match the rest of the design in its simplicity.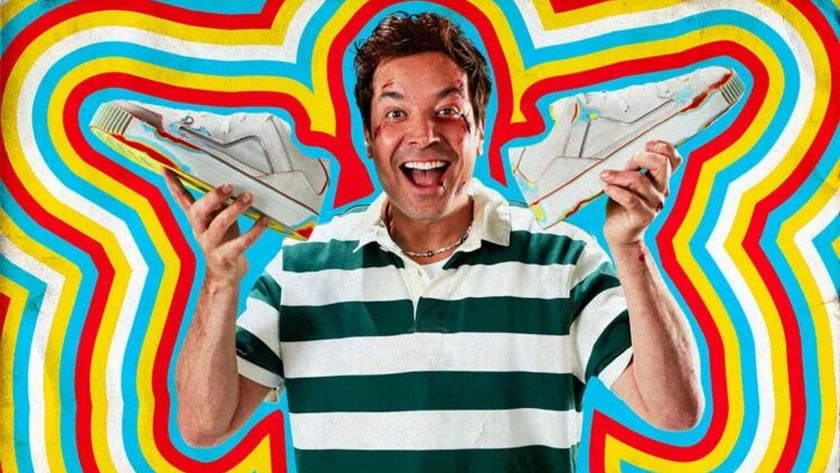 Although the sockliners and inner linings feature yellow textiles, the footbed has chromatic Gobstopper candy designs. Moving on, the heel counters, which are also constructed with suedes, showcase the brand's characteristic foot artwork on the heel tabs. These markings are done in yellow.
Ultimately, the thick platform base of these skate shoes feature thin stripes on the forefoot, while "MSCHF" is printed on the sole units underneath the heel counters. Finally, the base of these sole units features blue and yellow foliated candy patterns, making them look quite interesting.
The design offers opportunities for DIY customization.
---
Mark your calendars for the Gobstomper skate shoes which are scheduled to release on July 28, 2022, at 1 PM EST. As mentioned before, you will be able to secure them using the draw system, which is accessible via the brand's app. The candy shoes will be priced at $195 for each pair.
Edited by Mohini Banerjee