Actress and healthy living influencer Lauren Elizabeth announced her pregnancy in a social media update on Monday, April 3, 2023.
Elizabeth shared the exciting news with her 875k followers in an Instagram post featuring a sonogram image along with her and her boyfriend's hands. The post was captioned:
"Been keeping a little secret all year. We are so excited for our baby girl this September. First trimester vlog is on my YouTube."
The reveal came as a surprise to her fans as many were not aware that she was dating. A quick browse of Lauren's social media posts and vlogs over the last few months showed that she was not single. However, it was never explicitly revealed who she was dating.
The comments section of the post was soon filled with messages of love and support for the YouTuber. One of the comments included a message from fellow influencer Kenzie Elizabeth. She wrote:
"I hope Matt enjoyed his hand modeling time."
Lauren's interaction with Kenzie gave away the boyfriend's name. A quick search through her profile revealed that the boyfriend in question was Matt Torvik, a 28-year-old account executive based in Chicago.
---
More on Lauren Elizabeth's boyfriend Matt Torvik
It is unclear when the expecting couple started dating. The general consensus seems to be that Matt and Lauren began their relationship sometime last year.
Torvik's IG profile is set to public and he has around 1,300 followers. While Lauren was absent from the posts on his profile, Matt's 2022 recap featured many cute photos with the YouTuber. She has even commented on a few of his posts.
Torvik attended John Hersey High School and graduated with a degree in Sports Marketing and Management from Indiana University Bloomington in 2018. While studying, he was a part of several clubs, including the Men's Club, Volleyball Club, Delta Tau Delta, and the Sports Marketing Alliance.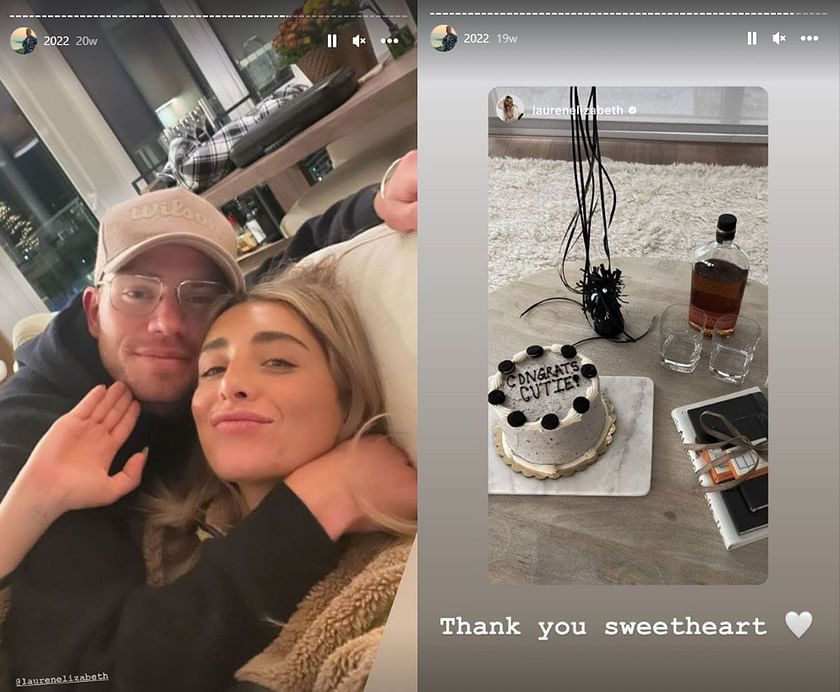 He worked as a waterfront specialist at Gold Arrow Camp from 2016 to 2018. After graduating, he worked as a business solutions consultant for a Denver-based company and was soon promoted to carrier sales representative and later manager.
In her vlog, Lauren Elizabeth shared that the first few months of her pregnancy have not been easy on her. She stated:
"It's really crazy finding out you're pregnant within the first few days of a new year because I've literally, like this has just been my whole year."
---
Who is Lauren Elizabeth?
Lauren is an American actress, social media influencer, and blogger. She boasts a following of over one million on her YouTube channel. The 28-year-old internet personality began her vlogging career in 2011 when she posted her first video, titled Beginning of Spring Haul, which went viral with over 60k views.
Lauren Elizabeth has also appeared in movies such as The Adventures Of A Panda Warrior (2012) and Bad Night (2015) and popular TV Shows like She's Out Of My League, and The Real Bros of Simi Valley.
As her content flourished, she began blogging and started a podcast titled MOOD. Additionally, she temporarily released her line of clothing called XLE.
---
As suggested by Lauren Elizabeth's post, her baby is due in September this year.