7 moments of magic: Lionel Messi's best individual moments
83.85K //
Timeless
On 16th October 2004, a 17-year-old wearing the Barcelona No. 30 shirt trotted on to the pitch in a Catalan derby against Espanyol at the Olympic Stadium in Barcelona. Much was expected of the teenager who replaced Deco that evening. But in the years that followed, not only did he meet the gargantuan expectations, he also achieved feats which were deemed impossible in modern football; he exceeded the expectations, and then some.Ever since he took his first step on the football pitch, Lionel Messi was destined to be a great player. Now at the age of 28, the Argentine has, seemingly effortlessly, established himself as arguably the best to have ever played the beautiful game.Messi has graced the game for over a decade now with feats of pure brilliance. The Argentine wizard seems to churn these moments of magic out of his hat at will.Perhaps no one has described Messi better than former Barcelona captain Carlos Puyol when he said, "There's a special part of Messi's brain allowing him to see the split-second chaos of football in his own personal super slow motion."Or at the least that's the most sensible one that is close to reality. For most football fans who have watched the Argentine in amazement for a decade, there's only one explanation – the man is a magician.Here, we try to separate brilliance from pure magic and pick out seven moments which define the unparalleled genius of Lionel Messi's footballing career.
#1 Goal against Real Madrid in 2011 UEFA Champions League semi-final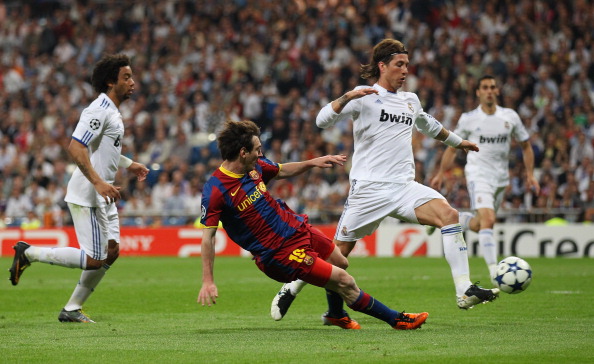 An El Clasico goal is always priceless. But one in the UEFA Champions League semi-final after making a fool of not one but six Real Madrid players at Bernabeu while a helpless Jose Mourinho looked on has to be sprinkled with fairy dust.
Messi latched on a Sergio Busquets layoff, used his fleeting left foot to go past as many as six Madrid defenders and finishing with his right past a furious Iker Casillas, as Bernabeu and Real coach Jose Mourinho looked on.
Every touch in the moved drips magic.