7 pairs of football rivals who you wished had played together
67.67K //
Timeless
Football rivalries, especially player rivalries, are more entertaining and celebrated as compared to club rivalries. There are always sub plots in a match of high importance and these are basically dominated by the players pitted against each other. We have seen plenty of rivalries on a pitch that has left us speechless yet thoroughly entertained. How can someone forget the famous Viera and Keane bust up in the tunnel, Van Nistelrooy being swamped by Arsenal players over a hoax call, Or the continuous rant between Diego Maradona and Pele.However, have you ever imagined how a team would shape up if these rivals were playing together rather than against each other? We look at players apart from direct rivals who could create a magical partnership when playing for the same team. We have considered contemporary players playing in the same as well as different leagues.We look at seven such pairs of we wish could have played together.
#1 Roy Keane and Patrick Viera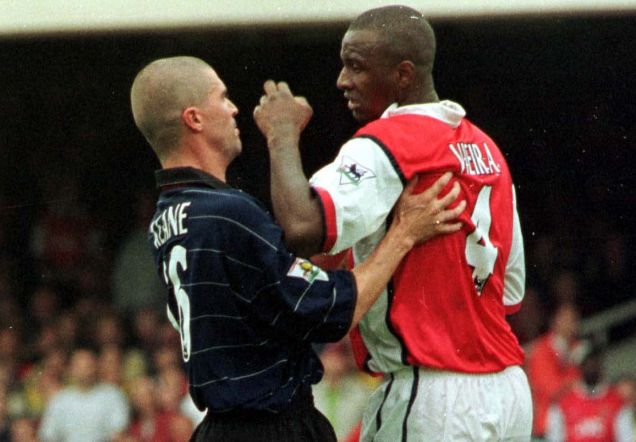 Probably the biggest rivalry seen in modern day football, Keane and Viera epitomized what Manchester United and Arsenal stood for in the late 1990's and early 2000's. There was no love lost between the two and every time they played against each other there were entertaining fireworks. The famous tunnel incident at Highbury in 2005 was when Keane squared up against the 6'4 Viera after the latter had threatened Gary Neville for having kicked Arsenal players.
The way Keane threatened Viera with phrases "I'll see you out there" became part of the folklore for years. The pair shared 21 cards between them and it was always a blockbuster spectacle when the two were on the pitch.
Viera was a traditional deep lying midfielder always involved in a fierce midfield battle. He would also be seen bursting into the opposition half during a counter attack. Viera had the pace, strength as well as a keen eye for a killer pass. Keane also in the mould of a traditional pivot was an antithesis to Viera. Not as quick as the Frenchman, Keane made up for the lack of pace with his strength and ability to dictate the pace of the game.
Always uncompromising in a tackle, he was the perfect midfield shield for the back four. His ability to keep the ball moving, making short passes and his ability to strike fear in opponents as well as inspiring team mates are traits which any manager would look for.
So imagine a team with two talented midfielders and how they would have performed if they played together!