5 iconic moments when Steven Gerrard led from the front
11.96K //
Timeless
Liverpool football club have seen many ups and downs in the last two decades. They have seen their fierce rivals win league titles while they have failed to secure a single one, they have seen many of their top players like Michael Owen, Xabi Alonso, Fernando Torres and Luis Suarez leave them for other clubs in search of success and even then, amidst all this, they have managed to win numerous trophies including the prestigious Champions League.But one man stayed with Liverpool through the thick and thin, one man stayed with Liverpool even when they were no longer among Europe's elites, one man stayed with Liverpool by turning down clubs like Chelsea, Real Madrid and Bayern Munich where he could have won even more titles, one man has always carried the club on his back and now he completes eleven years as Liverpool's captain. He is more than a captain; he is a leader of men. He is none other than Steven George Gerrard.Gerrard has been Liverpool's saviour on numerous occasions, most recently this season he converted an injury time penalty against Ludogorets to give Liverpool the win and then during the Merseyside derby he scored a brilliant free kick which then out Liverpool ahead. These moments are nothing in front of some of his other performances which have lifted many people off their seats and have left several mouths wide open in awe.Here is a look at the Top 5 moments of Gerrard's career as Liverpool's captain where he led the team from the front.
#1 You Beauty! - Liverpool vs Olympiakos (2004)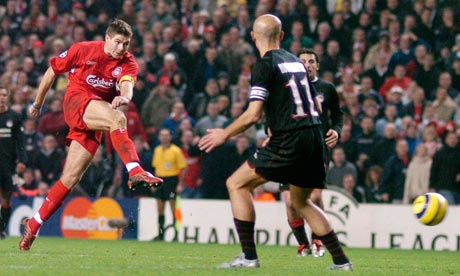 Liverpool went into the final group stage game of the 2004-05 Champions League needing to win by a margin of two goals or more to qualify for the knockout stage of the competition.
Things didn't go as planned for Liverpool as Olympiakos scored against the run of play to take the lead at Anfield through a free kick by Rivaldo.
A below par Liverpool side still managed to put two goals into the back of the Olympiakos net and were struggling to find a third to keep them in the competition.
In the 86th minute Neil Mellor headed down a ball into the path of Steven Gerrard who was lurking outside the penalty box. Gerrard drove a first touch low volley into the Olympiakos net which made commentator Andy Gray, who was a former Evertonian, produce a memorable commentary to go with the goal.