5 superstars that are frequently let down by their national team
73.99K //
Timeless
The best footballers of the generation let down by their mediocre national sideClub or Country? This is a debate that brings out polar opinion not only among supporters but also among the players themselves. There are various factors that deter a player from representing his country at the international level. Lack of playing time, differences with the manager, loyalty and many other factors add to a player snubbing the opportunity to play for their country. However, the majority of the superstars are able to live their dream of playing for their country on the basis of their scintillating performances at the club level.Plenty is expected of superstars like Messi, Lahm, Ribery, Ronaldo, Neymar etc to be outstanding and brilliant at the international stage as how they are at the club level. They are expected to bring glory to their respective countries and anything short of a trophy they are labelled as flops. What about those superstars who are expected to carry the entire team on their sheer brilliance and talents? Are they flops or are they just plain unlucky to be part of a team that is not at the highest level?Despite the sheer weight of carrying a team through the tournaments, players are ridiculed and held responsible for their team's exit. We look at 5 such unlucky players who are frequently let down by their national team despite their superhuman ability to win matches individually.
#1 Zlatan Ibrahimovic, Sweden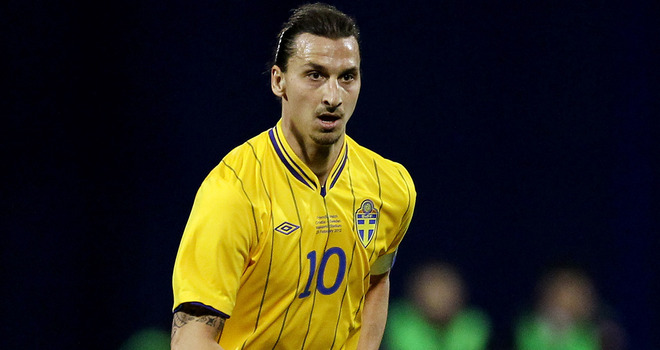 "You don't mess with the Zlatan". Under normal circumstances no one can mess with the creatively gifted player, yet one just needs to look at the performances of Sweden at the international level to know how to destroy a legend. One of the iconic strikers of this generation, Ibrahimovic has done it all at the club level. He has scored goals galore at each of the club he has played in and won numerous titles in Italy, Spain and France as well. He is one of the few players who have been able to replicate their club form on the international stage. He has scored 50 goals in 100 appearances for his country.
Despite being clinical in front of the goal and carrying the team on his shoulders alone, he has been deprived of international success.
The biggest reason for it being that he has never managed to have a support cast to utilize his wizardry. Since making his debut in 2001, he has been part of a team that got knocked out at the Round of 16 in the 2002 and 2006 World Cup. Additionally, he has been unlucky at the Euros where the team has been knocked out more often than not in the group stages.
The inability of Sweden to qualify for the 2014 World cup lost Ibramovic his chance to set the international stage alight with his magic. As Ibrahimovic rightly summed up "One thing is for sure, a World Cup without me is nothing to watch so it is not worthwhile to wait for the World Cup."