5 Thierry Henry records that may never be broken
117.36K //
Timeless
There's an age old saying which says 'Records are meant to be broken'. Well, to a certain extent, it is true. But there are some records which have stood for so long that they are almost existent since eternity.Thierry Henry is one such player who has tons of records to his name. Some say he is the best striker who has graced the Premier League whereas some say he is one of the best strikers of his generation, bettered only by the legendary Brazilian, Ronaldo.So here is a look at some of the records by King Henry which may be very, very hard to better.
#1 Most Premier League Golden Boots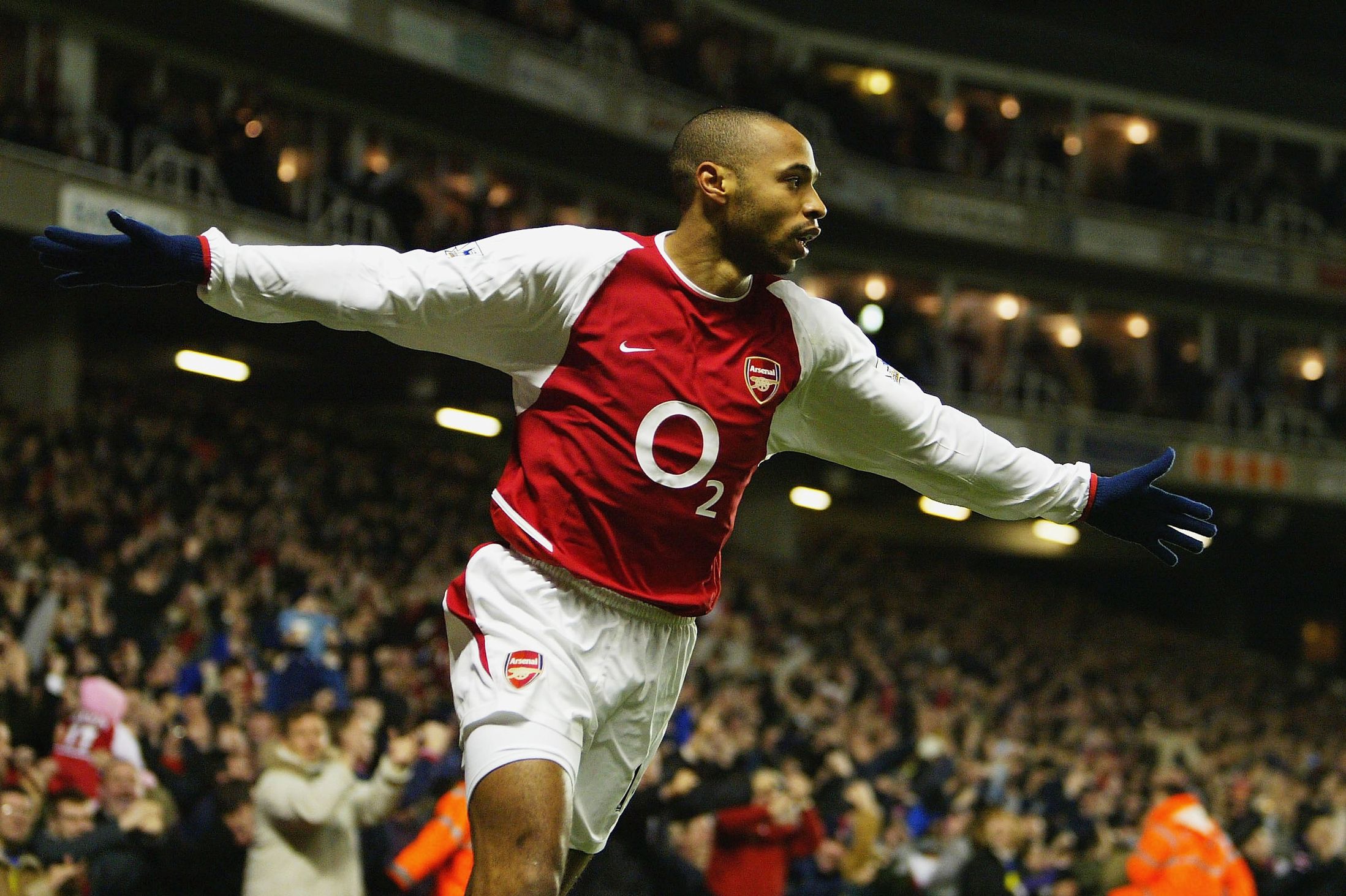 The Premier League has seen some truly magical forwards, right from Eric Cantona and Alan Shearer to Wayne Rooney and Didier Drogba. The league has also witnessed the brilliance of Cristiano Ronaldo, Sergio Aguero and Ruud van Nistelrooy and the list is actually incomplete without Henry's partner in crime Dennis Bergkamp, who is one of the best Dutch strikers of all time.
But none of them could manage to top the scoring charts for more than three seasons. Only Alan Shearer came close to better this feat in three campaigns. The Frenchman was the top scorer in the EPL four times in 2002, 2004, 2005 and 2006 and his tally for those seasons read 24, 30, 25 and 27 goals respectively, which is a commendable feat indeed. He was one of the most prolific goal scorers the league has ever seen.
Henry was a complete forward who possessed excellent finishing along with tear-away pace and a moment of magic. He was known for the spectacular and always had that knack of scoring goals from nothing. His goal against Manchester United in 2000 is still revered and is also credited as one of the best goals in the history of Premier League.
#2 Five French Player of the Year awards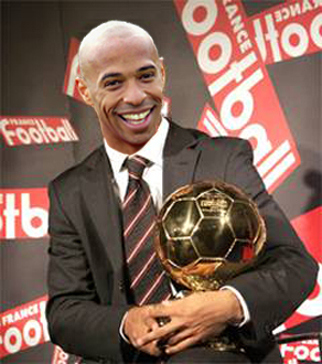 Now this is one award which every footballer aspires to win and that is his nation's best player of the year award. And Thierry Henry has not only won it but he has won it a record four times.
Being the best in your nation for a season isn't anything exceptional, that's what some people might think. But when you put this fact into perspective that Henry played with the Golden Generation of French football with players like Zinedine Zidane, David Trezeguet, Fabian Barthez and his Arsenal teammate Patrick Vieira, it is indeed a remarkable feat as he won it five times – in 2000 and four years on the trot from 2003 to 2006. Zidane himself has only won it twice.
This is what his compatriot and former France team-mate Lilian Thuram had to say about him: "He's a wizard with his feet and is blessed with a gift for scoring goals. His best quality is his speed while the ball is at his feet.
"He may be the fastest man ever to lace up a football boot. No defender in the world can keep up with him."
#3 Arsenal\'s all time top goal scorer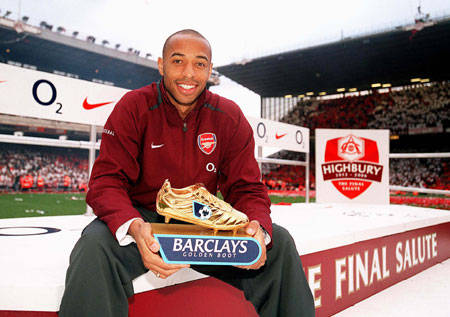 Arsenal has had many star strikers before Thierry Henry but none like him. He inherited a legacy of star strikers like Ian Wright, Charlie George and Cliff Bastin, who were very prolific for the Gunners in their heydays.
But Henry is head and shoulders above them in all departments. Be it statistics or his overall quality, the French star is truly the best Arsenal has ever seen till date. And it is for this reason he is listed as their Greatest Player of all time – an honour he deserved more than anyone else. Dennis Bergkamp was another player with a shout, but with all his class he was always second best to Henry's exploits.
Henry has scored 228 goals for the North London side in 377 appearances. Of those 228, 175 have been scored in Premier League. To outscore Henry is a very tall order for any Gunner forward both for the present lot and also to some extent for those who' will play for them in the future. Almost all the goal scoring records at the club are held by Thierry Henry.
Considering the current crop of Arsenal strikers, who are very volatile, it is safe to assume that this record is there to stay for a long, long time.
#4 All-time top scorer for France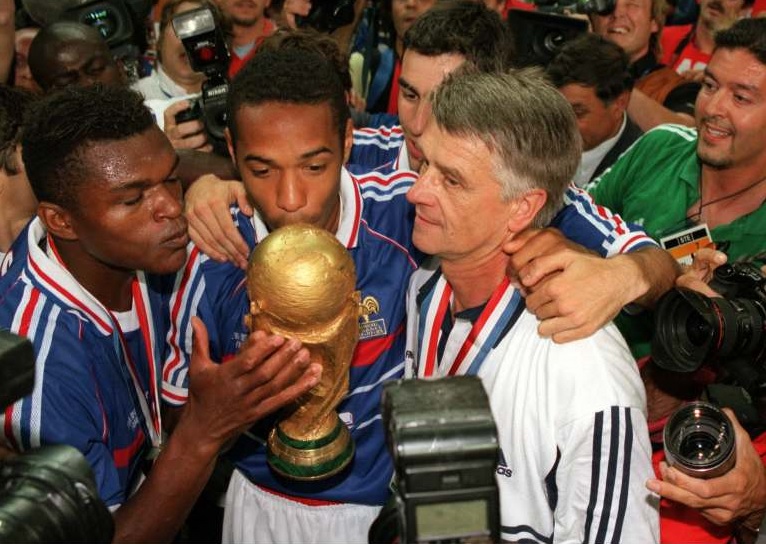 France has been a successful nation as an international football team. They have won all the trophies that can be won by a nation. This success is down to the fact that they always had very gifted players in their squad like Michel Platini, Zinedine Zidane and Eric Cantona.
One player who stands out from the list is Thierry Henry. He is their top goal scorer by some margin. The former Barcelona star has scored 51 goals for Les Blues in 123 appearances, which is simply phenomenal. He averaged 0.42 goals per game for them and was one of the main reasons why the French were so dominant in late '90s and early part of the millennium – a world class player who was in his prime.
"Thierry Henry is probably technically the most gifted footballer ever to play the beautiful game." This is what Zinedine Zidane had to say about his compatriot.
Henry broke Michel Platini's longstanding record of 41 goals and he is also France's second highest capped player behind Lilian Thuram. Currently, only Karim Benzema is closest to his record with with just 25 goals at the end of 2014.
#5 FWA Footballer of the Year three times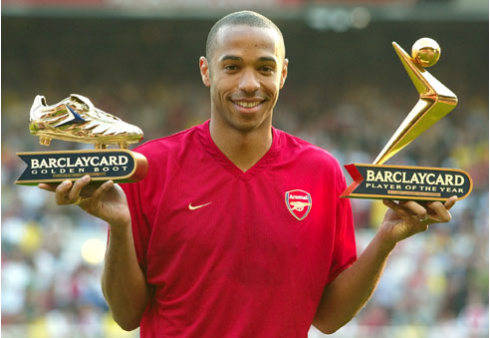 As if being the best French player wasn't enough, Thierry Henry went one up during his Arsenal days when he won the FWA Player of the Year award for record three times. FWA stands for Football Writers Association. The award is simply known as Player of the Year in England.
In FWA's 68-year history, only eight times a player has won it more than once, the last one to do so was Cristiano Ronaldo during his Manchester United days. The competitiveness of the award can be judged from this stat.
Henry was simply majestic for the Gunners from 1999 to 2005, where he was almost unstoppable at times. Even during his mediocre days or on off days, he used to come up with some moment of magic which helped Wenger's boys in one way or the other.
The Frenchman won this award on three occasions between 2002 and 2006. This is a record in itself as no other player in FWA's history has ever achieved this feat.