7 Best Moments of Angel Di Maria at Real Madrid
24.37K //
Timeless
Angel Di Maria is a man who is currently playing at the peak of his game, and Manchester United are looking at him expectantly as the saviour who shall deliver them from their present woes. The main strength of the Argentine winger is to make darting runs down the flanks, and so he can hardly be expected to bring any substance to the centre, the area of the pitch where United have looked the most flimsy.However, Di Maria can strike when least expected, and on his day can carry the whole team on his shoulders. Not only that, he has a habit of coming good in the biggest of matches, as is seen from the following account of his best moments at Real Madrid. In 2010, he was signed by Real Madrid for €25 million. Despite not being one of the biggest names in the Real midfield at the time, he managed to carve out a niche for himself and was gradually picked ahead of Mesut Ozil and Kaka in the starting line-up. In his four seasons under the Spanish sun, he played a total of 124 matches and scored 22 goals. No less important were the number of assists he provided – never as much as the 2013-14 season when he had the highest number of assists in the La Liga – 17. Manchester United have therefore stretched themselves and broken the British transfer record to get Di Maria's services to bail them out.One thing is for certain whenever Di Maria takes the field, there shall be a lot of energy and activity on at least one flank and the penalty box will be bombarded with crosses from that same direction. It remains to be seen how he combines with the likes of van Persie and Rooney, but a lot of entertainment is guaranteed at the very least.
#1 August 2010 against Penarol
↵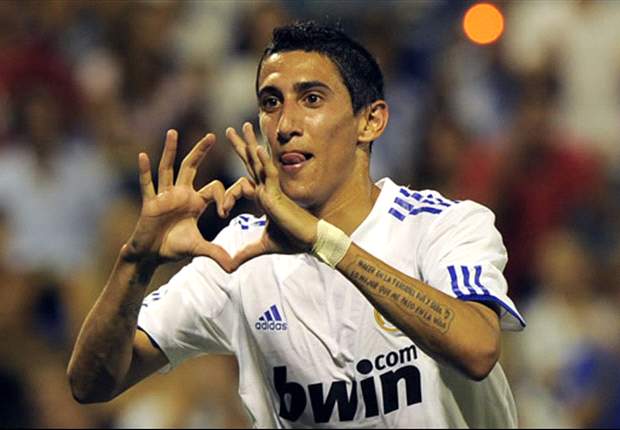 Di Maria announced his arrival to Real Madrid in as much style as can be imagined, and Manchester United fans will be hoping he can make a similar sort of entry into life in English football.
Real Madrid were facing CA Penarol in the last pre-league fixture for the year, and the Santiago Bernabeu trophy was at stake. In the 68th minute of his first appearance in front of the home fans, Di Maria burst into life with a magical solo run. His entire stock of tricks was on display as he evaded one tackle with a lay-on which he himself ran onto, then made the defender turn this way and that in the penalty box, and slotted a goal past the keeper's outstretched hand with the utmost composure.
He beamed at his onrushing teammates who were coming to congratulate him – it was going to be the first of many such moments.