Football is all about entertainment. Fans from all over the world spend billions for the beautiful game. And for what? Different people support different teams and each wants their own team to do well – to win.However, every football fan has one thing in common: we all like watching players score goals. Football without goals is like air without oxygen: pointless. Goals determine everything; where all the awards go. Goals are the biggest reason for one's joy or despair. And, most of the times, it is the forwards that become the source of all this.A great defence is the cornerstone of a championship-winning team; defence wins you trophies. However, attackers win you games and winning games wins you trophies as well. Some of the best teams ever in football had a brutal attack to make them the most feared team of their time.And here are 8 such trios:
#1 Romario, Michael Laudrup and Hristo Stoichkov - Barcelona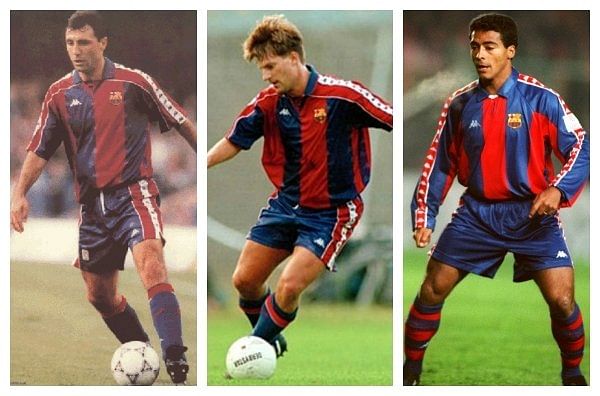 Perhaps Barcelona's greatest attacking trio ever. When Johan Cruyff took over the reins at Barcelona, he had a vision – a vision of a dream team. And he made sure it became a reality.
With Ronald Koeman, Juan Carlos and Pep Guardiola forming the base of the team, the attacking trio of Romario, Michael Laudrup, and Hristo Stoichkov wreaked havoc in the final third. Many opposition defenders were desecrated by the fire of their wrath.
While Stoichkov and Romario were the forwards, it was the Dane and his divine grace that became the source of some intrinsic yet delicate passes for the two scorers to feed on. The trio's telepathic understanding was the cause of some magical set of plays which awed fans all over the world.
#2 Rivaldo, Ronaldo and Ronaldinho - Brazil
Brazil have always been known to produce some fine forwards. This statement might sound strange to new football fans when they look at the strikers Brazil have right now.
However, it wasn't always dry as it is now. In fact, Brazil boasted some of the greatest forwards to ever play the game and this trio of Ronaldinho, Ronaldo and Rivaldo included two of them.
The 2002 World Cup will always be remembered for Brazil's dominance. Ronaldinho was young and displayed his vast potential when he scored a 40-yard free-kick against England. Rivaldo and Ronaldo were at their peak and absolutely devastated their opponents with an awesome display of lethality.
Brazil went on to win the tournament and Ronaldo and Rivaldo were the top two scorers in the tournament with 8 and 5 goals respectively. Such was the influence of the trio that at least one of them scored in every single game of the World Cup.
And Brazil fans miss those days. And forwards.
#3 Gareth Bale, Karim Benzema and Cristiano Ronaldo - Real Madrid
Now onto a current trio – Cristiano Ronaldo, Gareth Bale and Karim Benzema. The age of this trio playing together might not be as great as the rest, but the number of trophies they have won and the dominance they have shown gives them a spot here.
Playing together for just over two seasons, they have already won some big trophies. It is not only about trophies, however, as they have formed a brilliant partnership and make defenders shake in their boots when they come attacking.
Real Madrid recorded the highest number of consecutive wins in Europe with 22 straight wins – and the 'BBC' smashed almost every defence that came in their path. While Benzema might be the central forward, his role as a withdrawn support forward is the main reason for both Cristiano and Bale to function at their full potential.
And what need be said of Cristiano Ronaldo? Despite Real Madrid's trophyless season, Ronaldo, having scored 61 goals (his personal best) from 56 appearances in the 2014/15 season for both Real Madrid and Portugal, broke through several of his own personal accolades, including his 300th goal for Real Madrid in all competitions. The Portuguese also equaled Messi's La Liga record of having scored the highest number of hat-tricks in a single season (8).
All this with Gareth Bale yet to play at the level he displayed at Tottenham. If the Welshman can find that form, this trio might become the greatest ever by the time it liquidates.
#4 Jairzinho, Tostao and Pele - Brazil
Perhaps the greatest attacking trio at a World Cup – Jairzinho, Tostao and Pele. These three were, in their own right, number 10s playing together and forming a mouth-watering trio.
Pele did the bulk of the scoring and assisting – 14 out of the 19 goals Brazil scored in the 1970 World Cup were, directly or indirectly, from Pele's boots – but it was the sheer intensity and fluidity of the trio that allowed the legendary forward dance in the opponent's box.
A look at the video footages of that tournament would reveal how good Brazilians were at football. This is not to imply that they aren't good now, but that team was far better than what Brazil have ever produced since and the closest thing to that legendary trio was the aforementioned Ronaldo, Rivaldo and Ronaldinho trio – and they were still quite far away from that vintage set of three.
In short, watching them play was like watching football through the music of Mozart.
#5 Lionel Messi, Luis Suarez and Neymar - Barcelona
When BBC first came into the scene, it displayed sheer supremacy and it seemed like they had everything. Except for one thing: competition. With Barcelona signing Luis Suarez, Madrid got their contemporary in the form of 'MSN'.
MSN Messenger might be obsolete now, but the term has been resurged thanks to Barca's star trio. The trio is just as lethal, scoring 122 goals among them in all competition – by far the best stat in all of Europe - in their first season together. And that's just not it.
Their goal tally of 122 meant that the trio of MSN broke the previous record of 118 set by Real Madrid's trio of Cristiano Ronaldo, Karim Benzema and Gonzalo Higuain in the 2011/12 season for the most goals scored by a trio in Spanish football.
A treble winning season for Barcelona is what followed!
#6 Nandor Hidegkuti, Ferenc Puskas and Sandor Kocsis - Hungary
The Mighty Magyars. Once upon a time, the Hungarian football team was the greatest in the world. They were so good that they beat England 6-3 at Wembley in what became known as the match of the century.
And that great Hungary team had, statistically at least, the best attacking trio the world had ever seen – Nandor Hidegkuti, Ferenc Puskas and Sandor Kocsis. Playing for Real Madrid and scoring heaps of goals in the process meant that Ferenc Puskas had engraved his name in the immortals list, but Hidegkuti and Kocsis were no less. In fact, Kocsis played for Barcelona and scored 42 goals in the 75 games.
Playing five men in attack, of which the middle three were this trio, they decimated opposition defences as if they were a house made of cards. Puskas and Kocsis were the central strikers and a look at their stats alone (0.99 goals/game and 1.103 goals/game internationally) would be enough to create a river of sweat from defenders.
Hidegkuti, on the other hand, was the withdrawn forward. His primary job was to bring defenders out of their position and then play passes in the space he created for Kocsis and Puskas. It was breathtaking stuff – something dreams are weaved of.
#7 George Best, Bobby Charlton and Dennis Law - Manchester United
George Best, Dennis Law and Bobby Charlton – Manchester United's greatest ever trio. Many people regarded George Best as the greatest player to play the game after Diego Maradona and Pele. Some even regarded him as the greatest. But one thing isn't debatable, despite winning so many trophies, he remains the greatest player to not reach his potential due to an over-materialistic lifestyle.
And when paired with two other legendary footballers, it was irresistible.
Forming the structure of the golden era of United in the '60s, these three made football look as easy as eating chocolate. In their time together, they won two First Division titles, a European Cup, an FA Cup and two Charity Shields.
Team trophies were not the only thing in their accolades list as they each won a Ballon d'Or and Best and Charlton won the FWA Footballer of the Year. Such a set of trio isn't seen these days and probably will never be.
This was the trio that got United over the Munich disaster. United fans of this era would probably give anything to watch these three play at Old Trafford again.
#8 Samuel Eto\'o, Thierry Henry and Lionel Messi - Barcelona
And with this, Lionel Messi becomes the only player to feature in two trios.
Thierry Henry, Samuel Eto'o and Messi formed the trio that was the first to score 100 goals between them. Since then, scoring 100 goals for three players combined has become somewhat mainstream, but the truth is that they opened the floodgates.
This trio was the reason why Pep Guardiola won the unprecedented treble in his first season at Barcelona. It was beautiful: Messi on the right, Henry on the left and Eto'o in the centre. It was perhaps the most complementary trio as no player felt out of position since they were all playing in their natural positions.
The following season, Eto'o was sold and Henry started to decline, making this trio a one-season wonder. Barca have had to spend more than £150m on Luis Suarez and Neymar in order to assemble a trio that was as good as this. Such was the hole left by the departures of the Cameroonian and the Frenchman.