Top Players who left Arsenal for Silverware
34.80K //
Timeless
This certainly isn't one of the best time to be an Arsenal fan.Gunners fans all over the world were left fuming as Fabregas donned the Chelsea number 4 jersey. His dream of playing for his boyhood club Barcelona was well-known for years. And as the Spaniard was shipped off to Camp Nou in 2011, Arsenal fans had only respect and fond memories of him. But this time around as the Blues snared the World Cup and Euro winner for a bargain £30-million, all hell broke loose in North London.And to make things worse, just a day after Fabregas' move, free-agent Bacary Sagna penned his move to rivals and EPL champions Manchester City.The Gunners veteran, inspite of being 31 years old, was offered a three-year contract by the Citizens.After dominating England in the early 2000's, Arsenal hit a rough patch from 2005. Manager Arsene Wenger had taken the Gunners to new heights during the early years of his tenure. But post 2005, the Frenchman's methods failed to deliver silverware. 11 trophies from 1996-2005 and just a solitary FA Cup after that - the stats show it all.But an exodus of players leaving the club in search of trophies elsewhere, can also be cited as one of the reasons for Arsenal's fall from grace. Whenever Wenger put together a squad capable of challenging for titles, star players turned their back on the club. This list consists of players who have left Arsenal looking for silverware elsewhere since 2005 and what they managed to acheive since. (Note: The list only includes players who wanted to leave North London and join major clubs for trophies. It does not include players whom Arsenal decided to sell over lack of form, or who were not in their first team plans).
#1 Patrick Vieira - 2005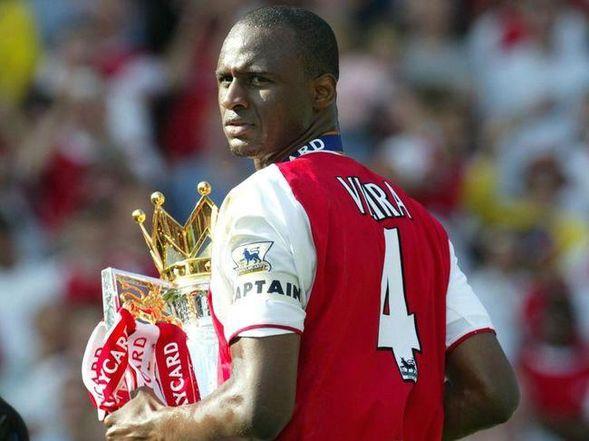 Patrick Vieira (1996-2005)
Joined: Juventus for €20 million on a five-year contract on 14 July 2005.
Age while leaving: 29 years
Reasons for Leaving: Captain of the 2003-04 Invincibles squad, Vieira was a hero amongst fans at Highbury. Under Arsene Wenger, Vieira had transformed from a fringe player at AC Milan to one of Europe's finest midfielders while at Arsenal. But the rise of a young Cesc Fabregas was looking to dent Vieira's plans. Fabregas had filled in Vieira's shoes at times when the Frenchman was injured and garnered praises for it. Wenger admitted that pairing Fabregas and Vieira at central midfield in a 4-4--2 formation did not work, and Gilberto Silva with Cesc seemed a better option. After flirting with Real Madrid in 2004, Vieira joined Italian giants Juventus in 2005. He captained the side to a trophy before signing off from Arsenal. He scored in the penalty shoot-out as he delivered Arsenal the 2005 FA Cup.
What Happened Then?: His move to Juventus turned out to be a disaster. A persistent groin injury that kept him sidelined and a reported training ground bust-up with Zlatan Ibrahimovic soured Vieira experience at the Turin club. And to make things worse, Juventus were stripped of their championships and relegated after being found guilty of match-fixing. Thus after just one season at Juve, Vieira left for Inter Milan in a 9.5 million Euro move. But haunted by injuries, Vieira failed to relive his Arsenal form, and fell down the pecking order at Inter. Jose Mourinho's arrival found Vieira unwanted at San Siro and he seeked a move away. In 2010 he returned to the Premier League, but chose to join cash-rich Manchester City. This move might have dampened Arsenal fans' respect for him, and a year later an injury-plagued Vieira hung up his footballing boots.
Titles after leaving Arsenal:
Inter Milan: Serie A (4), Supercoppa Italiana (2)
Manchester City: FA Cup (1)