A look into the Chelsea-Benfica clash
550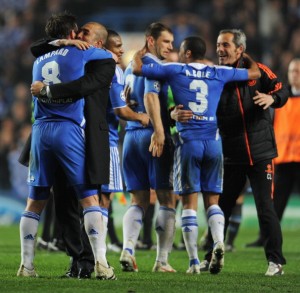 Chelsea are brimming with confidence now, confident they can achieve anything and beat any opponent. They completed a remarkable overhaul in fortunes  on Wednesday when they beat Napoli 5-4 on aggregate, including a stunning 4-1 demolition at Stamford Bridge.  Things are looking brighter for Chelsea.
Everybody is happy with the morale-boosting win, and it will not surprise me if they do manage to get a positive result against Manchester City,whose season is in danger of falling apart. Certainly, many expect Chelsea to reach the semis with consummate ease, brushing aside Benfica.
Yet, the Portuguese side must not be underestimated. They were the club from which we bought David Luiz and Ramires, two key players in our squad. This speaks volumes of their talent. They overcame Zenit St.Petersburg 4-3 on aggregate, where they had to fight back from a 3-2 deficit. They have a lot of spirit, and they are very entertaining when they attack. Moreover, their coach Jorge Jesus is an open-minded coach who favours the attacking brand of football. And this philosophy is certainly aided by the fact they possess Oscar Cardozo in their roster. He possesses one of the sweetest yet most dangerous left foots in the game. Cardozo has already scored 21 goals this season ,and along with Pablo Aimar to supply him, will be a handful for the Chelsea defence.
Benfica emerged as winners from Group C, which included the likes of Manchester United. Indeed, Benfica drew twice with United, and aided by Basel,who defeated them twice, qualified for the knockouts. Axel Witsel has been pulling the strings for Benfica this season and will be a key player for them.
Although this round of fixtures have been overshadowed by the importance of Barcelona vs AC Milan clash, Chelsea vs Benfica is bound to be a exciting encounter, with plenty at stake for both the sides. Chelsea look to win their first CL under Abramovich's reign, while Benfica would be the Portuguese side since Porto( in 2004) to reach the semi-finals of the CL.
Assuming that Chelsea carry their current form into the game, I bet for a 2-0 win for Chelsea. Although, it is football and you can never predict what happens on the pitch.