Athlete Information Management System - A case study
Business
19 Mar 2013, 23:16 IST
879
1. Introduction to AIMS
An athlete has a huge number of people behind him and his performance, namely: technical coach, strength and conditioning coaches, medical aides like physiotherapist and nutritionist, psychologist and other stakeholders. Apart from these, state and national level selectors, sponsors and other staff require immediate access to complete athlete information. Collaboration and communication between all these staff and various stakeholders is an issue. One way to resolve this issue is to opt for Athlete  Information Management System. This will facilitate access to exhaustive and relevant athlete information.
2. Types of Information
We have been talking about athlete information. The next question is – what will this information be? The entire information about an athlete can be segregated under the following categories:
- Athlete demographics : This will include all details such as name, address, phone number, email-id and other modes of communication.
- Communication history : This section is important. It will archive all previous communication with the athlete. This can be communication via e-mails, letters or any other conversation worth recording.
- Analysis of performance : This section will store all information regarding the participation in various competitions and tournaments, results in those tournaments, fitness level of the athlete, fatigue factor and stress levels during the tournament and the skill set of the athlete.
- Technical information: Training requires the use various equipments and machines. Instruments beyond the scope of gymnasium are often required. This keeps track of the all such information.

- Training diary: The coach creates a training schedule for the athlete. This will store the past records of training, the current status and the future plans. The importance of this information is that it can be shared with other coaches so that the best practices can be followed all round the world.

- Nutrition and medical records: An athlete doesn't have the freedom to enjoy a diet of his own choice. The diet should be high on nutritional content to fulfil the taxing demand of rigorous sports. Thus, the kind of diet and supplements given are recorded. The nature of sports is such that every athlete is prone to injuries. Some injuries are minor and athletes recover in a small period of time whereas some injuries end the career instantly. The medical records of sports related injuries as well as other ailments is maintained in the database.
3. Scope of the project
Thus, we can see that a lot of attributes (information) are associated with the entity (athlete). It all sounds good but what use will be this information be to all the stakeholders involved? What is the scope of the entire project?
The project scope is initially limited to the following 4 priorities:
- A central repository for entire athlete data, i.e., a centralized database containing information under the above mentioned heads.
- The capacity to produce a comprehensive athlete profile any time and anywhere. The stakeholders must be able to view any information they want to see. It should provide information on your finger tips.
- A web-based portal which can be accessed on multiple devices by all stakeholders. This is to deliver quick and consistent information to all stakeholders.
- Deliver key functionality in the following categories: 1. Monitoring of athlete's performance, 2. Interactive direction and 3. Diary, log and booking functionality.
4. Objectives
The objectives of creating a centralized database are :
- Collecting all indispensable information necessary for analysis and monitoring the athlete's performance.
- The facility to view the entire life-cycle of an athlete at any given point of time to determine the appropriate time for athlete substitution.
- Collaborate the currently fragmented athlete information systems and bring them under one roof to deliver quality and consistent data.
- Streamline the several data collection points to produce a coherent source of data.
- Support the proficient development and deliverance of highly performing programs and activities, and perk up their probability of success.
- Develop a system with the appropriate functionality, features and quality that will support the delivery of high performance programs and provide a comprehensive system for in-depth reporting analysis, with the ability to run flexible reports based on individual needs.

5. Barriers to acceptability
There are many barriers which hinder the implementation of this system:
- The inhibition of coaches and other stakeholders to let go of traditional system and adopt a tech-savvy solution. A coach can always coach athletes without maintaining any information for other's perusal.
- Lack of functionality – The system does not deliver in accordance to the expectations. The system might be good, but if it does not fill the need gap, it will find little acceptance.
- Computer literacy – Incompetence on the part of coaches and stakeholders who aren't experts with the use of computer to analyze data using various tools.
6. Development of AIMS
The development of a Athlete Information Management System has been broken down into six steps. These steps are : vision statement, education program, survey, prototype, addressing stumbling blocks and integration and release.
These six steps can be shown in the form of a flowchart :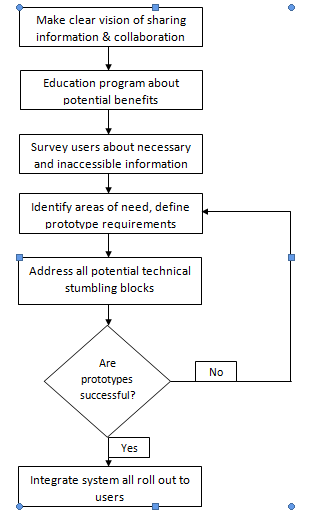 Step 1: Make clear vision of sharing information and collaboration. The intent of creating a centralized database must be clear. The mission vision statement must be stated and the objectives must be created. A mechanism must be devised so as how to go about the project.
Step 2: Education program about potential benefits. This is one of the most critical step which determines the overall effectiveness of the project. Every stakeholder including the coaches, doctors and the athletes themselves must be made aware of this facility. It is important to educate all stakeholders reliant on conventional systems to increase acceptability and smooth transition from traditional method to a centralized database.
Step 3: Survey users about necessary and inaccessible information. What kind of information is necessary? What is the common information sought by the coaches, trainers and selectors? What information is generally not available easily? A comprehensive survey must be conducted to find the core information areas to maximize the utility for all shareholders. At this point of stage, we are working towards creating a Knowledge Management System (KMS).
Step 4: Identify areas of need, define prototype requirements. After getting the relevant inputs from the stakeholders, we need to define and design the requirements of the prototype. Furthermore, a prototype for each capability must be created in accordance to the requirements defined. The prototypes are developed using spiral modelling to take into account the risks involved with the project and to accommodate constant improvement with changing stakeholder requirements.
Step 5: Address all potential technical stumbling blocks. Development process is generally fraught with difficulties. Overcome such barriers to develop the prototype.
After developing the prototypes, we need to test the functionality of the prototypes to check whether they deliver on our expectations. If the prototypes are successful and are accepted by the stakeholders, we move on to step 6. However, if the prototype does not solve the purpose for which it was created, we need to redesign the prototype and loop-back to step 4.
Step 6: Integrated system all roll out to users. After successful testing of the prototypes, integrate all prototypes into a single module. After integration, integrating and regression testing must be performed. After successful testing, the project must be deployed and rolled out to all users.
7. Examples
The Australian Sports Commission (ASC) has implemented Athlete Information Management System. This has allowed ASC to promote a successful national sports system which has enabled better participation across the sports domain. This has helped all potential athletes to improvise on their talent and achieve excellence in sports. They offer 34 sports programs across twenty-six sports, with variable scholarships for the country's finest sportsmen and sportswomen.
Cricket in India is decentralized. We have local teams, followed by district teams, state level teams and national teams. Further, the international team is there which is currently led by MS Dhoni. Many talented players never find recognition in their prime and come to light at a very late stage of their career. Local coaches are aware about good local players. State selectors know about players representing their state teams. Players making to the national squad are lobbied by the respective state teams and five zones. As a result, plethora of names turn up, making it difficult for national selectors to find a fitting squad. A centralized database will help BCCI to analyse all data at one point, use checks and filters to find players having required past performance. This will enable them to select the best of players directly and easily. It will also help them to dispense compensation according to the merit of players by analysing the data. This system will now act as a Decision Support System and an Expert System.
8. Conclusion
With sports finding prominence in our country as well as other parts of the world, maintaining athlete information is of vital importance to improve the nation's international performance. Australia is a live example of AIMS. A direct result can be observed as Australia tops the charts of every sport the country represents.