EPL Manager's Ratings #1
Editor's Pick
23 Mar 2012, 20:03 IST
554
The season is far from over, but I have reviewed all 20 managers, based on performances this season, in four parts. Go ahead and see whether you agree with this largely unbiased neutral view.
1. Arsene Wenger (Arsenal) – 7.5
Arsenal had what can only be described as a truly disastrous start to the season, 7 points from 7 games including the never to be forgotten 8-2 defeat at United. It was agreed that Arsenal would certainly not be playing in Europe next season. There were the usual problems of injuries, lack of leadership, defensive lapses, inabilities to hold on to leads, and exceptional performances mainly by van Persie just kept them in the hunt for a top 4. However the past month has seen them play beautifully, and all of a sudden, all the above fallacies seem to have evaporated. On current form, they seem favorites for 3rd, and for a team which lost their 3 best players in the summer, this would be a magnificent achievement. Rosicky's return to form helps Wenger get extra points, for keeping faith in his players.
2. Alex McLeish (Aston Villa) – 5.0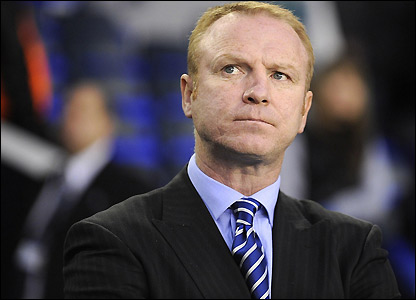 By far the lowest score amongst the managers, I feel he should have been sacked a long time ago. But then I never understood why Lerner appointed a man who managed to get Birmingham relegated twice in three seasons. It is saddening to see the boring pointless football Villa play, it often puts me to sleep. It is sad to see a team as talented as Villa, with experienced players and a plethora of talented youngsters play such listless football. They obviously won't get relegated but deserve so much more.
3. Steve Kean (Blackburn Rovers) – 8.0
I am throwing a bone out there and giving Kean a very high score, for a manager who has a very bad record and his team are fighting to avoid relegation, this is a high rating. But I cannot help respecting this man. Back in December after the home loss to Bolton, the vitriol the home fans had against him was saddening. Since then there have been multiple protests from the fans for his removal, he has had absolutely no support from his owners, and has had to sell his best player and captain with no replacement provided. Despite this, not once did he say anything against the fans or the owners, and has always taken the criticism on himself and has totally shielded his players. He has also managed to keep Rovers 5 points clear of relegation, and deserves credit for the way he has handled everything.
4. Owen Coyle (Bolton Wanderers) – 5.5
While he has handled the unfortunate collapse of Muamba very gracefully, and does deserve respect for that, he hasn't had a good season. Bolton seem doomed for relegation unless they immediately pick themselves up. Coyle has so far failed to motivate his players. What is most disappointing is they haven't improved their defense on set pieces, despite that being their most obvious flaw right from the start of the season. If Coyle does manage to keep the Trotters up, this score would definitely increase by leaps and bounds.
5.1. Andre Villas-Boas (Chelsea) – 5.5
Don't get me wrong, I am sure he is a great manager, and definitely has a great future ahead. His strategy and tactics are well suited to a perfect attacking style of football, but were just not well suited to Chelsea. While he tried to replace the older players with younger ones, he just didn't have the right players available. The youngsters weren't better than the so called old guard, yet. Some of his substitutions also baffled me, and clearly the Chelsea defense wasn't well suited to play the high line. It has been said he was a complete workaholic and loved his job, but his lack of man management skill in the end ultimately cost him his job. I still do strongly believe he will end up having a very successful managerial career.
5.2. Roberto Di Matteo (Chelsea)- 6.5
It's too early to judge him, and he is just appointed a care taker manager, so the above score shouldn't be valid, but in the short duration he's done pretty well. He has taken Chelsea to Wembley for the FA Cup semi-finals, and also engineered a magnificent win against Napoli to reach the quarters of the UCL. As I said, too early, but the initial signs look good.