Four reasons why Liverpool should keep Suarez
Recent rumours have stated that Liverpool forward Luis Suarez could be heading out of Anfield in the next transfer window, a situation that has put the devoted Kop fans into an uncomfortable caprice come the pre-season window. French club Paris Saint-Germain are the ones to offer Uruguayan Suarez an escape from the Premier League limelight. [...]
542
Recent rumours have stated that Liverpool forward Luis Suarez could be heading out of Anfield in the next transfer window, a situation that has put the devoted Kop fans into an uncomfortable caprice come the pre-season window.
French club Paris Saint-Germain are the ones to offer Uruguayan Suarez an escape from the Premier League limelight.
Daily Mirror
Luis Suarez is shock transfer target for Euro giants Real Madrid and Inter Milan.
The People
Well, it definitely will not be as easy as it sounds to fend off chances of Luis Suarez making a shock departure from the Reds judging from the amount of big European clubs vying for his signature, but here are four reasons why the club should not offload our Uruguayan hitman despite the possibilities of him being approached by tempting offers seem undeniably high.
1. Our only good striker
That is for now. Although Dirk Kuyt and Craig Bellamy are both crucial players for the team (and Andy Carroll not even close at the moment), we still need someone who can play for the club week-in-week-out. Looking at their ages (with Kuyt and Bellamy being 32 and 33 respectively in July), stamina and fitness, Luis Suarez is obviously the main man to lead the strike force.

2. Quick and skillful
With his lightning speed, it is one defender's absolute nightmare to be ordered by the manager to man mark the Uruguayan international. He can be insanely skillful whilst toying with helpless defenders from the edge of the box before inflicting more troubles for the goalkeeper. In fact, he's always capable of bringing the ball past two or three men inside the box as we've all seen his moments of magic on the pitch before.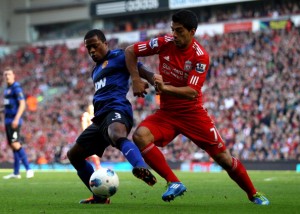 3. Unfinished business in the EPL
Genuinely obvious. He is yet to make Manchester United's Patrice Evra pay for what he has caused him, the eight-match ban. The last time Liverpool emerged victorious against their archrivals was in the fourth round of the FA Cup, the scoreline ended with a satisfying 2-1 win courtesy of a late winner by Dirk Kuyt, although Suarez himself was delighted with it but fact is that he was still sidelined at that time.
Fortunately, he was eligible to feature in the two teams' next scheduled fixture in the Barclays Premier League, but his 80-minute goal wasn't enough to win it for the Reds as Kenny Dalglish's men tumbled to a 2-1 defeat at Old Trafford.
Speaking of that, he will still be gunning for his long-awaited revenge. And in order to achieve that, he'll have to wait till the start of next season as Liverpool have 0 chances of meeting Manchester United again this campaign.

4. We can't count on Carroll
The Englishman is simply not reliable enough. He's cost us an astounding £35 million during his move from Newcastle United but is still yet to impress at the club after a year. That 3-0 win over Manchester City last season where he netted in two goals remains his only solid performance in a single match so far in Liverpool colours. So if Suarez really happens to leave at the end of the season and the team is already finding it hard enough to convert the chances with his presence, it is utterly hard to believe how a player like Andy Carroll can get the job done.
All in all, my take on Suarez's possible departure – KD cannot afford to sell him. We've already wasted a talent like Fernando Torres, we can't repeat the same mistake again.